close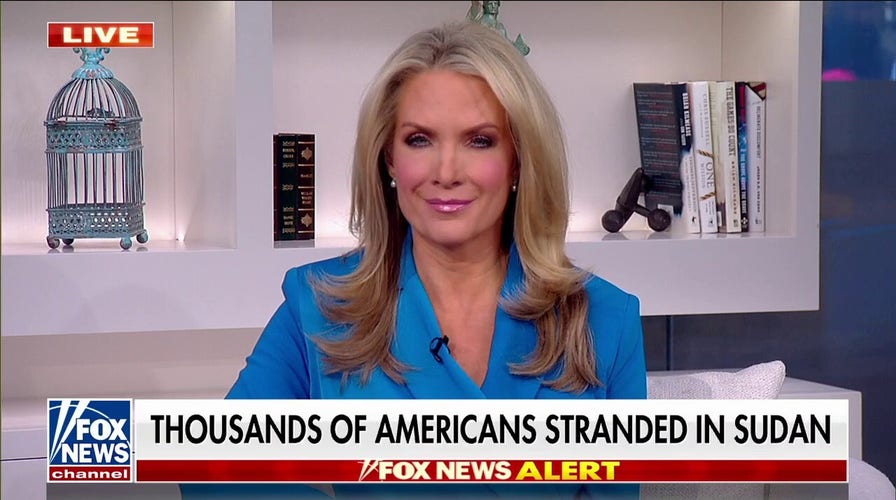 Video
Dana Perino: Russia helped stoke this problem in Sudan
'America's Newsroom' co-host Dana Perino discusses the crisis facing Americans stranded in Sudan and provides analysis as President Biden is expected to launch his 2024 campaign.
Russia's mercenary group Wagner, led by warlord Yevgeny Prigozhin, has expanded its activities in Africa, with one suspected direct action in conflict zones and dozens of efforts to help secure resources across the continent.
"Outside of Ukraine, [Wagner's] presence in Africa is the most widespread," John Hardie, deputy director of the Russia program at the Foundation for Defense of Democracies, told Fox News Digital. "It is really across the continent."
The U.S. Treasury earlier this year designated Wagner "a significant transnational criminal organization," providing Washington the ability to sanction individuals and the group's support network "across multiple continents."
Most recently, Wagner has come out of the shadows in Africa after months of rumors that the group was operating there. The Central Africa Republic alone has recorded around 1,890 "Russian instructors" supporting government troops in the ongoing civil war, German news outlet DW reported.
NEW WORLD DISORDER: CHINA, RUSSIA BLOC SHORES UP INFLUENCE AS COUNTRIES EAGER TO JOIN, INCLUDING US ALLIES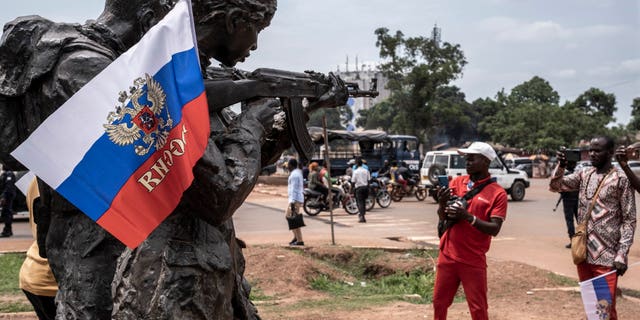 A Russian flag hangs on a monument in Bangui March 22, 2023, during a march in support of Russia and China's presence in the Central African Republic. (Barbara Debout/AFP via Getty Images)
The group was founded in 2014 but found recent prominence in the Ukraine invasion as Russian President Vladimir Putin leaned more heavily on the group to bolster his forces following significant loses during the early months of the war.
Hardie described Wagner as just one part of founder Yevgeny Prigozhin's network, albeit the crown jewel of his operations, along with political technologists, troll farms and other information operations.
"The network is obviously in part a proxy for the Kremlin, so where the Kremlin is interested, Wagner and Prigozhin will follow," Hardie said.
"Wagner is also a money-making business, in a sense. It's able to make money from mining concessions, and so on, in Africa as well as its security partnerships with guys like Sudan, etc."
RUSSIA 'CHIEF BENEFICIARY' IN DEADLY SUDAN CONFLICT AS ATTEMPTED CEASEFIRE FALLS APART
A U.S. cable sent in January and reviewed by Politico claimed that Wagner stood to gain $1 billion in mining profits from its Central African Republic operations alone, which the group would funnel toward new weapons and fighters, according to a Western official.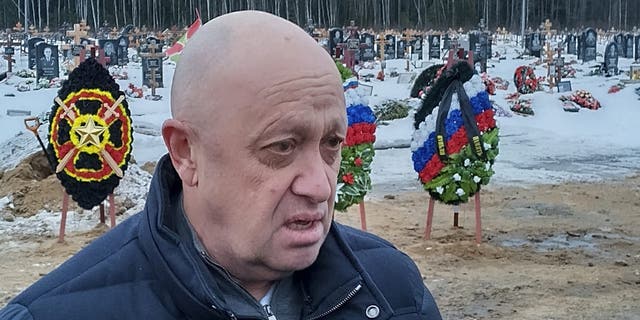 Wagner Group head Yevgeny Prigozhin attends the funeral of Dmitry Menshikov, a fighter of the Wagner Group who died during a special operation in Ukraine, at a cemetery outside St. Petersburg, Russia, Dec. 24, 2022.  (AP Photo)
But Wagner may have also entered into conflict zones. Leaked U.S. intelligence documents cited "a successful unattributed attack in Libya" that "destroyed a Wagner logistics aircraft," part of a wider Wagner fleet, according to The Washington Post.
Wagner has operated in at least 13 nations, eight of which are in Africa, according to the documents.
One such conflict includes efforts by Wagner in February of this year, during which the mercenaries tried to recruit rebels in the country of Chad and establish a training site for 300 fighters in the neighboring Central African Republic as part of an "evolving plot to topple the Chadian government," the Post reported.
RUSSIA'S DEFENSE CHIEF WANTS TO DOUBLE MISSILE OUTPUT WITH POTENTIAL UKRAINIAN COUNTEROFFENSIVE LOOMING
Sudan also plays a significant role in Wagner's plans. The group partnered with Omar al-Bashir and then with the generals who ousted him, providing advisers and riot gear against a grassroots democracy movement, according the United States Institute of Peace.
In return, the Sudanese authorities gave a Wagner-linked shell company the rights to refine gold-bearing ore and export the ore, untaxed.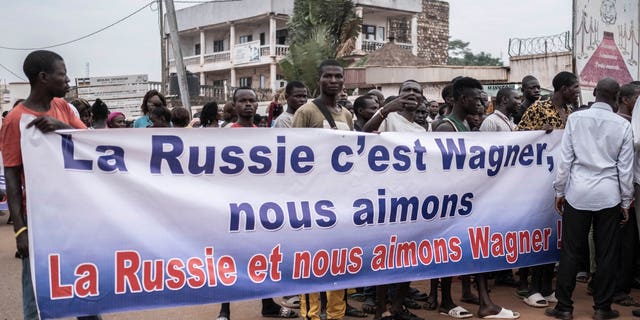 Demonstrators carry banners in Bangui March 22, 2023, during a march in support of Russia and China's presence in the Central African Republic. (Barbara Debout/AFP via Getty Images)
Wagner also sent fighters to support the ruling military in Mali against the French-backed government forces.
Rebekah Koffler, president of Doctrine & Strategy Consulting and a former Defense Intelligence Agency officer, told Fox News Digital Wagner is merely "executing Putin's Africa strategy."
"The Kremlin has articulated a version of the great game, Putin's great game in Africa," Koffler explained. "The goals of Russia in Africa were declared and codified officially in Russia's most recent foreign policy concept that Putin signed just this past March.
CLICK HERE TO GET THE FOX NEWS APP
"The way they described it is to just ensure trade and economic cooperation, ensure support for Africa and for African countries, and just basically typical propaganda. … But, in reality, Putin wants to secure and maintain the foothold in the eastern Mediterranean, including naval port access in the Red Sea and continuing to extract natural resources out of Africa.
"Russia has had ties to various countries in Africa dating back to the USSR, and now they're capitalizing."
Peter Aitken is a Fox News Digital reporter with a focus on national and global news.