close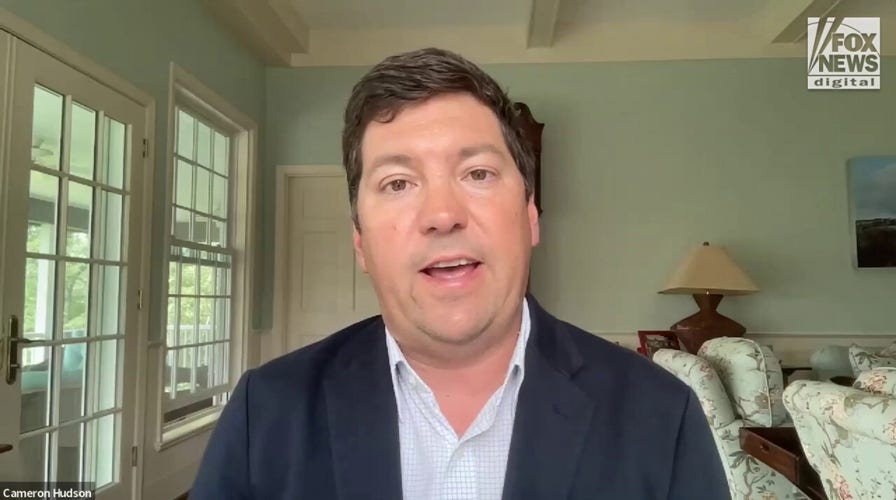 Video
Russia's mercenary battalion Wagner Group 'adept at being opportunistic,' expert says
Cameron Hudson, Senior Fellow (non-resident) at the CSIS Africa Program discussed Wagner Group's activities Western Africa, explaining to Fox News Digital that the civil unrest in Niger could prove prophetic for American interests in the region.
The mercenary battalion Wagner Group has proven "very adept" at exploiting political unrest in West Africa, but experts remain divided on whether the group caused the instability in the first place.
"I don't think that Wagner or Russia are creating the discontent that we are seeing among populations and militaries in this region of Africa," Cameron Hudson, senior fellow (non-resident) for the CSIS Africa Program, told Fox News Digital.
"They're certainly looking at it as an opportunity, but I don't think that either the Wagner Group or Russia itself has the power to kind of engineer that discontent as part of some grand strategic design on winning allies in the region," he argued. "I think that would be giving actually Russia too much credit."
Niger's security forces seized control of the country last week, detaining Niger's President Mohamed Bazoum in his palace in Niamey.
GOLD STAR DAD: WE GOT STONEWALLED LEFT AND RIGHT BY THE BIDEN ADMINISTRATION
Col. Maj. Amadou Abdramane, a spokesperson for Niger's security forces, said in a televised statement last week that the country's constitution was suspended and that Gen. Abdourahmane Tchiani was in charge, The Associated Press reported.
"It is not a coincidence in my view that Russian flags are being waved in Niger's capital city of Niamey today, with anti-Western sentiment gripping the region."
Pictures of celebrations following the announcement showed a number of people waving Russian flags and signs saying, "Russie Vivie," or "Long Live Russia."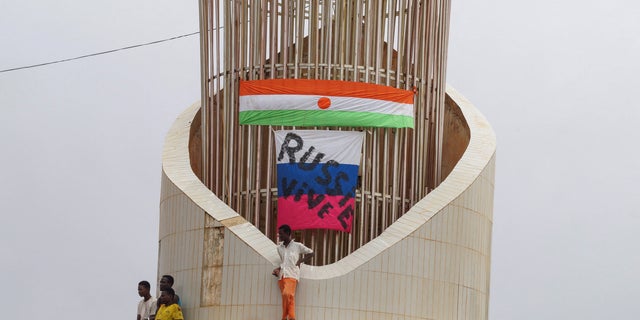 People stand next to Russian and Niger flags while hundreds of supporters of the coup gather in front of the National Assembly in the capital Niamey, Niger, July 27, 2023. (Reuters/Balima Boureima)
U.S. Secretary of State Antony Blinken on Wednesday said that while the U.S. does not believe Wagner or Russia has instigated the coup, they certainly "tried to take advantage of it."
"Every single place that this Wagner group has gone, death, destruction and exploitation have followed," Blinken stressed. "Insecurity has gone up, not down," with only "bad things in their wake."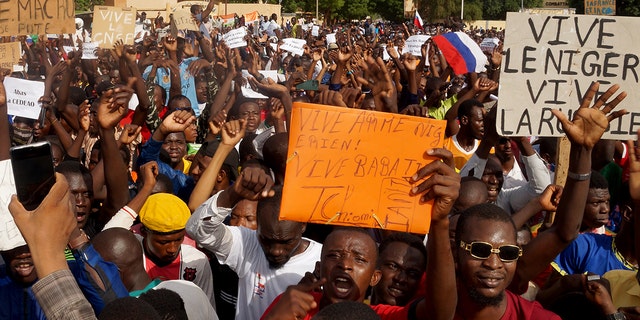 Coup supporters unfurl a Russian flag as they take to the streets after the army seized power in Niamey, Niger, on July 30, 2023. (Balima Boureima/Anadolu Agency via Getty Images)
Rebekah Koffler, president of Doctrine & Strategy Consulting and a former Defense Intelligence Agency officer, told Fox News Digital that Wagner is behind "some of the instability in some African countries," and possibly pushing for the political unrest in Niger.
"Destabilizing the region and forcing Americans and Europeans to evacuate out of Niger would be consistent with Russia's warfighting doctrine, which includes lateral escalation, amid the Russia-US proxy war over control of Ukraine," Koffler explained.
SOCIAL MEDIA LIGHTS UP AFTER CHRIS CHRISTIE'S NEW JERSEY GIFT TO ZELENSKYY IN UKRAINE
"It is not a coincidence in my view that Russian flags are being waved in Niger's capital city of Niamey today, with anti-Western sentiment gripping the region," she noted.
Wagner's exiled founder and de facto leader, Yevgeny Prigozhin, cheered on the coup, claiming, "What happened in Niger has been brewing for years."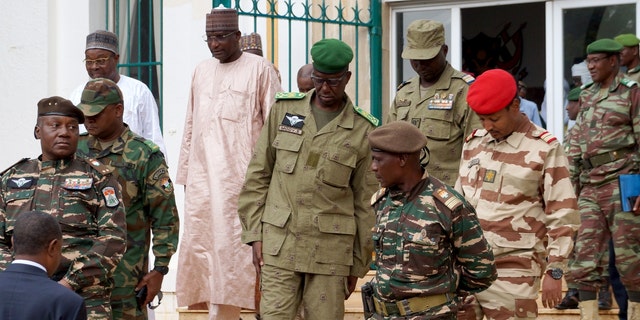 Gen. Abdourahmane Tchiani and other army commanders held a meeting in the capital, Niamey, Niger on July 28, 2023. Tchiani appeared on national television on Friday and declared himself the new leader of the country. (Balima Boureima/Anadolu Agency via Getty Images)
"The former colonizers are trying to keep the people of African countries in check," Prigozhin said. "In order to keep them in check, the former colonizers are filling these countries with terrorists and various bandit formations, thus creating a colossal security crisis."
Koffler said that using private military corporations (PMCs) to conduct destabilization operations is part of Russian statecraft, which Vladimir Putin "has used to its fullest during his presidency."
Secretary of State Antony Blinken meets with Niger President Mohamed Bazoum in Niamey, Niger on March 16, 2023. (Presidency of Niger/Handout/Anadolu Agency via Getty Images)
"Wagner routinely conducts covert influence operations as it has a perfect cover and pretext for its presence in the region, having contracts to provide counterterrorism and counter-insurgency training and security assistance to unstable regimes that struggle with domestic insurgencies and militancy," she added.
Wagner already has communicated with neighboring Mali, which asked for help after ousting the French military, with many of them moving into Niger. Reports indicate that Wagner could soon arrive in Burkina Faso, too.
JAPANESE POLITICIAN TARO ASO CALLS FOR PEACE IN TAIWAN STRAIT AS THE COUNTRY STRENGTHENS ITS DETERRENCE
Hudson, however, maintained that Wagner has merely taken advantage of "fissures" in these countries through the use of corrupt security relationships as well as disinformation campaigns and propaganda, and are not "the calculating strategists that we're giving them credit for."
He instead argued that the U.S. should look at Niger as a worrying indication of how countries in the region feel about its current trajectory, which Washington helped foster.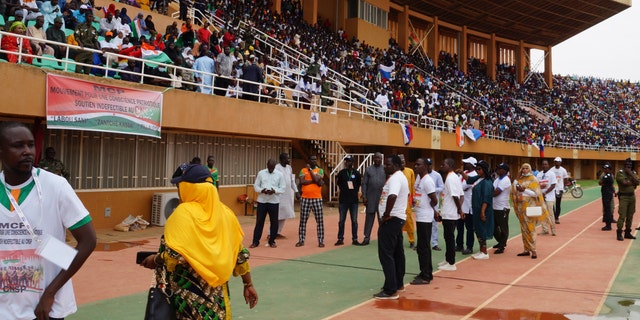 Coup supporters gather for a demonstration at a stadium in the capital city of Niger, Niamey on Aug. 6, 2023. (Balima Boureima/Anadolu Agency via Getty Images)
"We've invested billions of dollars in development aid," Hudson said. "We have been a very close partner with the Nigerian military in counterterrorism operations, and we base our entire drone posture for the entire region out of Niger."
"I think what's so startling about this turn of events is that Niger was benefiting more than any other state in the region from its relationship with Washington, and still the people and the military chose essentially it to break with that and overthrow this democratically elected government."
Niger hosts hundreds of American Special Forces and logistics experts and U.S. drones – one of the few countries on the continent to do so, allowing the U.S. to fight against Boko Haram and ISIS affiliates.
U.S. Deputy Secretary of State Victoria Nuland on Monday engaged in what she described as "difficult and frank" talks with the coup leaders in an effort to bring the conflict to a peaceful resolution.
1 DEAD, 2 ARRESTED IN JORDAN DURING THWARTED ATTEMPT TO INFILTRATE THE COUNTRY
She described Bazoum as living under "virtual house arrest," and she claimed the coup leaders did not allow her to speak with the detained president. She described the mutinous officers as unreceptive to her appeals to start negotiations.
The U.S., along with the West African regional bloc ECOWAS and the United Nations, have all urged the coup leaders to reinstate Bazoum, with neighboring countries threatening to use force if the rebels did not comply.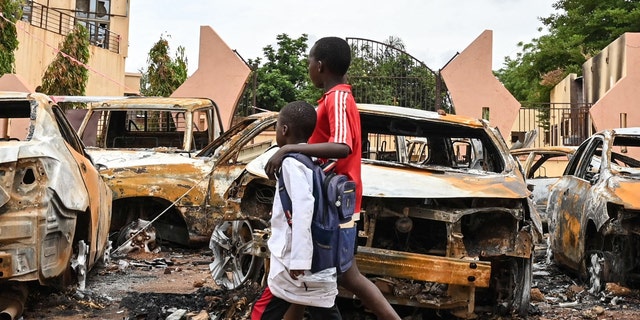 Children walk past burned cars outside the headquarters of President Bazoum's Nigerien Party for Democracy and Socialism in Niamey on Aug. 7, 2023. (AFP via Getty Images)
Should the coup not resolve favorably for the U.S., Washington will have a difficult decision to make as they are running low on options in the region.
"If you look at the counterterrorism picture in that region, Mali, Burkina Faso, Niger, Chad, are all countries that have seen undemocratic, unconstitutional changes in government in the last two years, all of which are the front line for this fight against terrorism in the region," he argued, adding that he found "none of them… particularly attractive partners."
CLICK HERE TO GET THE FOX NEWS APP
"Really, there are no ideal candidates right now for Washington to fall back to," he stressed. "Yes, they could go to Nigeria, they could go to Benin, Cote d'Ivoire, but none of those countries are central geographically speaking, to the fight against terrorism."
"They all pose their own fundamental weaknesses and challenges," he added. "There's nothing to say that some of the other countries in the region wouldn't also see a fate similar to Niger, so there is no kind of bedrock of stability that Washington can fall back to. Niger was it."
The Associated Press contributed to this report.
Peter Aitken is a Fox News Digital reporter with a focus on national and global news.