close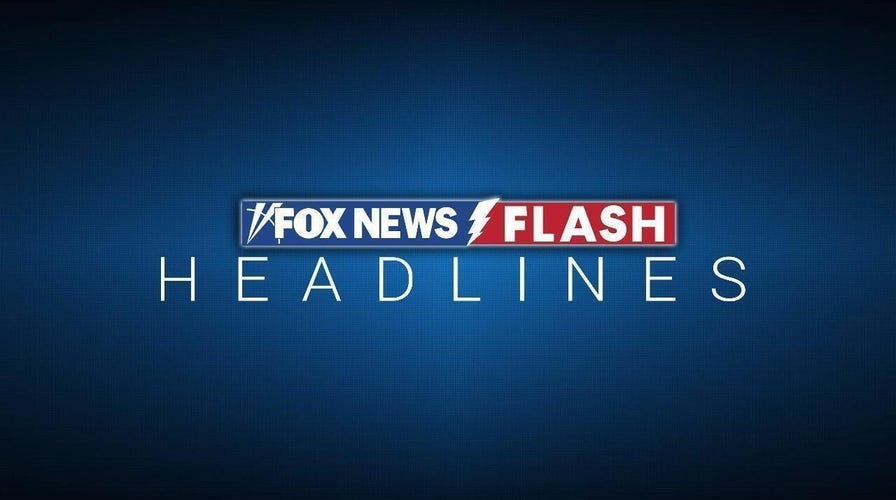 Video
Fox News Flash top headlines for November 17
Fox News Flash top headlines are here. Check out what's clicking on Foxnews.com.
The Russian Ministry of Justice is asking the nation's Supreme Court to ban the "international LGBT public movement."
The ministry announced the lawsuit on Friday, calling global LGBT movements "signs and manifestations of extremist nature" that create "incitement of social and religious discord."
This is the latest and most comprehensive legal move against LGBT pride campaigns from overseas by the Russian government, which has firmly opposed liberalizing sexual norms.
RUSSIA'S FIRST TRANS POLITICIAN DROPS GUBERNATORIAL RUN, BLAMES ANTI-LGBT LEGISLATION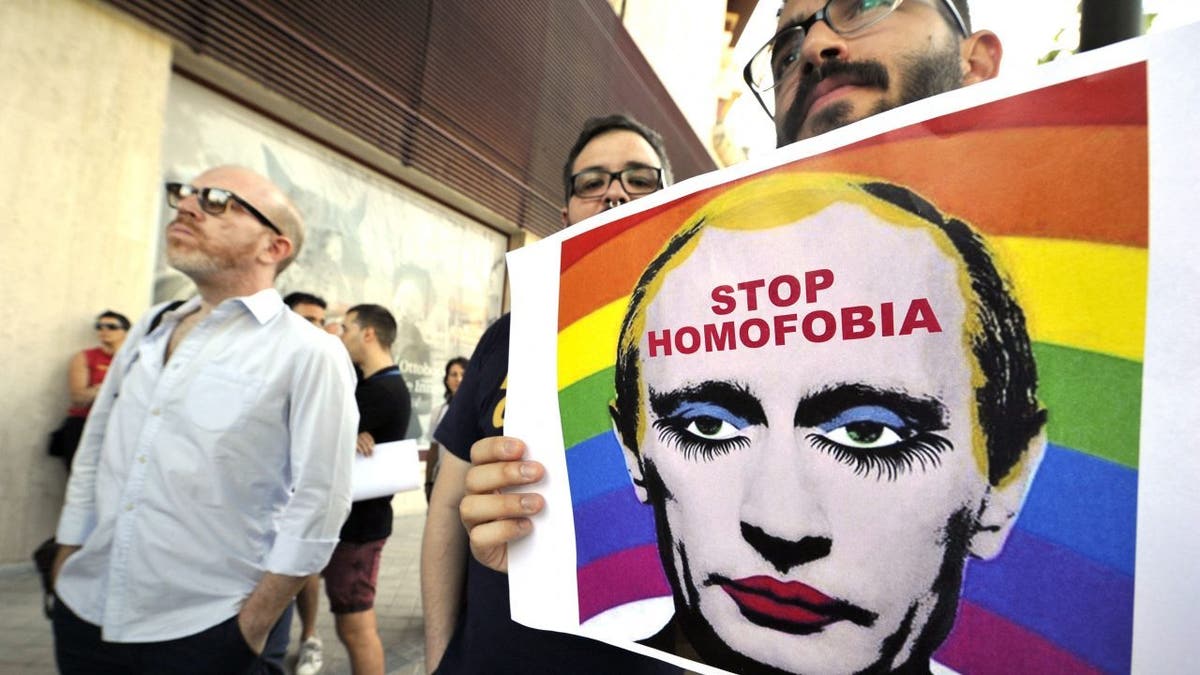 A demonstrator holds a poster depicting Russian President Vladimir Putin with make-up as he protests against against "LGBT propaganda" in Russia, in front of the Russian Embassy in Madrid. (GERARD JULIEN/AFP via Getty Images)
The Supreme Court of Russia will hold a hearing on the lawsuit on Nov. 30, the Justice Ministry said.
It is not immediately clear how a successful ban on the "public movement" would manifest, nor how such a prohibition would be enforced.
Laws against the propagation of LGBT material began in 2013 with a ban on "LGBT propaganda" for children, which was later expanded to include the entire public regardless of age.
KREMLIN SAYS PUTIN'S EVENTUAL SUCCESSOR WILL BE 'DIFFERENT, BUT THE SAME'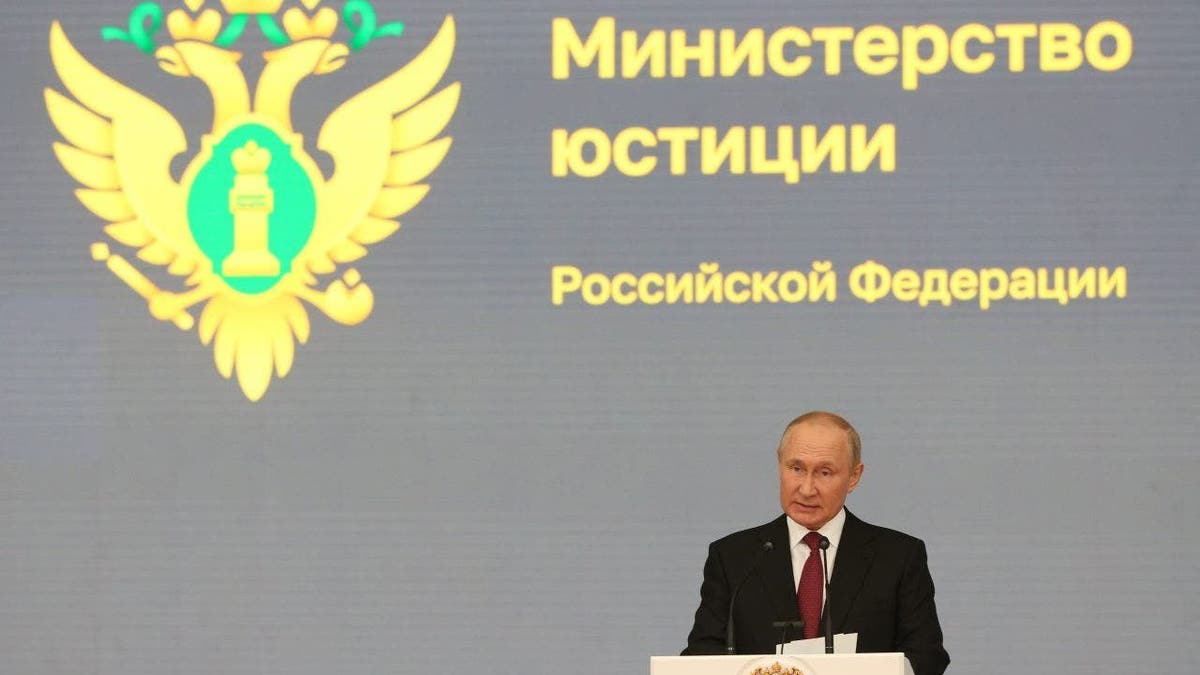 Russian President Vladimir Putin speaks during the meeting marking the 220th Anniversary of the Ministry of Justice, at the Grand Kremlin Palace, September 20, 2022, in Moscow, Russia. Russian President Vladimir Putin on Tuesday blasted what he described as U.S. efforts to preserve its global domination, saying they are doomed to fail.  (Getty Images)
Earlier this year, Russia banned "medical interventions aimed at changing the sex of a person," and added transgender people to the list of demographics not allowed to adopt children.
Russian social policy has trended conservative on LGBT issues for many years while Putin's government characterizes the rise of same-sex couples and transgenderism as undesirable social contagions from the West.
"Do we really want to have here, in our country, in Russia, 'Parent No. 1, No. 2, No. 3' instead of 'mom' and 'dad?'" asked during a ceremony in 2022.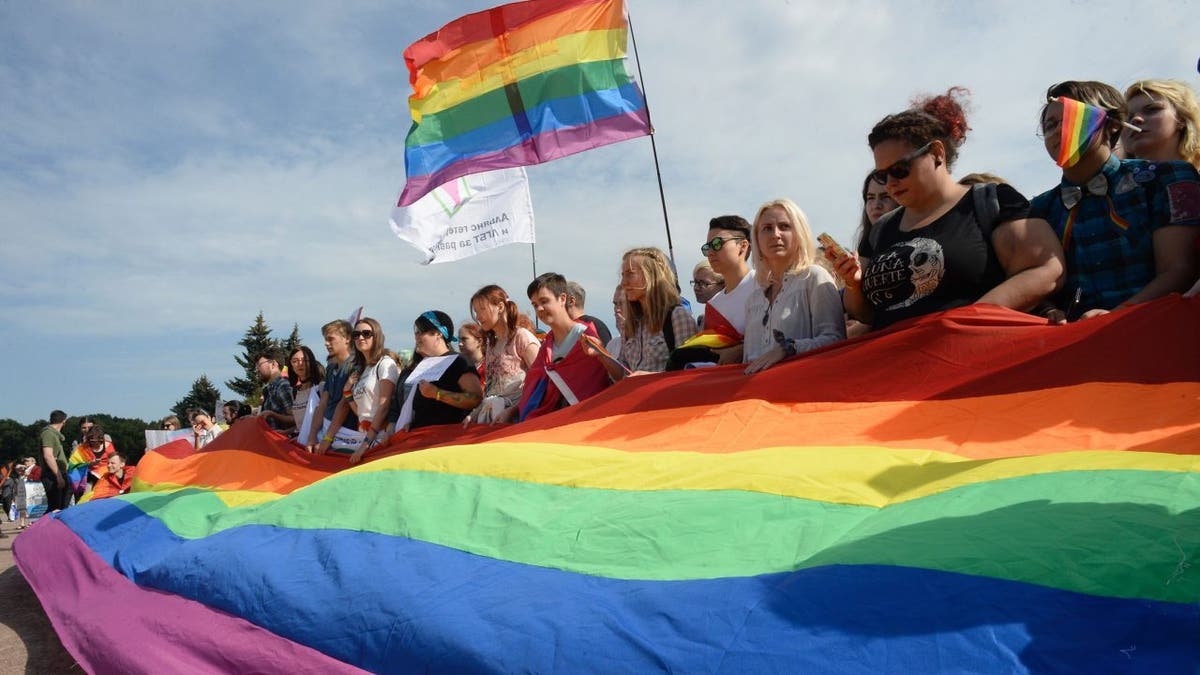 People wave LGBT rainbow flags during a gay pride rally in Saint Petersburg. (OLGA MALTSEVA/AFP via Getty Images)
CLICK HERE TO GET THE FOX NEWS APP
He continued, "Do we really want perversions that lead to degradation and extinction to be imposed in our schools from the primary grades?"
However, Putin acknowledged that LGBT people are "part of the society, too" at an event in St. Petersburg on Friday.
Timothy Nerozzi is a writer for Fox News Digital. You can follow him on Twitter @timothynerozzi and can email him at [email protected]