close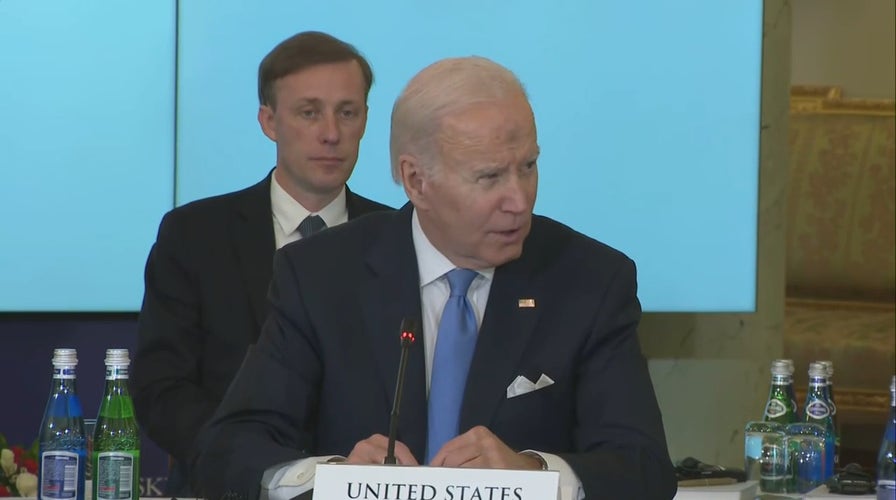 Video
President Biden reaffirms 'sacred commitment' to defending NATO allies
President Biden addresses a summit of Bucharest Nine countries on Feb. 22, 2023.
President Biden on Wednesday met with leaders of NATO nations dubbed the Bucharest 9 (B9) – which flank the eastern front and stand as the first line of defense against Russia – to reaffirm the alliance's commitment to Article 5 and the protections it grants all member nations.
Article 5 of NATO's Washington Treaty, known as "the principle of collective defense," obliges all member countries to come to the aid of another member whose sovereignty or territorial integrity is under threat.
NATO defines this core principle as "very heart of NATO's founding treaty."
"Collective defense means that an attack against one Ally is considered as an attack against all Allies," the NATO charter outlines. "It remains a unique and enduring principle that binds its members together."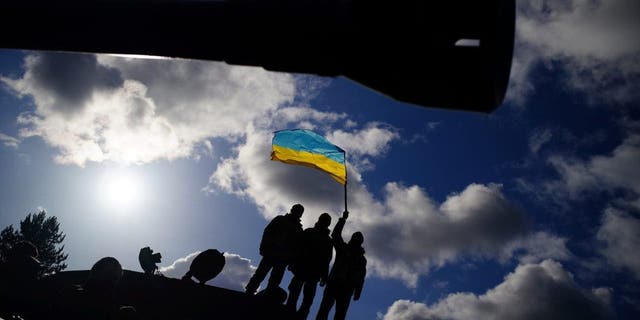 Ukrainian soldiers at Bovington Camp, a British Army military base where they are training on Challenger 2 tanks, in Dorset, England, Wednesday Feb. 22, 2023.  (Ben Birchall/Pool via AP)
WHAT VICTORY FOR UKRAINE LOOKS LIKE BEYOND BORDER SECURITY: CHIEF DEFENSE ADVISER
The war in Ukraine has dragged on for nearly a year, far outstripping what Russian President Vladimir Putin thought of Ukraine's defenses or NATO's ability to remain a united front.
However, it has also increased concerns regarding what the threat of a prolonged war means for European security and whether the conflict could spill over into NATO territory.
"As NATO's eastern flank, you're on the front lines of our collective defense," Biden said to B9 leaders. "And you know better than anyone what's at stake in this conflict, not just for Ukraine, but for the freedom of democracies throughout Europe and around the world.
"I've said it to you many times, I'll say it again [so its] absolutely clear. Article 5 is a sacred commitment the United States has made. We will defend literally every inch of NATO. Every inch," he added.
However, Ukraine is not a NATO member country.
Ukrainian marines prepare to train in urban warfare techniques on the second day of the "Rapid Trident" bilateral military exercises between the United States and Ukraine that includes troops from a variety of NATO and non-NATO countries on Sept. 16, 2014 near Yavorov, Ukraine.  (Photo by Sean Gallup/Getty Images)
While Ukraine has contributed to NATO operations and missions in Bosnia-Herzegovina, Kosovo, Iraq, Afghanistan and elsewhere, this is not enough to warrant the full protection of all NATO nations.
While NATO has pledged to back Ukraine with defensive aid to win the war against Russia, it has stopped short of sending in boots on the ground – a stipulation only afforded to the 30-member nations.
Ukrainian President Volodmyr Zelenskyy said Kyiv had applied to become a member of NATO in September, which would serve as a deterrent against future Russian aggression.
Though the NATO charter stipulates that no nation can be fully considered or accepted as a member while it is engaged in conflict.
Putin has claimed that he was prompted to launch his "special military operation" into Ukraine over the threat that Kyiv and NATO posed in expanding the alliance – an excuse Western officials have flatly rejected.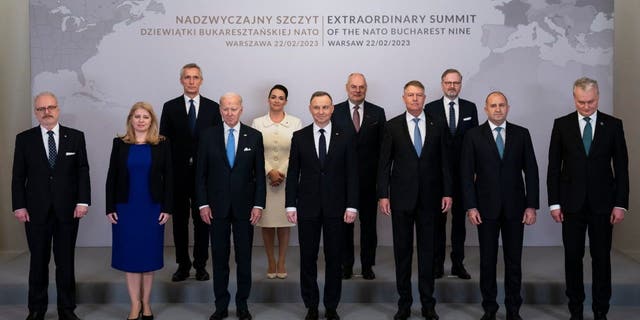 Leaders of the Bucharest Nine countries Feb. 22, 2023, in Warsaw.  From left to right are Latvian President Egils Levits, Slovakia President Suzana Caputova, NATO Secretary General Jens Stoltenberg, Biden, Hungarian President Katalin Novák, Polish President Andrzej Duda, Estonia President Alar Karis, Romania President Klaus Werner Iohannis, Czech Republic Prime Minister Petr Fiala, Bulgaria President Ruman Radev and Lithuania President Gitanas Nauseda.  (AP Photo/ Evan Vucci)
RUSSIA DECRIES UKRAINE'S CALLS FOR NATO-LIKE SECURITY COALITION AS 'PROLOGUE' TO WWIII
NATO chief Jens Stoltenberg has said it is Ukraine's right to seek membership and has refused Russian attempts to blackball Kyiv from being able to join the alliance.
Biden on Wednesday was not alone is his steadfast commitment not only to NATO, but to Ukraine during the Wednesday meeting.
Romania President Klaus Iohannis, who helped establish the B9 in 2015 in wake of Russia's aggression in Eastern Europe following the 2014 invasion of Ukraine and subsequent illegal annexation of Crimea, echoed Biden's commitments.
"We…the leaders of the eastern flank have the duty to stand firm in defense of our peace. We must continue to stand firm in delivering on our commitments to support Ukraine for as long as it needs to win this war," he said. "This is what Romania will continue to do.
"We are not alone in this endeavor," he added.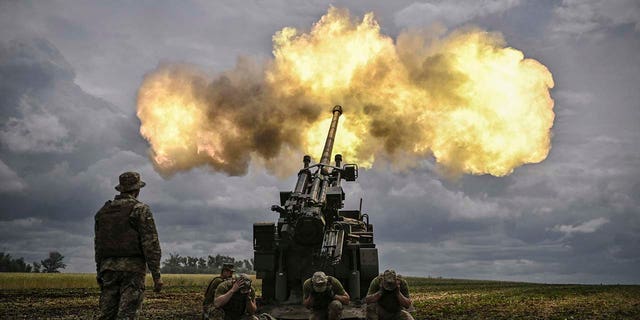 Ukrainian servicemen fire with a French self-propelled 155 mm/52-calibre gun Caesar towards Russian positions at a front line in the eastern Ukrainian region of Donbas on June 15, 2022. (Photo by ARIS MESSINIS/AFP via Getty Images)
The meeting of the NATO leaders came not only as the war nears the one-year anniversary of Russia's invasion of Ukraine, but followed the pronouncement by Secretary of State Antony Blinken at the Munich Security Conference over the weekend, when he said the U.S. is concerned that Moscow is now turning to China for lethal aid.
Security officials are greatly concerned by the threat China's participation in the war would bring as it would not only change the dynamic on the battlefield in Ukraine but would force European nations to cut economic ties and further strain relations between China and the West.
This geopolitical divide between democracies and autocracies would create its own challenges, particularly as it relates to security concerns over Taiwan.
China has denied it is considering aiding Russia in its war effort, though Moscow received Beijing's top diplomat Tuesday for discussions on the war.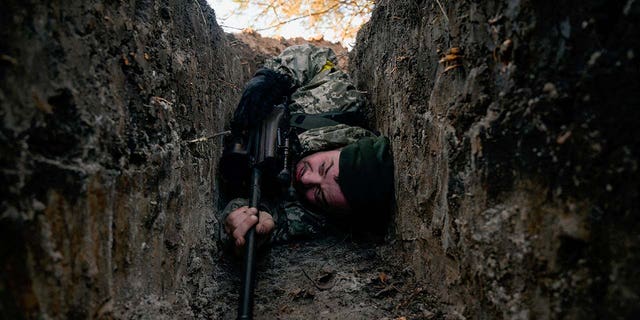 A Ukrainian soldier hides from a helicopter airstrike amid Russia's invasion of Ukraine, near Demydiv, Ukraine March 10, 2022.  (REUTERS/Maksim Levin)
CLICK HERE TO GET THE FOX NEWS APP
"We must break the cycle of Russian aggression," Stoltenberg warned. "We don't know when the war will end, but when it does, we need to ensure that history does not repeat itself.
"We have seen the Russian pattern of aggression over many years: Georgia in 2008, Crimea and Donbas in 2014, and then the full-fledged invasion of Ukraine last year," he added. "We cannot allow Russia to continue to chip away at European security.
Caitlin McFall is a Reporter at Fox News Digital covering Politics, U.S. and World news.