close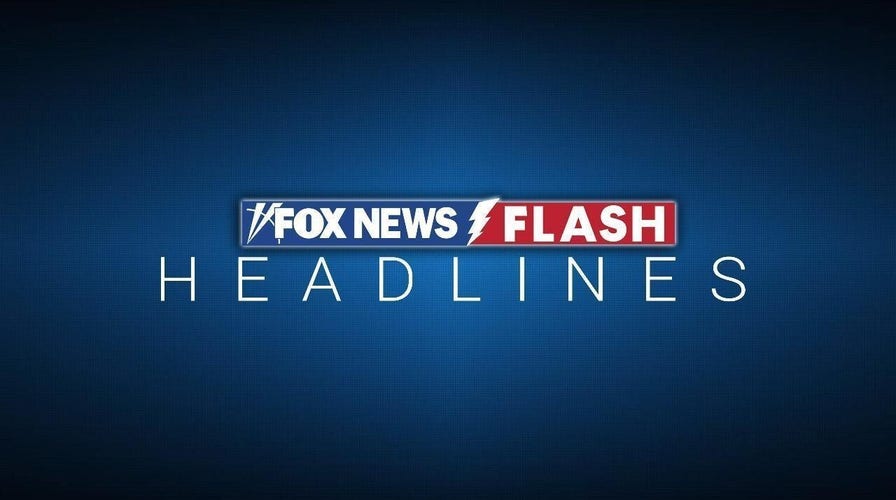 Video
Fox News Flash top headlines for February 9
Fox News Flash top headlines are here. Check out what's clicking on Foxnews.com.
Russia's foreign minister met with Sudan's military rulers on Thursday, state media in Sudan reported, the final stop on Sergey Lavrov's tour of Africa.
The top Russian diplomat Africa trip has been seeking to strengthen ties and expand influence at a time when the West has sought to isolate Moscow with sanctions over Russia's war on Ukraine.
Lavrov held talks with Gen. Abdel Fattah Burhan, the head of Sudan's ruling Sovereignty Council, as well as with his deputy, Gen. Mohammed Hamdan Dagalo, who heads a powerful paramilitary known as the Rapid Support Forces.
RUSSIA'S LAVROV CLOSES DOOR ON EU AND TURNS TO 'LIKE-MINDED' ALLIES
The meetings focused on improving cooperation between the two countries, the state SUNA news agency said, without providing details.
At a press conference later, Lavrov acknowledged the presence of Russian-owned mining companies in Sudan, "primarily in the field of developing the mineral resource base.″
''We appreciate the attention that the Sudanese leadership pays to them,″ Lavrov added.
According to a recent Associated Press investigation, Wagner Group — a military contractor owned by an oligarch with close ties to Russia's President Vladimir Putin — has a strong presence in Sudan's far-flung provinces. According to Sudanese officials and documents shared with the AP, the group has been given control of various Sudanese gold mines by the country's military leaders in exchange for military and intelligence training.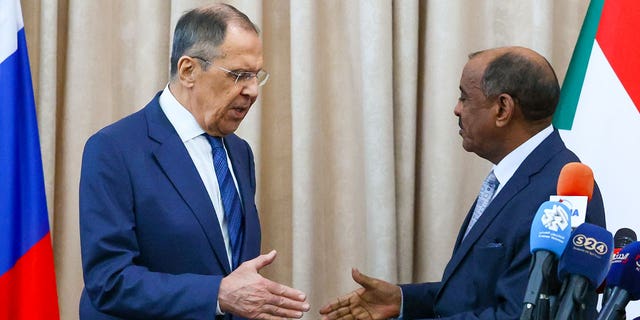 Russian Foreign Minister Sergey Lavrov met with Sudan's military leadership Thursday (Russian Foreign Ministry Press Service via AP)
The Biden administration in January expanded U.S. sanctions against Wagner Group and related companies and individuals for their role in the war in Ukraine and mercenary activities, including human rights abuses, in Africa.
When asked about the group at the Khartoum presser, Lavrov said private Russian companies operate in Africa at the request of African governments, including that of the Central African Republic. In that African country, Wagner fighters ride around the capital of Bangui in unmarked military vehicles, guard the country's gold and diamond mines and have helped keep President Faustin-Archange Touadera in power.
"We have commented more than once on the activities of our private military companies operating in Africa at the direct request of the governments of the respective countries," Lavrov said. "This also applies to the Central African Republic, and is a contribution to the normalization of the situation in the region as a whole, where terrorist gangs continue to be active."
Lavrov's visit to Sudan comes as its military rulers are in talks with some political forces in the African country to reinstate a civilian government after more than a year of military rule following the October 2021 military coup.
On Thursday, senior diplomats from the United States and other European nations concluded two days of talks with Sudanese representatives to push for a final agreement to return to a transition to democracy in Sudan, deeply embroiled in a spiraling political and economic crisis.
RUSSIA'S LAVROV FLAT OUT REJECTS ZELENSKYY'S CONDITIONS FOR 'PEACE FORMULA'
The coup derailed Sudan's short-lived, democratic transition that followed the removal of longtime autocratic President Omar al-Bashir in April 2019 amid a popular uprising against his Islamist-backed repressive rule.
Lavrov arrived in the Sudanese capital, Khartoum, after visiting Mali and Mauritania in what has been his second trip to Africa this year. Central to his appeal to African nations has been casting Russia as an anti-imperialist force, tapping into resentment of Western colonialism and oppression on the continent.
Russia's growing influence was particularly evident in January in Burkina Faso, when protesters condemning France and the Economic Community of West African States waved Russian flags on the street of the capital, Ouagadougou.
Underscoring Sudan's volatile situation, a 15-year-old was killed Thursday after being struck in the head by a tear gas canister fired by security forces in Omdurman, near Khartoum, a medical group said.
The Sudan's Doctors Committee said the teen was taking part in anti-government protests, which have become near-weekly events in Khartoum and other major cities since the military takeover. No further details were given.
CLICK HERE TO GET THE FOX NEWS APP
Most demonstrations are led by more ardent factions of Sudan's sprawling pro-democracy network that refuse to negotiate with the military leaders.