close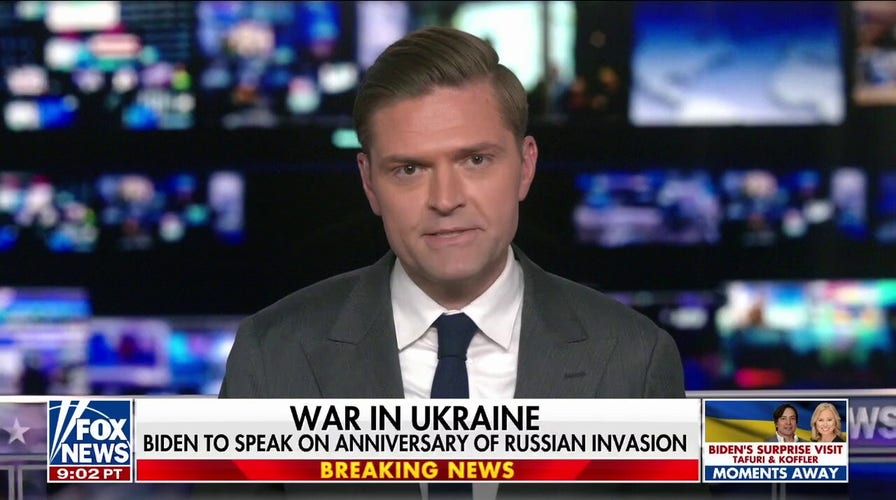 Video
Biden makes unannounced visit to Kyiv, Ukraine
Fox News correspondent Jeff Paul discusses President Biden's visit to Ukraine and his announcement for continued support to the country on 'Fox News @ Night.'
Russian President Vladimir Putin announced Tuesday that Russia was pulling back from the new START treaty with the United States which reduces and limits each country's nuclear arsenal.
"In this regard, I am forced to announce today that Russia is suspending its participation in the strategic offensive arms treaty," Putin said in his annual address to the nation, just one day after President Biden made a surprise visit to Ukraine.
In his long-delayed state-of-the-nation address, Putin cast Russia and Ukraine as victims of Western double-dealing. He said Russia, not Ukraine, was the one fighting for its very existence.
The speech reiterated a litany of grievances that the Russian leader has frequently offered as justification for the widely condemned war and ignored international demands to pull back from occupied areas in Ukraine.
PRESIDENT BIDEN MAKES SURPRISE VISIT TO KYIV. UKRAINE, MEETS WITH PRESIDENT ZELENSKYY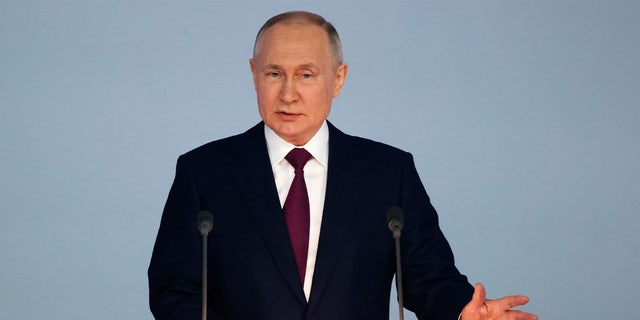 Russian President Vladimir Putin gestures as he gives his annual state of the nation address in Moscow, Russia, Tuesday, Feb. 21, 2023. (Sergei Karpukhin, Sputnik, Kremlin Pool Photo via AP)
The New START treaty, first signed in April 2010, limits the U.S. and Russia from having more than 1,550 nuclear warheads deployed on delivery systems like intercontinental ballistic missiles, submarine-launched ballistic missile or heavy bombers.
Both the U.S. and Russia are capable of deploying far more than the allotted nuclear warheads as Washington and Moscow have a combined total of more than 13,000 warheads – making up roughly 90 percent of the world's nuclear arsenal, according to data provided by the Arms Control Association (ACA).
Following the nuclear arms race that largely came to an end with the fall of the Soviet Union, the UN has pushed for nuclear disarmament and global warheads inventories have dropped since hitting their peak in 1985 when more than 70,000 warheads were estimated to make up global stockpiles.
Putin's speech comes three days before the one-year anniversary of Russia's invasion of Ukraine.
Russia has continued its attack on Ukraine over the last year despite Western sanctions and losses on the battlefield. Ukraine's defense has been supported by a number of other countries, most of which are in the West.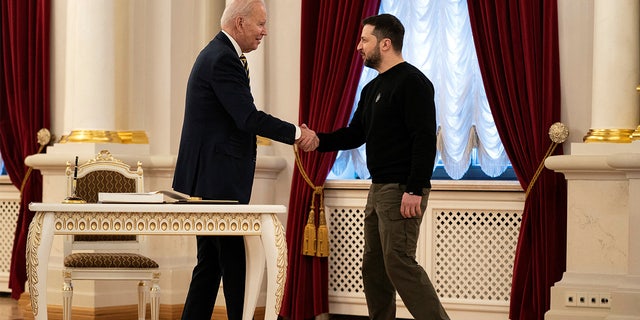 Ukraine's President Volodymyr Zelenskiy and U.S. President Joe Biden shake hands at Mariinsky Palace on an unannounced visit, in Kyiv, Ukraine, February 20, 2023.  (Evan Vucci/Pool via REUTERS)
Ukrainian officials have said they expect Russia to ramp up its offensive in Moscow's acknowledgment of the one-year anniversary of the war on Feb. 24.
Biden on Monday met with Ukraine President Volodymyr Zelenskyy at Mariinsky Palace to announce an additional half-billion dollars in U.S. assistance. The U.S. has already supported Ukraine with tens of billions of dollars in financial aid and military equipment.
BIDEN ANNOUNCES MILLIONS MORE TAXPAYER DOLLARS TO ASSIST UKRAINE DURING SURPRISE TRIP TO KYIV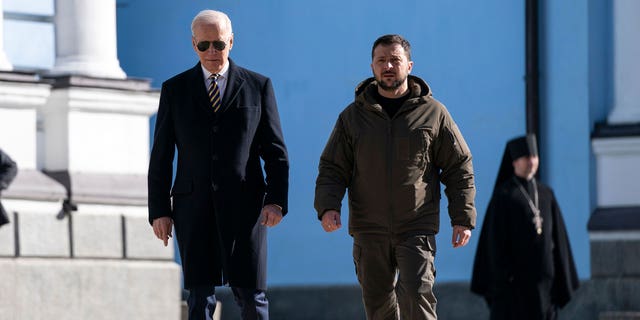 President Biden (L) walks with Ukrainian President Volodymyr Zelenskyy (R) at St. Michael's Golden-Domed Cathedral during an unannounced visit, in Kyiv on February 20, 2023. (EVAN VUCCI/POOL/AFP via Getty Images)
The new assistance includes shells for howitzers, anti-tank missiles, air surveillance radars and other aid but does not offer new advanced weaponry.
Biden said he visited Ukraine to meet with Zelenskyy and "reaffirm our unwavering and unflagging commitment to Ukraine's democracy, sovereignty, and territorial integrity." He said Putin was "dead wrong" in believing Ukraine was weak when he launched the invasion a year ago.
CLICK HERE TO GET THE FOX NEWS APP
"I am meeting with President Zelenskyy and his team for an extended discussion on our support for Ukraine," Biden said in a statement Monday. "I will announce another delivery of critical equipment, including artillery ammunition, anti-armor systems, and air surveillance radars to help protect the Ukrainian people from aerial bombardments. And I will share that later this week, we will announce additional sanctions against elites and companies that are trying to evade or backfill Russia's war machine."
Fox News' Caitlin McFall, Nick Kalman and the Associated Press contributed to this report.