A Russian tanker with 11 crew members has been hit in a Ukrainian attack in the Black Sea, Russian officials say.
They said the vessel's engine room was damaged in the overnight strike in the Kerch Strait. No-one was hurt.
Ukraine has not publicly commented. But a Ukrainian security service source told the BBC a sea drone had been used.
Saturday's attack is the second in as many days involving such weapons. Russia, however, has not admitted any damage during Friday's attack.
Naval drones, or sea drones, are small, unmanned vessels which operate on or below the water's surface. Research by BBC Verify suggests Ukraine has carried out several attacks with sea drones.
How sea drones are changing the Ukraine war
Two months in, Ukraine's big offensive is slower than it hoped
The Kerch Strait connects the Black Sea and the Sea of Azov, separating Crimea – Ukraine's peninsula annexed by Moscow in 2014 – and Russia's Taman peninsula.
The Ukrainian security service source told the BBC Saturday's operation was also conducted jointly with the Ukrainian navy and that 450kg of TNT explosive had been used.
The tanker was loaded with fuel, they said so the "fireworks" were visible from afar.
Russia's maritime transport agency says the Sig tanker was located 17 miles (27km) south of the Crimean Bridge.
Russia's state-run Tass news agency quoted an official from the country's regional Marine Rescue Co-ordination Centre (MRCC) as saying that two tugs had already arrived at the scene of the attack – just to the south of the Kerch Strait.
"The engine room was damaged. Not much, but it was damaged," the official said.
Russia's maritime transport agency RosMorRechFlot later said the vessel had a hole "in the area of [the] engine room near the waterline from the starboard side, presumably as a result of an attack by a sea drone".
"The ship is afloat," it added.
Russian state-run media also reported that lights on the Crimean Bridge – further north – were turned off and all traffic halted amid warnings of an imminent attack.
On Saturday, Ukraine said it had designated six Russian black sea ports as being in "war risk" areas, indicating that it could be preparing further attacks on Moscow's territory.
Oleksiy Danilov, the secretary of Ukraine's National Security and Defence Council, warned that Kyiv was preparing to the expand the "scale" and "range of combat operations" in Russia.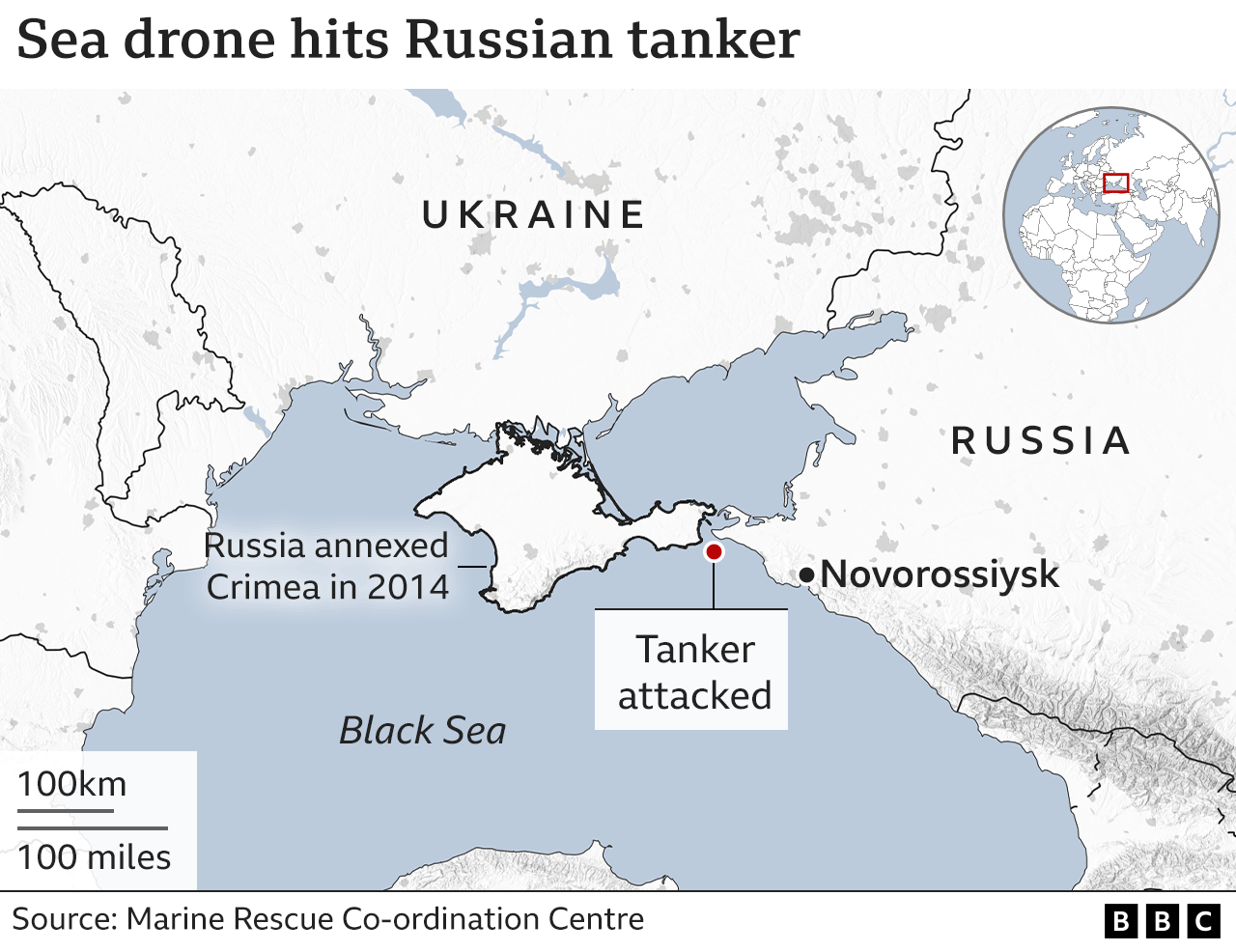 On Friday, a Russian naval ship suffered a serious breach in a Ukrainian naval drone strike near Russia's Black Sea port of Novorossiysk, Ukrainian security sources told the BBC.
Footage later emerged purportedly showing the drone hitting the Olenegorsky Gornyak large landing ship. Another unverified video showed a heavily listing vessel being towed to port.
Russia's defence ministry said it had repelled a Ukrainian attack on its naval base in Novorossiysk which involved two sea drones, but did not admit any damage.
Novorossiysk, a major hub for Russian exports, lies to the south-east of the Kerch Strait.
Clashes in the sea have increased in recent weeks, after Russia abandoned a major UN deal that enabled grain to be safely exported across the Black Sea.
Ukrainian ports have been pummelled by Russian drones and missiles, and Kyiv has threatened to retaliate.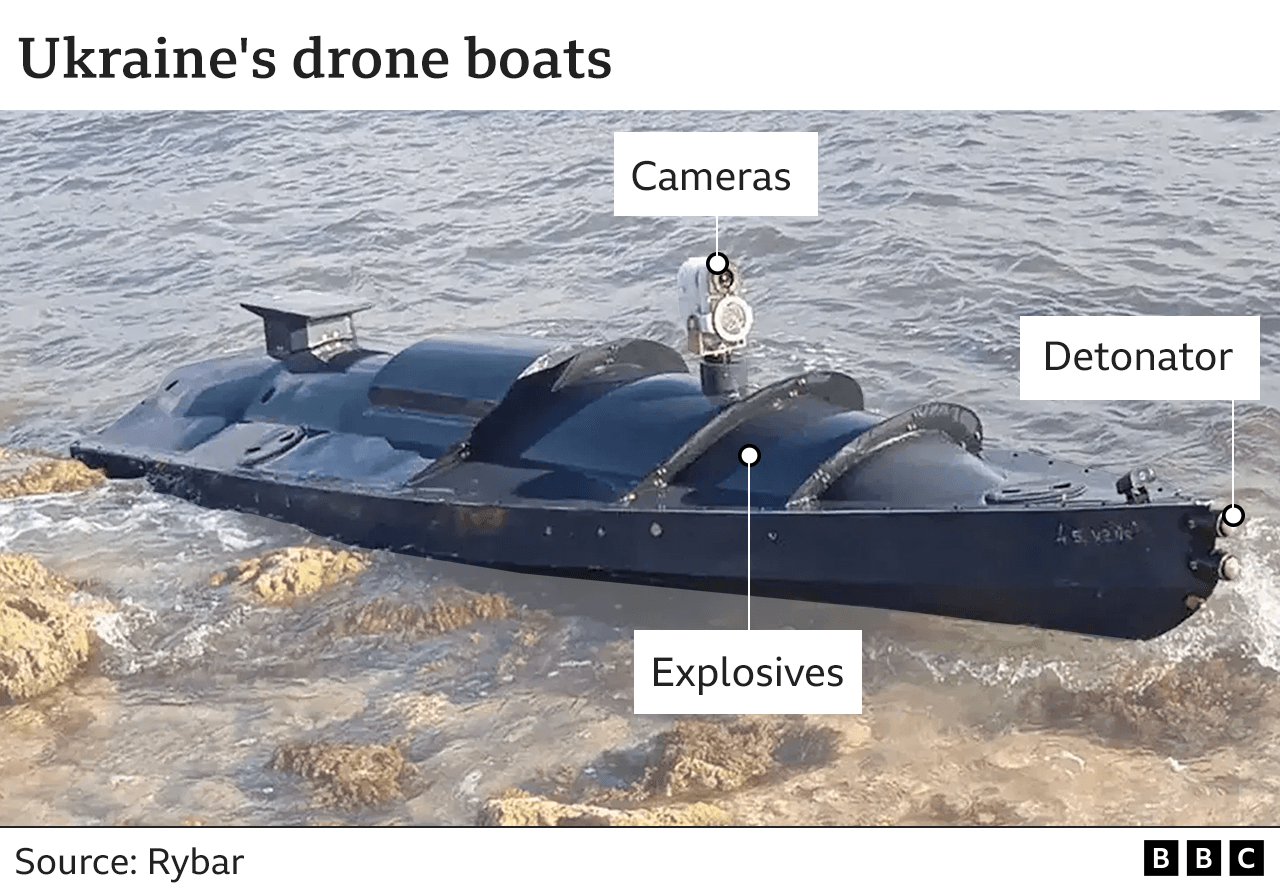 "It is clear that it is impossible to win the war if you are not actively attacking," said Ukraine's presidential adviser Mykhailo Podolyak, when asked about Western allies who may be becoming nervous about this war spilling well beyond its borders.
He believes the apparent images of damaged Russian vessels will make Moscow "think twice about using the Black Sea for blackmail".
While Kyiv denies drone strikes deeper inside Russia, it says it sees threats on occupied territories and surrounding waters as fair game.
Russia enjoys complete control of the Black Sea and Sea of Azov and two reportedly damaged ships are unlikely to change that.
But previous Ukrainian counter-offensives have been fuelled by their ability to cut off major Russian supply lines.
If it has indeed been able to immobilise a large Russian warship and oil tanker in two days, it will hope more will follow.
This war's footprint seems to be getting bigger.
In a separate development, talks started in Saudi Arabia on Saturday on ways to end the war in Ukraine. Invitations have been sent to about 40 countries – but not Russia – to attend the meeting in the Red Sea city of Jeddah.
Western leaders have been keen to downplay to potential for any major breakthrough at the conference, but China has agreed to send its special representative for Eurasian affairs, Li Hui.
Russian President Vladimir Putin launched his full-scale invasion of Ukraine in February 2022.