close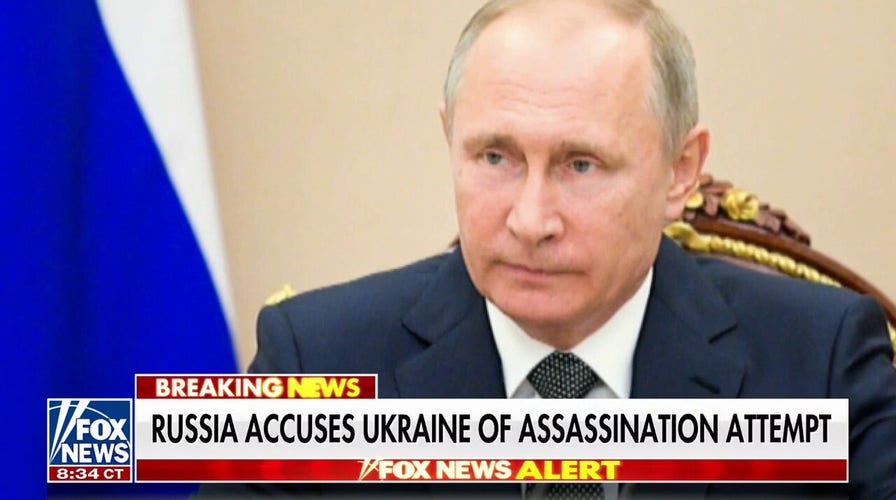 Video
Unverified video shows drone attack on Kremlin as Russia accuses Ukraine of assassination attempt
Fox News' Alex Hogan reports on Russia claiming Ukraine attacked the Kremlin in an attempt to assassinate Vladmir Putin as the war in Ukraine rages on.
Russia has trimmed down annual Victory Day celebrations, with some claiming the Kremlin fears protests and dissent following continued and severe losses in Ukraine.
Russian President Vladimir Putin has used the celebrations, which mark the Soviet Union's triumph over Nazi Germany in World War II, as propaganda opportunities. He used 2021 to warn that Russia's enemies once more followed "much of the ideology of the Nazis," a rallying cry he repeated throughout his invasion of Ukraine, and in 2022 he marched in the Immortal Regiment procession while holding a picture of his father in military attire.
However, this year's celebrations will have much less fanfare as governors in Belgorod, Kursk, Voronezh, Oryol and Pskov as well as the Crimean Peninsula have all canceled their parades, The Guardian reported.
Yelena Tsunayeva, lawmaker and organizer of the Immortal Regiment procession, told reporters last month that they would hold the parade "in other formats' due to "security reasons."
POPE FRANCIS GREETS RUSSIAN ORTHODOX LEADER AMID SECRET VATICAN 'MISSION' TO END WAR IN UKRAINE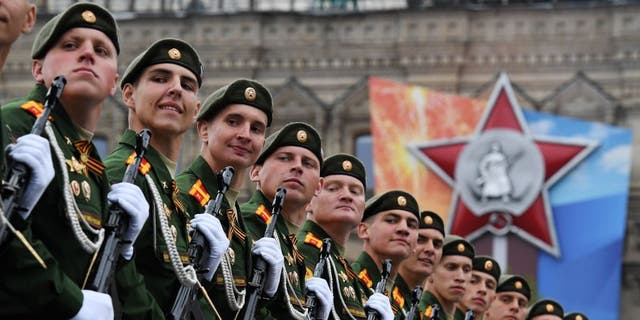 Russian servicemen march at Red Square during the general rehearsal of the Victory Day military parade in Moscow on May 6, 2018. Russia marks the 73rd anniversary of the Soviet Union's victory over Nazi Germany in World War II on May 9. (KIRILL KUDRYAVTSEV/AFP via Getty Images)
The more famous Red Square procession, which includes displays of military equipment and traditionally occurs with Putin in attendance, will be strictly closed off to the public, and Putin's attendance is in question following an alleged attempt on his life.
Russia released a video of an alleged drone attack that it claimed was a Ukrainian attempt to assassinate Putin, but Mykhailo Podolyak, adviser to the head of the Office of the President of Ukraine denies the drone attack on the Kremlin and accused Russia of attempting to create a false-flag attempt in order to execute "a large-scale terrorist attack."
Regional governors across Russia previously cited "safety concerns" over potential strikes against "large numbers of equipment and service members" gathered for the celebrations as a reason to outright cancel parades in some areas.
RUSSIAN WARLORD EXPANDS ACTIVITY IN AFRICA ON MOSCOW'S BEHALF, CREATING FOOTHOLD IN VITAL REGION
Russian T-14 Armata tanks drive in the Red Square during a military parade on Victory Day in Moscow May 9, 2022. (Reuters/Shamil Zhumatov)
Some have argued, however, that the orders have trickled down from the Kremlin, which is worried that the parades may devolve into shows of dissent and protest, the BBC reported.
Dmitry Kolazev, a journalist living in exile and editor of a liberal news website, noted in a Telegram post that "history knows of examples when loyal events turned into protests," and that people would have "almost certainly" turned up to the parades with a "depressingly large" number of recent photos of soldiers who died in Ukraine.
Rebekah Koffler, president of Doctrine & Strategy Consulting and a former Defense Intelligence Agency officer, told Fox News Digital that the Kremlin "is definitely concerned about security during the V-Day Parade timeframe, for a few reasons."
PUTIN FACES POSSIBLE ARREST IF HE ATTENDS BRICS SUMMIT IN SOUTH AFRICA: REPORT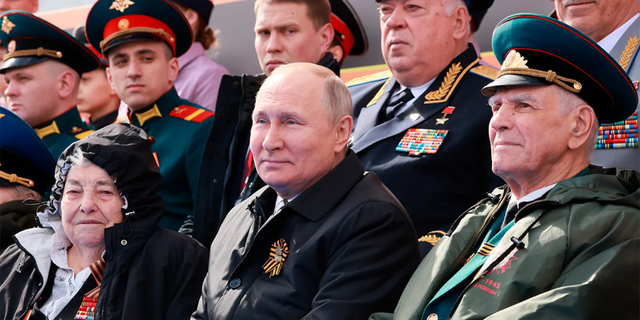 Russian President Vladimir Putin, middle, attends the Victory Day military parade marking the 77th anniversary of the end of World War II in Moscow Monday, May 9, 2022. (Mikhail Metzel, Sputnik, Kremlin Pool Photo via AP)
"First, Ukraine's counter-offensive is impending and Kyiv has displayed high tolerance for escalation and boldness, targeting Crimea, etc., so the Russians don't know what to expect in terms of level of escalation," Koffler explained. "Second, there's also concern about the protests from internal dissenters in Russia."
CLICK HERE TO GET THE FOX NEWS APP
"But there's also another logic behind the Kremlin's ratcheting up security concerns and scaling down the celebrations of this important day," she added. "Putin wants to show to the Russians that the country is under attack and they are not safe, justifying a protracted war. It's a sacred day in Russia and Putin is exploiting this for propaganda purposes."
Fox News Liz Friden contributed to this report.
Peter Aitken is a Fox News Digital reporter with a focus on national and global news.