close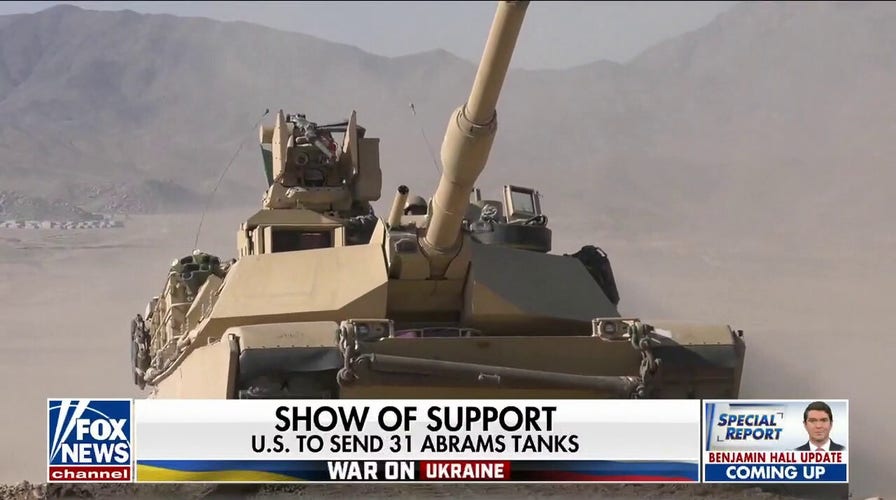 Video
The US Sends Ukraine Weapons to Prepare for Russian Spring Ground Offensive
Fox News national security correspondent Jennifer Griffin has the latest on the Russia-Ukraine war on 'Special Report.'
Russia is not complying with the only existing nuclear arms treaty between Moscow and Washington, the State Department warned Congress in a report Tuesday.
A State Department spokesperson told Fox News that Moscow is not complying with numerous stipulations laid out under the New Strategic Arms Reduction Treaty (START), which was renewed by both parties in February 2021 for five years.
"Russia's refusal to facilitate inspection activities prevents the United States from exercising important rights under the treaty and threatens the viability of U.S.-Russian nuclear arms control," the spokesman said.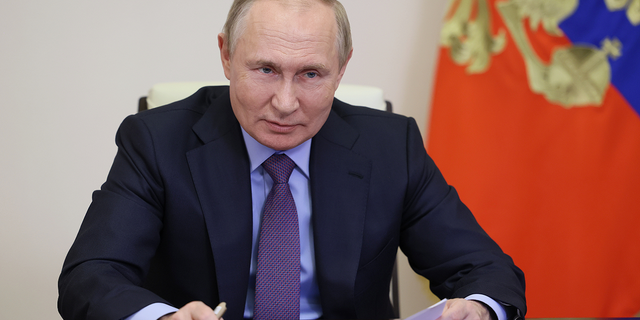 Russian President Vladimir Putin speaks to Vologda Region Governor Oleg Kuvshinnikov via videoconference at the Novo-Ogaryovo state residence, outside Moscow, Russia, on Monday, Jan. 30.
(Mikhail Klimentyev, Sputnik, Kremlin Pool Photo via AP)
RUSSIA'S MEDVEDEV WARNS OF NUCLEAR FALLOUT IF RUSSIA DEFEATED BY NATO ARMS IN UKRAINE
Moscow has also reportedly failed to hold a Bilateral Consultative Commission meeting per the guidelines mandated by the treaty.
The spokesman said that Russian inspectors remain welcome to travel to the U.S. to review its compliance with the treaty.
"Russia has a clear path for returning to full compliance," the spokesman said. "All Russia needs to do is allow inspection activities on its territory, just as it did for years under the New START Treaty, and meet in a session of the Bilateral Consultative Commission."
The New START treaty, first signed in April 2010, limits the U.S. and Russia from having more than 1,550 nuclear warheads deployed on delivery systems like intercontinental ballistic missiles, submarine-launched ballistic missile or heavy bombers.
Both the U.S. and Russia are capable of deploying far more than the allotted nuclear warheads as Washington and Moscow have a combined total of more than 13,000 warheads – making up roughly 90 percent of the world's nuclear arsenal, according to data provided by the Arms Control Association (ACA).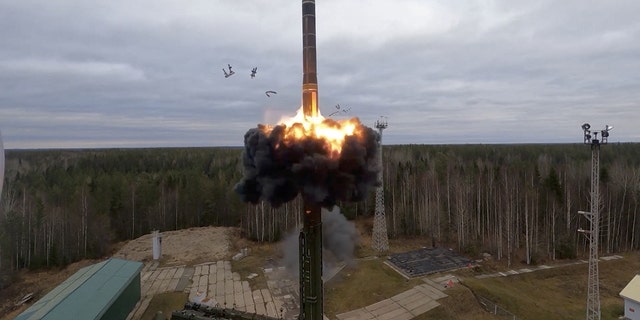 A still image from video, released by the Russian Defence Ministry, shows what it said to be Russia's Yars intercontinental ballistic missile launched during exercises held by the country's strategic nuclear forces at the Plesetsk Cosmodrome, Russia, in this image taken from handout footage released Oct. 26, 2022.
(Russian Defence Ministry/Handout via REUTERS)
PUTIN SAYS ONE MISSILE WILL TRIGGER 'HUNDREDS' OF WARHEADS IN STARK MESSAGE ON NUCLEAR DETERRENCE
Following the nuclear arms race that largely came to an end with the fall of the Soviet Union, the UN has pushed for nuclear disarmament and global warheads inventories have dropped since hitting their peak in 1985 when more than 70,000 warheads were estimated to make up global stockpiles.
The New START agreement became the only active nuclear treaty with Russia after the Trump administration pulled out of the Intermediate-Range Nuclear Forces (INF) Treaty in 2018
Concerns over a nuclear conflict with Russia have remained high since Moscow invaded Ukraine in February 2022.
Kremlin officials have repeatedly used threatening and escalatory rhetoric regarding nuclear warfare as the West continues to ardently back Kyiv.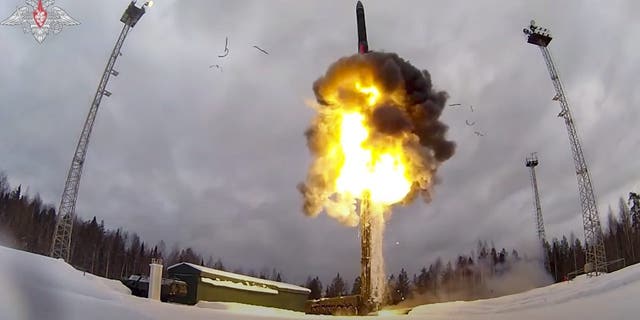 This photo taken from video provided by the Russian Defense Ministry Press Service on Saturday, Feb. 19, 2022, shows a Yars intercontinental ballistic missile being launched from an air field during military drills. The Russian military on Friday announced massive drills of its strategic nuclear forces.
(Russian Defense Ministry Press Service via AP)
CLICK HERE TO GET THE FOX NEWS APP
A State Department spokesman told Fox News that "The United States continues to view nuclear arms control as an indispensable means of strengthening U.S., ally, and global security."
"It is all the more important during times of tension when guardrails and clarity matter most," they added. "The United States remains ready to work constructively with Russia to fully implement the New START Treaty."
Caitlin McFall is a Reporter at Fox News Digital covering Politics, U.S. and World news.