close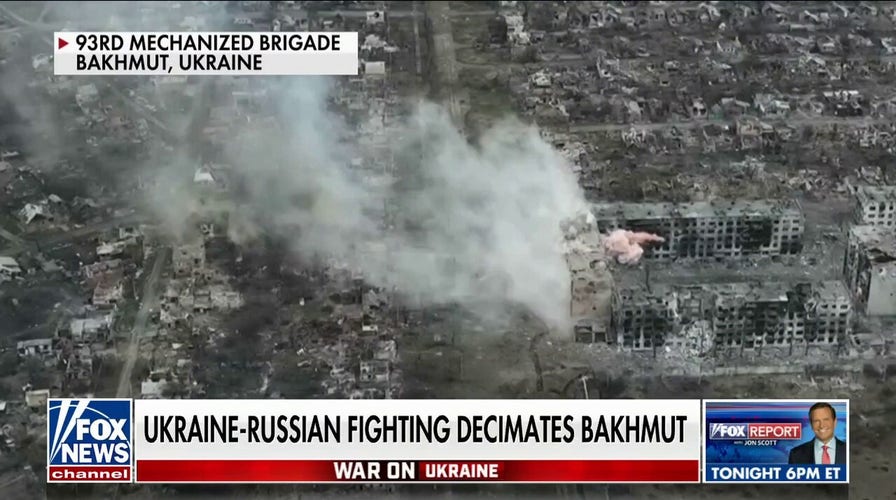 Video
Russia says its captured three more districts in Bakhmut
Fox News correspondent Alex Hogan has the latest on the battle for Bakhmut and plans for Ukrainians to learn how to use Abrams tanks on 'Fox News Live.'
Russia has launched a new recruitment drive to attract more men to voluntarily join its ranks to fight in Ukraine, the U.K. Ministry of Defense said Sunday in a daily intelligence update.
The "pervasive campaign" has been splashed across TV, social media and even billboards throughout Russia as Moscow looks to fill its flagging numbers in Ukraine without resorting to another unpopular conscription order.
"The new adverts appeal to potential recruits' masculine pride, appealing for 'real men,' as well as highlighting the financial benefits of joining up," U.K. intel officials said.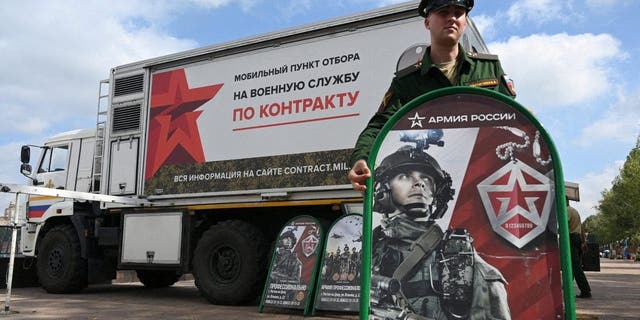 A Russian service member stands next to a mobile recruitment center in Rostov-on-Don, Russia, Sept. 17, 2022. (Reuters/Sergey Pivovarov/File Photo)
RUSSIA SEES HISTORIC POPULATION DROP SPURRING DEMOGRAPHIC CRISIS AMID WAR IN UKRAINE
But Moscow's defense ministry isn't the only entity looking to attract more Russian recruits.
Following the Kremlin's ban on future penal recruitments for frontline action, the Wagner Group is also looking to recruit men to join its fighting force – stretching the "limited pool" of Russian fighting age men interested in going to war.
"It remains highly unlikely that the campaign will attract the [Russian Ministry of Defense's] reported target of 400,000 volunteers," the U.K. defense ministry said. "The authorities are almost certainly seeking to delay any new, overt mandatory mobilization for as long as possible to minimize domestic dissent."
Moscow's most recent recruitment push comes just weeks after the Kremlin set in place greater restrictions on draft dodgers – suggesting Russia may be preparing to launch another conscription order if it is not able to find enough volunteers for its war effort.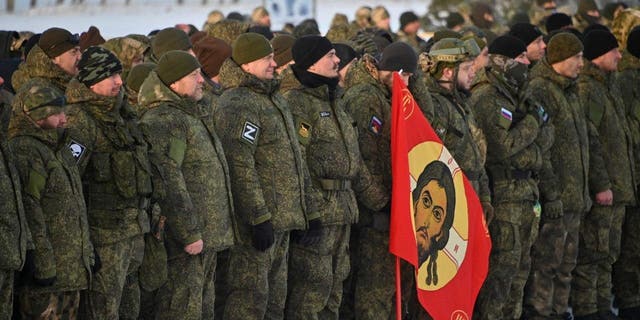 Russian reservists line up during a ceremony before their departure in Omsk, Russia, Jan. 6, 2023. (Reuters/Alexey Malgavko)
RUSSIA PLANS DIGITAL DRAFT AFTER THOUSANDS DODGE MILITARY SERVICE, FLEE COUNTRY
Earlier this month Russian lawmakers took steps to implement a travel ban for anyone called up to serve, along with a new electronic monitoring system that will make it harder for anyone to claim they did not receive their draft orders.
An email will now serve as the official notice for fighting age men called up to serve, and the notice will be considered as "received" seven days after it is sent – whether or not the email has been opened.
Conscripted men will then have 20 days to report for duty before certain punishments begin to kick in, such as a suspension on their driver's license or the inability to receive a bank loan or register real estate.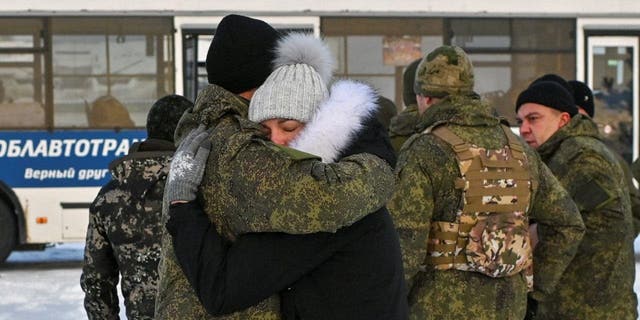 A Russian reservist bids farewell to relatives and acquaintances before his departure in Omsk, Russia, Jan. 6, 2023. (Reuters/Alexey Malgavko)
CLICK HERE TO GET THE FOX NEWS APP
The recent advertising push and measures to block draft dodgers appears to be an attempt to circumvent the chaos that unfolded in September when Russian President Vladimir Putin last issued a conscription order.
Some 300,000 men were called up to fight in Ukraine and as many as 700,000 are believed to have fled Russia to avoid being forced into a uniform.
Caitlin McFall is a Reporter at Fox News Digital covering Politics, U.S. and World news.