close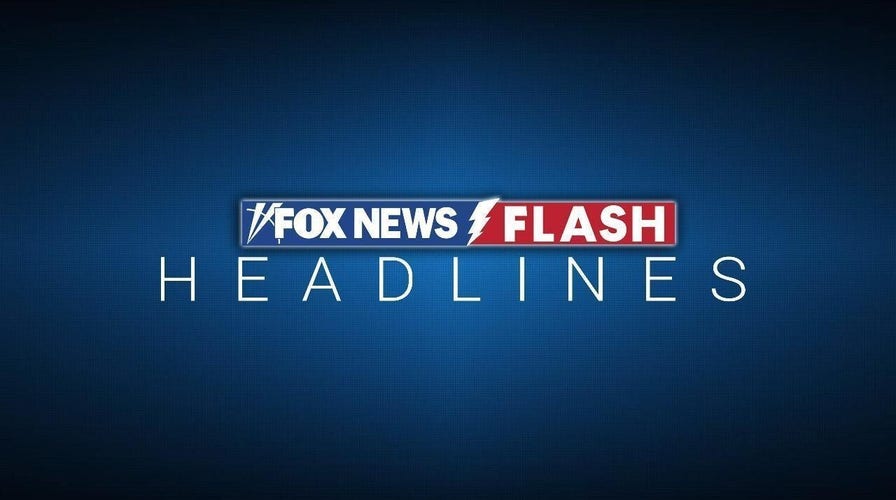 Video
Fox News Flash top headlines for March 31
Check out what's clicking on Foxnews.com.
Russia used its long-range arsenal to bombard anew several areas of Ukraine on Friday, killing at least two civilians and damaging homes as Ukrainians commemorated the anniversary of the liberation of Bucha from a brutal occupation by the Kremlin's forces.
President Volodymyr Zelenskyy said that Bucha, a town near Kyiv, stands as a symbol of the atrocities the Russian military has committed since its full-scale invasion of Ukraine began in February 2022.
"We will not let it be forgotten," Zelenskyy said at a formal ceremony in Bucha, vowing to punish those who committed outrages in the town. "Human dignity will not let it be forgotten. On the streets of Bucha, the world has seen Russian evil. Evil unmasked."
At the same time as the Bucha commemorations, the Kremlin-allied president of Belarus raised the stakes in the 13-month war when he said that Russian strategic nuclear weapons might be deployed in his country, along with part of Moscow's tactical nuclear arsenal.
Moscow said earlier this week it planned to place in neighboring Belarus tactical nuclear weapons that are comparatively short-range and low-yield. Strategic nuclear weapons such as missile-borne warheads would bring a greater threat.
UK CLAIMS SOME 220,000 RUSSIAN CASUALTIES IN WAR AS UKRAINE PREPARES COUNTEROFFENSIVE
Zelenskyy dedicated his attention to an official ceremony in Bucha, where he was joined by the president of the Republic of Moldova and the prime ministers of Croatia, Slovakia and Slovenia.
The Kremlin's forces occupied Bucha weeks after they invaded Ukraine and stayed for about a month. When Ukrainian troops retook the town, they encountered horrific scenes: bodies of women, young and old men, in civilian clothing, lying in the street where they had fallen or in yards and homes.
Other bodies were found in a mass grave. Over weeks and months, hundreds of bodies were uncovered, including some of children.
Russian soldiers on intercepted phone conversations called it "zachistka" — cleansing, according to an investigation by The Associated Press and the PBS series "Frontline."
Such organized cruelty, which Russian troops employed in past conflicts as well, notably in Chechnya, was later repeated in Russia-occupied territories across Ukraine.
Zelenskyy handed out medals to soldiers, police, doctors, teachers and emergency services in Bucha, as well as to families of two soldiers killed during the defense of the Kyiv region.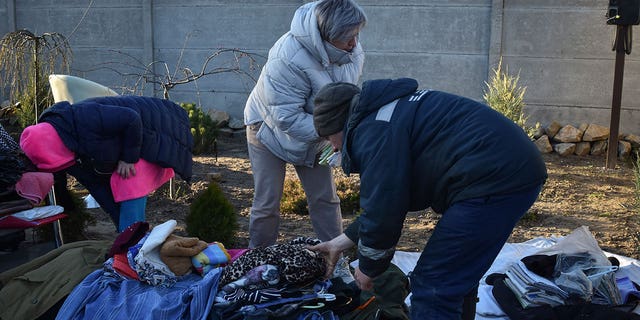 Ukrainians gather their belongings from a building that was destroyed from Russian bombs on March 31, 2023. (AP Photo/Andriy Andriyenko)
"Ukrainian people, you have stopped the biggest anti-human force of our times," he said. "You have stopped the force which has no respect and wants to destroy everything that gives meaning to human life."
More than 1,400 civilian deaths, including 37 children, were documented in the Bucha district by Ukrainian authorities, Zelenskyy said.
More than 175 people were found in mass graves and alleged torture chambers, according to Zelenskyy. Ukraine and other countries, including the U.S., have demanded that Russia answer for war crimes.
Prosecutor General Andriy Kostin alleged Friday that many of the dead civilians were tortured. Almost 100 Russian soldiers are suspected of war crimes, he said on his Telegram channel, and indictments have been issued for 35 of them.
Two Russian servicemen have already been sentenced by a Ukrainian court to 12 years in prison for illegal deprivation of liberty of civilians and looting.
"I am convinced that all these crimes are not a coincidence. This is part of Russia's planned strategy aimed at destroying Ukraine as a state and Ukrainians as a nation," Kostin said.
In Geneva, the U.N. human rights chief said his office has so far verified the deaths of more than 8,400 civilians in Ukraine since Russia's invasion — a count believed to be far short of the true toll.
RUSSIAN FORCES STALLED IN EASTERN AND SOUTHERN UKRAINE AS KYIV CLAIMS TO BE 'STABILIZING' BAKHMUT SECTOR
Volker Türk told the U.N. Human Rights Council that "severe violations of human rights and international humanitarian law have become shockingly routine" amid Russia's invasion.
As well as making an announcement about possibly having Russian strategic nuclear weapons on his country's soil, the Belarusian president also unexpectedly called for a cease-fire in Ukraine without making any reference about how the two developments might be connected.
A truce, Lukashenko said in his state-of-the-nation address in Minsk on Friday, must be announced without any preconditions and all movement of troops and weapons must be halted.
"It's necessary to stop now until an escalation begins," Lukashenko said, adding that an anticipated Ukrainian counteroffensive using Western-supplied weapons would bring "an irreversible escalation of the conflict."
But Kremlin spokesman Dmitry Peskov responded that Russia has to keep fighting, claiming Ukraine has rejected any talks under pressure from its Western allies.
CLICK HERE TO GET THE FOX NEWS APP
Peskov also dismissed Hungarian Prime Minister Viktor Orban's remarks about the European Union mulling the deployment of sending peacekeeping troops to Ukraine as "extremely dangerous."
Russia has maintained its bombardment of Ukraine with the war already into its second year.
As well as killing at least two civilians in Ukraine, 14 other civilians were wounded early Friday as Russia launched missiles, shells, exploding drones and gliding bombs, the Ukraine presidential office said.
Two Russian missiles hit the city of Kramatorsk in the eastern Donetsk region, damaging eight residential buildings. Throughout the Donetsk region, one civilian was killed and five others wounded by the strikes, the office said.
Nine Russian missiles struck Kharkiv, damaging residential buildings, roads, gas stations and a prison. The Russians also used exploding drones to attack the Kharkiv region.
Russian forces also shelled the southern city of Kherson, killing one resident and wounding two others. The village of Lviv in the Kherson region was struck by gliding bombs that damaged about 10 houses.
The barrage also hit the city of Zaporizhzhia, and its outskirts, causing major fires.