close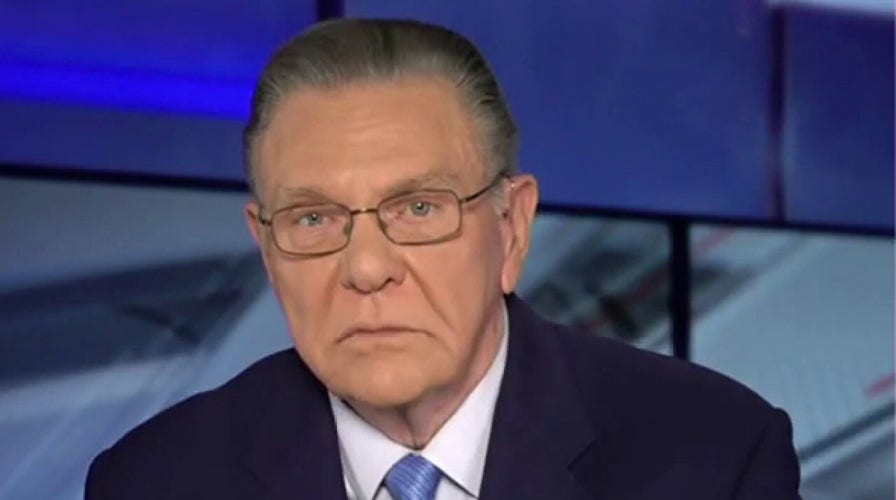 Video
China trying to separate Europe from US: Keane
Fox News senior strategic analyst Gen. Jack Keane (ret.) discusses the economic threat from China and why it sees Europe as a major trading partner on "Your World."
Japan is warning that China and Russia have increased military cooperation in a bid to disrupt the current world order in Asia and beyond.
Foreign Affairs Minister Yoshimasa Hayashi warned over the weekend that Russia's invasion of Ukraine has "shaken the very foundation of the international order" and that the world should unite in support of Ukraine.
But he also argued that China's cooperation with Russia opens the door to "similar challenges" in other regions and threatens "the existing order, which has underpinned our peace and prosperity, could be fundamentally overturned," according to a report from Military.com.
Japan has continued its support of Ukraine while China has said it is neutral in the conflict, though the country has declared a "no limits" relationship with Russia and pinned blame on the U.S. and NATO for provoking the European war.
FUTURE IS NOW: CHINA, RUSSIA REVERT TO PRE-1989 WORLD AND FUNDAMENTALLY CHALLENGE US-LED WEST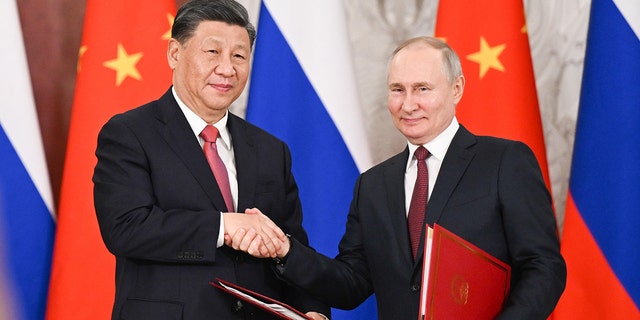 Chinese President Xi Jinping, left, and Russian President Vladimir Putin (Xie Huanchi / Xinhua via Getty Images / File)
Hayashi, who was speaking at a meeting of European and Indo-Pacific foreign ministers in Sweden, accused China of "continuing and intensifying its unilateral attempts" to gain disputed territory in the East and South China seas and has intensified military actions around Taiwan, all while holding joint military exercises with Russia.
"In addition, China and Russia are strengthening their military collaboration, including joint flights of their bombers and joint naval exercises in the vicinity of Japan," Hayashi said.
China has said that it is defending its sovereignty in the South China Sea, though much of the territory it claims are Japanese-held islands.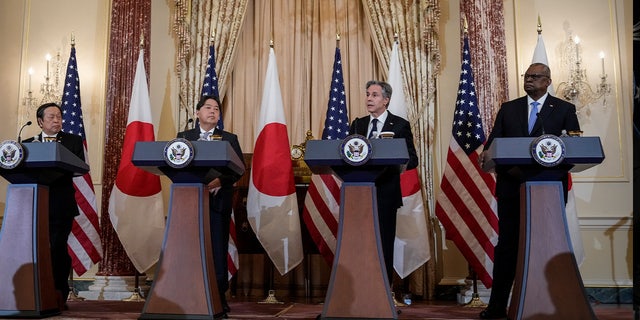 Japanese Defense Minister Yasukazu Hamada, left, Japanese Foreign Minister Yoshimasa Hayashi, U.S. Secretary of State Antony Blinken and U.S. Secretary of Defense Lloyd Austin participate in a news conference. (Drew Angerer / Getty Images / File)
CHINA THREATENS RETALIATION AFTER EU WEIGHS SANCTIONS FOR BEIJING'S MILITARY AID TO RUSSIA
Speaking to reporters at the conference, Hayashi warned that the current situation in Ukraine and China's actions in the Pacific are "not separable," urging European leaders to take the threat of China seriously while combating Russia in Ukraine.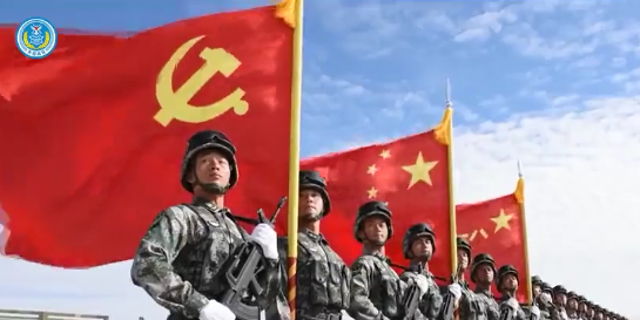 Hayashi warned that the current situation in Ukraine and China's actions in the Pacific are "not separable," urging European leaders to take the threat of China seriously while combating Russia in Ukraine. (Chinese PLA)
"Since the aggression of Russia to Ukraine, the security situation here in Europe and the security situation in the Pacific are not separable," Hayashi said. "So, this is very important and this is very meaningful that the European ministers and also the ministers from the Pacific area are jointly discussing about those issues here in Stockholm."
CLICK HERE TO GET THE FOX NEWS APP
Michael Lee is a writer at Fox News. Follow him on Twitter @UAMichaelLee