close
Video
Russian fighter jets harass US drone into Black Sea
Fox News correspondent Mike Tobin has the latest on the Russia-Ukraine war on 'Special Report.'
Tensions remain between Russia and the United States after a collision in international airspace.
U.S. military command officials said Tuesday that a Russian fighter jet dumped fuel on a U.S. drone over the Black Sea, clipped the drone's propeller and forced it into the water.
RUSSIAN JET COLLIDES WITH US DRONE IN INTERNATIONAL AIRSPACE OVER BLACK SEA, OFFICIAL SAYS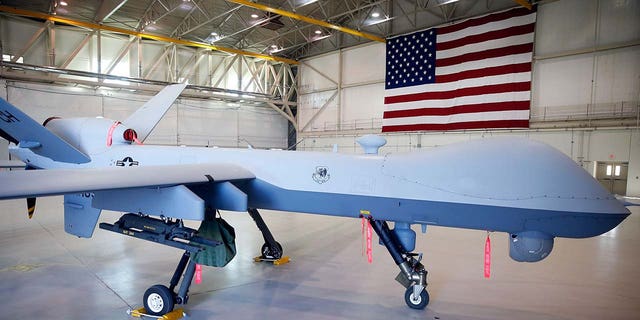 An MQ-9 Reaper remotely piloted aircraft is parked in a hanger at Creech Air Force Base in Indian Springs, Nevada. (Isaac Brekken/Getty Images)
Russia is now denying that the aircraft touched one another, and accusing the U.S. of unnecessarily escalating the issue.
"We assume that the United States will refrain from further speculation in the media and stop flights near Russian borders,"said Russian Ambassador Anatoly Antonov on Wednesday.
He claimed that the drone crashed after undertaking "sharp maneuvers," Reuters reports.
RUSSIA, US EXCHANGE BARBS IN DIPLOMATIC CLASH DAY AFTER RUN-IN AS QUAD LEADERS DISCUSS REGIONAL SECURITY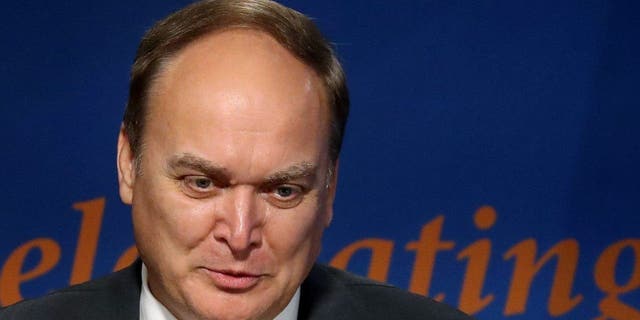 Russian Ambassador to the United States Anatoly Antonov speaks during a discussion about the legacy of Anatoly Dobrynin at the Woodrow Wilson Institute on Nov. 18, 2019, in Washington, D.C. (Mark Wilson/Getty Images)
He later wrote on his Telegram channel, "We consider any action with the use of U.S. weaponry as openly hostile."
The State Department summoned Antonov to register its anger over the drone takedown.
"Let us ask a rhetorical question: if, for example, a Russian strike drone appeared near New York or San Francisco, how would the U.S. Air Force and Navy react?" Antonov asked.
U.S. European Command and U.S. Air Forces in Europe – Air Forces Africa issued a statement on the incident Tuesday in which they reported the events leading up to the collision and admonished the Russian military for "a pattern of dangerous actions" in international airspace.
UKRAINE WAS THE 3RD-LARGEST IMPORTER OF ARMS IN 2022, THANKS TO AID FROM US, EUROPE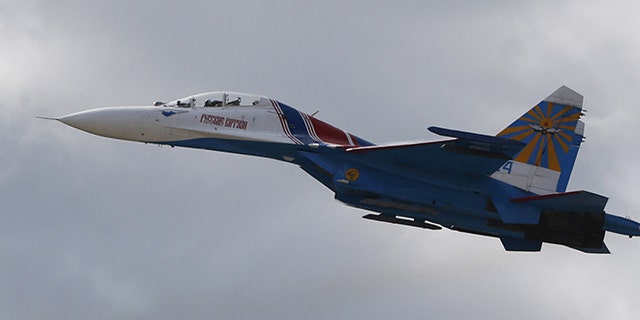 A Sukhoi Su-27 fighter jet performs during an aviation show outside Moscow. (Reuters)
The statement reads, "At approximately 7:03 AM (CET), one of the Russian Su-27 aircraft struck the propeller of the MQ-9, causing U.S. forces to have to bring the MQ-9 down in international waters. Several times before the collision, the Su-27s dumped fuel on and flew in front of the MQ-9 in a reckless, environmentally unsound and unprofessional manner. This incident demonstrates a lack of competence in addition to being unsafe and unprofessional."
Ukrainian officials have claimed the alleged incident is Russia's attempt to escalate U.S. involvement in the war.
CLICK HERE TO DOWNLOAD THE FOX NEWS APP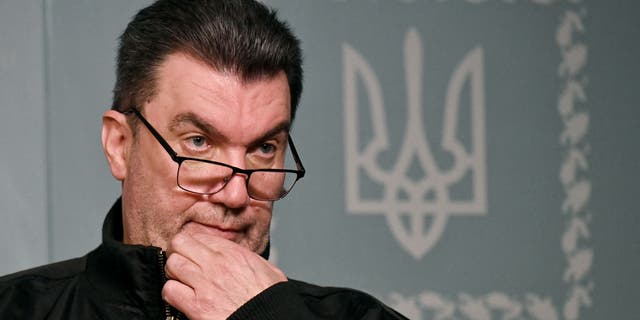 Secretary of the National security and defence council of Ukraine Oleksiy Danilov attends a press conference in Kyiv, Ukraine. (SERGEI SUPINSKY/AFP via Getty Images)
"The incident with the American MQ-9 Reaper UAV — provoked by Russia over the Black Sea — is Putin's way of signaling his readiness to expand the conflict to involve other parties," said National Security and Defense Council Secretary Oleksiy Danilov. "The purpose of this all-in tactic is to always be raising the stakes."
Timothy Nerozzi is a writer for Fox News Digital. You can follow him on Twitter @timothynerozzi and can email him at [email protected]