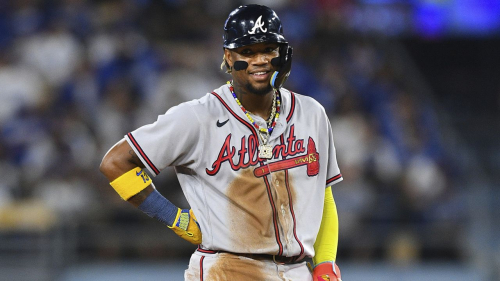 It was a massive Thursday for Atlanta Braves outfielder Ronald Acuña Jr.. Brian Rothmuller/Icon Sportswire/AP CNN —
It was a special day for Ronald Acuña Jr. as he made Major League Baseball (MLB) history just hours after getting married.
Acuña has enjoyed a spectacular MLB season so far and in the Atlanta Braves' 8-7 Thursday night win against the Los Angeles Dodgers, the 25-year-old became the first person ever to score 30 home runs and steal 60 bases in one season – with 29 games still to play.
Not only did Acuña hit this historic mark, but he did so in spectacular fashion.
The outfielder stepped up to the plate with the score tied at 1-1 in the second inning and, more importantly, the bases loaded.
Acuña crushed a home run to left field off Lance Lynn and slamming a historic grand slam – home run No. 30 for the year.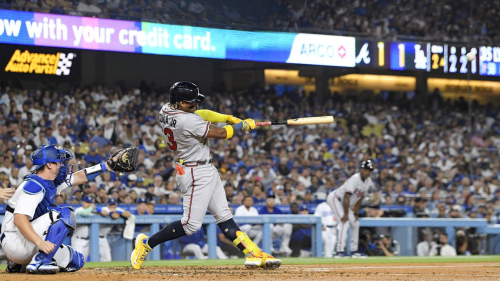 Acuña crushed a grand slam to left field to give the Braves a big lead in the second. Mark J. Terrill/AP
"I feel very happy, I feel very special," Acuña said postgame through a translator, per ESPN. "I'm very thankful, I feel very privileged."
The Venezuelan is one of the favorites to pick up the coveted National League MVP award come the end of the season and moments like this will help cement his chances.
After Acuña's grand slam, the game eventually turned out to be a thriller between two of the frontrunners for the World Series as the Dodgers almost mounted an impressive comeback.
"That was some kind of game," Braves manager Brian Snitker said. "Lived up to the hype, I guess."
Acuña celebrates after hitting his historic grand slam. Mark J. Terrill/AP
Despite making history on the field, it is likely Acuña may remember the day more for off-field reasons.
The Braves star married his long-term girlfriend Maria Laborde just hours before he took on the Dodgers.
"We're a family," Acuña said to ESPN in Spanish. "Since we've known each other, we've wanted to be together. We have two kids. Family is meant to be together. That comes before anything else. I'm really happy that's going to happen now.
"I didn't mention anything to anybody," Acuña added when speaking to reporters postgame. "It's something that I've had planned out weeks ahead."
"He got married and became the first player in history to have 30 homers and 60 stolen bases," Acuña's teammate, Michael Harris II, said on the star's big day. "That's a pretty wild day."
With the Braves sitting atop the National League East with an MLB best 88-45 record, a historic feat and now a wedding, it seems there are plenty of reasons for Acuña to celebrate.