Robin Williams' son Zak Williams paid tribute to his late father on the nine-year anniversary of his death at the age of 63.
On Friday, the 40-year-old actor posted a throwback photo of the "Mrs. Doubtfire" star walking across a tennis court while waving a racket to the crowd. In the heartfelt caption, Zak joked about Williams' famously unusual style and shared how he loves remembering his dad.
"Dad, on the 9th anniversary of your passing, I'm remembering you for your most excellent fashion choices," Zak wrote alongside the photo in which Williams was pictured clad in a white graphic T-shirt and printed khaki cargo shorts.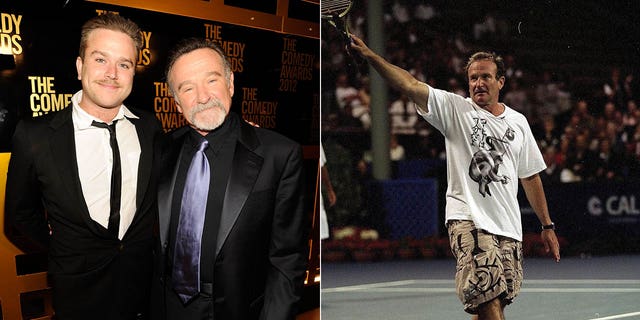 Robin Williams' son Zak Williams shared a funny and touching tribute to his late father on the nine year anniversary of his death. (Getty/Zak Pym Williams Instagram)
He continued, "These days are always hard and I love remembering you for being so very, very YOU. Love you so much!"
PRINCE HARRY SAYS HE, ROBIN WILLIAMS' SON ZAK SHARE 'REMARKABLY SIMILAR' COPING MECHANISMS IN PARENTS' DEATHS
Williams died by suicide on Aug. 11, 2014. The legendary comedian struggled with addiction throughout his career and had completed a rehab stint shortly before his death. Following his death, it was found that the actor was suffering from Lewy Body Dementia.
"It is important to note that patients with diffuse Lewy Body Dementia frequently present with Parkinsonian motor symptoms and … depression and hallucinations," the pathology report said at the time.
APP USERS CLICK HERE
          View this post on Instagram                      
Last month, Zak and Williams' daughter Zelda, 33, took to social media to honor their father on what would have been his 72nd birthday. The legendary comedian was born on July 21, 1951, in Chicago, Illinois.
"Happy 72nd Dad! Was remembering how much I used to love that look you'd give," Zak captioned a photo of Williams from his 1987 war comedy "Good Morning, Vietnam."
He continued, "That look with a mischievous, loving grin that your friends and loved ones knew so well. Joyous and curious and wondrous. Miss you and love you forever!"
APP USERS CLICK HERE
          View this post on Instagram                      
In her tribute to her father, Zelda noted that if Williams were still alive, he would have been supporting the ongoing Writer's Guild of America (WGA) and the Screen Actors Guild – American Federation of Television and Radio Artists (SAG-AFTRA) strikes.
The "Teen Wolf" alum shared a throwback snap of Williams on the picket lines during the 2008 WGA strike, writing, "Happy birthday to Poppo, who definitely would've been out there fighting the good fight for art and artists today and always."
The beloved actor was a father of three. He shared Zak with his first wife Valerie Valerdi, to whom he was married from 1978 to 1988.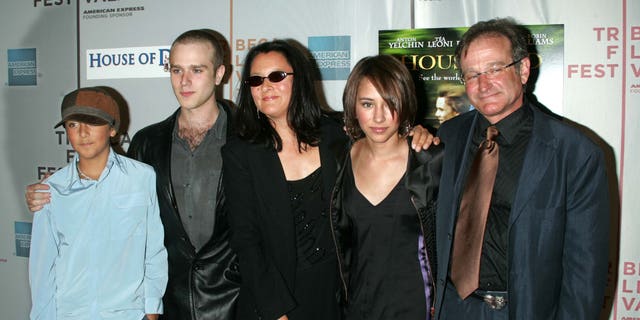 The Williams Family(right to left)Robin Williams, daughter Zelda, wife Marcia, son Cody and son Zac at the Tribeca Performing Arts Center in New York City, New York (Photo by Jim Spellman/WireImage) (Jim Spellman/WireImage)
In addition to Zak and Zelda, Williams was also father to son Cody, 31, who does not appear to have social media.
The comedian shared daughter Zelda, 33, and son Cody, 31 with his ex-wife Marsha Garces. The two tied the knot in 1989 but later divorced in 2010. Williams was married to his third wife Susan Schneider from 2011 until his death.
CLICK HERE TO SIGN UP FOR THE ENTERTAINMENT NEWSLETTER
On Father's Day in June, Zak remembered Williams for his "courage and compassion" in a post that he shared on X, the platform formerly known as Twitter.
"To all the dads out there who go all out for their loved ones, thank you for everything you do. Dad, I'm specifically remembering you for your courage and compassion today. Thank you for helping me learn how to be kind to myself as a first step towards showing up for others. Happy Father's Day, LOVE YOU forever!"
In the post, Zak added two photos of the actor from two of his most memorable roles in the hit movies "Good Will Hunting" and "The Birdcage."
Zak is father to son McLaurin Clement, 4, and daughter Zola June, 2, whom he shares with his wife Olivia June. The pair married on World Mental Health Day in 2020.
CLICK HERE TO GET THE FOX NEWS APP
If you or someone you know is having thoughts of suicide, please contact the National Suicide Prevention Lifeline at 1-800-273-TALK (8255).
Fox News Digital's Lauryn Overhultz contributed to this report.