EXCLUSIVE: Republican National Committee Chair Ronna McDaniel blasted President Biden's visit to the southern border Sunday as a "photo op," saying the president is only pretending to care now that the crisis is becoming a political liability.
McDaniel spoke to Fox News Digital en route to the border town of Mission, Texas, where she will be meeting with local community leaders and speaking to local media about the continuous flood of illegal immigrants into the area and its strain on the community.
The RNC chairwoman's visit to Mission coincides with Biden's first border visit of his presidency on Sunday, where he will briefly meet with Border Patrol agents in El Paso, about 800 miles northwest of Mission.
"Biden choosing to ignore it shows that he doesn't care about real problems that Americans are facing," McDaniel said. "Biden's never been here, and he's doing a photo op for three hours and has ignored this problem in the entirety of his presidency. These communities have been ravaged by the disastrous Biden policies, and I think it's important that he doesn't get a free pass."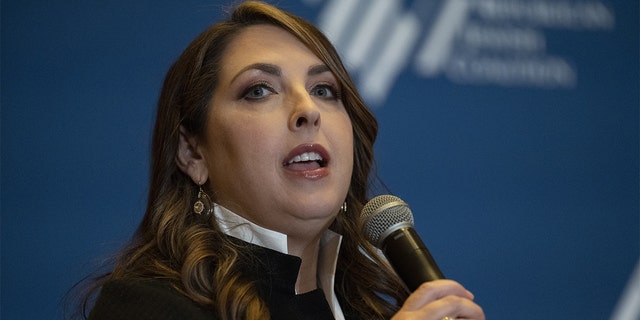 Ronna McDaniel, chairwoman of the Republican National Committee
(Bridget Bennett/Bloomberg via Getty Images)
BORDER PATROL UNION RIPS BIDEN'S BORDER VISIT, SAYS EL PASO CLEANED UP 'JUST IN TIME'
"We need to hold him accountable," she continued. "This problem is not going away. And what he's offering today is empty rhetoric without any real enforcement increase, without more Border Patrol agents, without anything that's going to solve this problem. And unfortunately, the Biden administration continually gets away with pretending that they're doing things that they're not. And being here for 3 hours doesn't make up for ignoring this for the past three years.
"He has literally spent more time on vacation than dealing with issues that real Americans are dealing with," she added. "And I think, frankly, because he's going to Mexico, he says, 'Oh, I should probably make a quick stop. Let's go clean up the streets before I get there. Let's do your photo op and let's put together a fake plan."
The RNC chairwoman suggested Biden's visit to El Paso was an afterthought to his trip to Mexico City later Sunday for the North American Leaders' Summit. She also cited reports that authorities have increased detainments and cleared migrant encampments in El Paso in the days leading up to Biden's visit, and that the president is not being presented with the real picture.
A Customs and Border Protection (CBP) spokesperson told Fox News Digital earlier Sunday that reports tying the detentions in El Paso to the president's visit are false, and that Border Patrol "was conducting increased patrols before the President announced his visit to El Paso."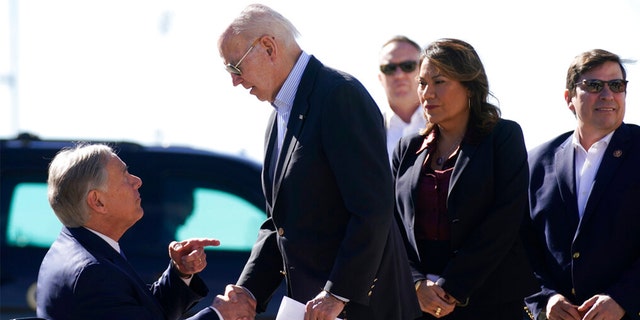 President Joe Biden shakes hands with Texas Gov. Greg Abbott after Abbott handed him a letter about the border at El Paso International Airport in El Paso Texas, Sunday, Jan. 8, 2023.
(AP Photo/Andrew Harnik)
But McDaniel said she's not buying it.
"The facts speak for themselves," she said. "Just before Biden comes here, they started cleaning up these encampments. I mean, that's just a fact. And they can try and spin it all they want, but the truth is the truth."
"They're making it look better just because the president's here," she added. "And it's going to go right back to where it was once he leaves. I hope the press comes and looks at it after he leaves to see what they did for his photo op."
BIDEN ANNOUNCES BORDER VISIT, NEW MEASURES AS PRESSURE GROWS OVER OVERWHELMING MIGRANT SURGE
McDaniel slammed Biden's immigration plan he unveiled last week, which expended a humanitarian parole program for Venezuelan nationals to include Haitians, Cubans and Nicaraguans. That program will allow 30,000 individuals a month from all four countries to be paroled into the U.S. for a two-year period as long as they have a financial sponsor and pass other conditions. Those who attempt to enter illegally are made ineligible for the program.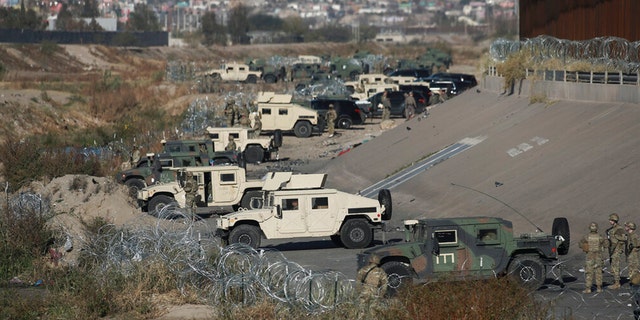 U.S. military guard El Paso's border with Mexico, seen from Ciudad Juarez, Mexico, Tuesday, Dec. 20, 2022.
(AP Photo/Christian Chavez, File)
The expanded program will be combined with an expansion of Title 42 expulsions to include those nationalities, allowing up to 30,000 of those who enter the U.S. illegally each month to be quickly returned to Mexico. Additionally, the administration announced an increased use of an alternative removal authority — expedited removal — to remove those who do not claim asylum and who cannot be expelled under Title 42.
McDaniel said it's a "fake plan" that's devoid of "anything that's going to solve this problem." With a record number of illegals flooding over the border — 233,000 apprehended in November – McDaniel said it's CBP that needs the support.
"I think that's a failure of leadership, and a photo op doesn't make up for that," she said. "I mean, there's a humanitarian crisis, it's a drug crisis, we have a safety crisis. And these towns, especially where I am in the Rio Grande Valley area, they're being inundated.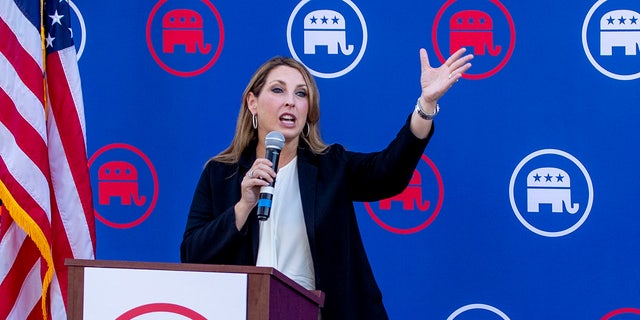 Republican National Committee Chairman Ronna McDaniel speaks while joining Republican National Committee (RNC), the California Republican Party (CAGOP) and top Orange County Republican Candidates at a rally ahead of the November elections in Newport Beach Monday, Sept. 26, 2022.
(Allen J. Schaben / Los Angeles Times via Getty Images)
CLICK HERE TO GET THE FOX NEWS APP
"Biden has opened the border up, and we know it could be fixed, because it was done under President Trump," she continued. "And now with him saying, I'm going to do this 30,000 amnesty program a month on top of not putting the resources on the border to close these holes and give more resources to our Border Patrol."
"It shows that he has no interest in solving the problem, but he's going to pretend like that today," she added. "And I hope the press doesn't allow this photo op and the fake plan to fool anybody. This problem is raging and he's doing nothing to fix it."
Fox News' Adam Shaw contributed to this report.