close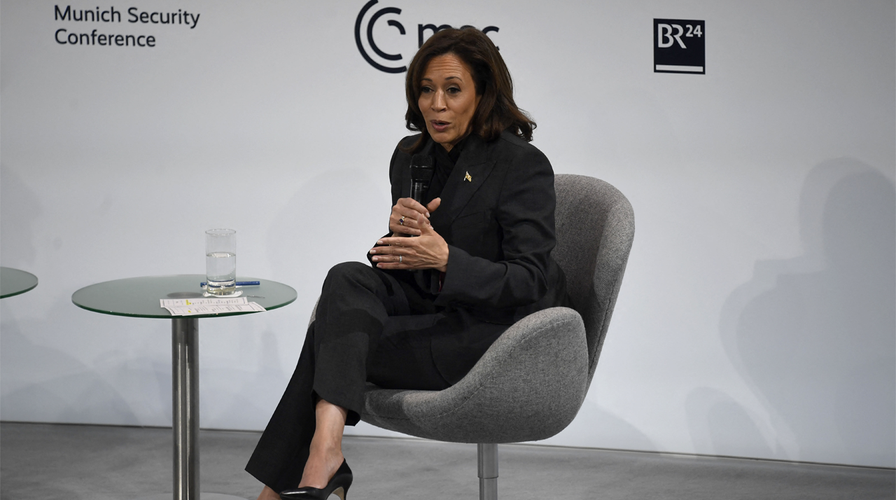 Video
WATCH LIVE: VP Harris meets with UK PM Rishi Sunak in Munich
WATCH LIVE: VP Harris meets with UK PM Rishi Sunak in Munich.
British Prime Minister Rishi Sunak is reportedly hoping to pitch the United Kingdom as a world leader in artificial intelligence governance during his meeting with President Joe Biden.
But a post-Brexit U.K. has been locked out of key discussions between the United States and the European Union, such as the fourth Tech and Trade Council (TTC) meeting in Sweden.
The White House said both the U.S. and EU recommitted to deepening cooperation on setting AI standards in line with democratic values and universal human rights and work together on emerging technologies "with like-minded partners." Politico reported in March that the Biden administration, meanwhile, has quietly rebuffed British officials' repeated requests for greater dialogue between Washington, D.C., and the U.K. regarding setting AI standards.
Sunak is expected to lobby Biden this week for a U.K. leadership role on AI, and one of his proposals includes creating a "CERN for AI" similar to the international body that conducts nuclear research, according to the Financial Times. Another idea Sunak plans to air before Biden is to convene an international AI summit in London where "like-minded" allies can discuss risks and how to best regulate artificial intelligence, Politico reported, citing two Whitehall officials and one government adviser.
US, ALLIES PREP VOLUNTARY AI CODE OF CONDUCT, BLINKEN SAYS
The notion was reportedly discussed during Sunak's recent roundtable with the leaders of OpenAI, Google DeepMind and Anthropic at Downing Street in late May.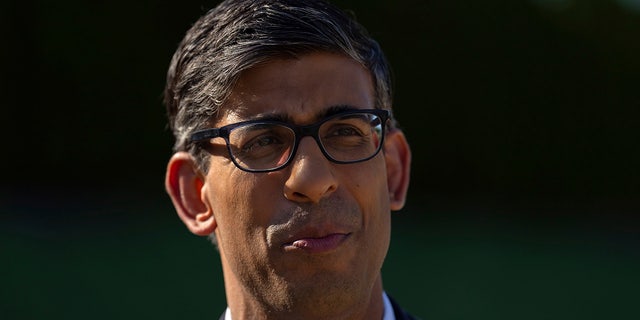 Britain's Prime Minister, Rishi Sunak, is expected to lobby President Biden for a United Kingdom leadership role in setting artifical intelligence standards. (Carl Court, Pool via AP)
The prime minister also reportedly hopes to get Biden's support in the U.K. potentially leading an organization on AI equivalent to the International Atomic Energy Agency (IAEA).
"On every global problem, the UK and USA work side-by-side," Sunak said in a statement Friday of his upcoming visit to Washington, D.C., Wednesday and Thursday. "I look forward to deepening our partnership, driving growth and opportunity for both our nations."
It remains unclear if the White House would be receptive to such AI discussions from Sunak.
BUREAUCRATS SHOULDN'T IMPOSE GLOBAL AI POLICY AT 'FANCY, HIGH-LEVEL' MEETINGS, EXPERT WARNS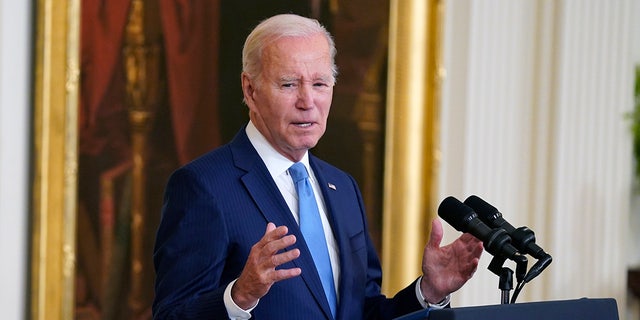 President Joe Biden announced new efforts to guide federally backed research on artificial intelligence in the East Room of the White House, May 17, 2023. (AP Photo/Evan Vucci, File)
White House press secretary Karine Jean-Pierre said last week that Biden and the U.K. prime minister "will review a range of global issues, including their steadfast support for Ukraine as it defends itself against Russia's brutal war of aggression, as well as further action to bolster energy security and address the climate crisis."
Biden on Thursday warned U.S. Air Force Academy graduates that AI could "overtake human thinking."
In a "dear colleagues" letter Tuesday, meanwhile, Senate Majority Leader. Chuck Schumer, D-N.Y., and Sens. Todd Young, R-Ind., Martin Heinrich, D-N.M., and Michael Rounds, R-S.D., announced three upcoming bipartisan senators-only briefings slated to address the questions, "Where is AI today?", "What is the frontier of AI and how do we maintain American leadership?" and "How do the Department of Defense and Intelligence Community use AI today and what do we know about how our adversaries are using AI?"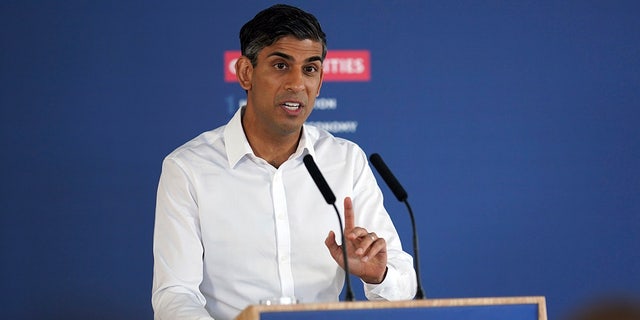 Britain's Prime Minister Rishi Sunak is to visit Washington, D.C., this week. (Yui Mok/Pool Photo via AP)
The letter said more details about the dates and times of the hearings will be shared in the coming days.
CLICK TO GET THE FOX NEWS APP
"The Senate must deepen our expertise on this pressing topic. AI is already changing our world, and experts have repeatedly told us that it will have a profound impact on everything from our national security to our classrooms to our workforce, including potentially significant job displacement," they wrote. "We must take the time to learn from the leading minds in AI, across sectors, and consider both the benefits and risks of the technology."
Danielle Wallace is a reporter for Fox News Digital covering politics, crime, police and more. Story tips can be sent to [email protected] and on Twitter: @danimwallace.