close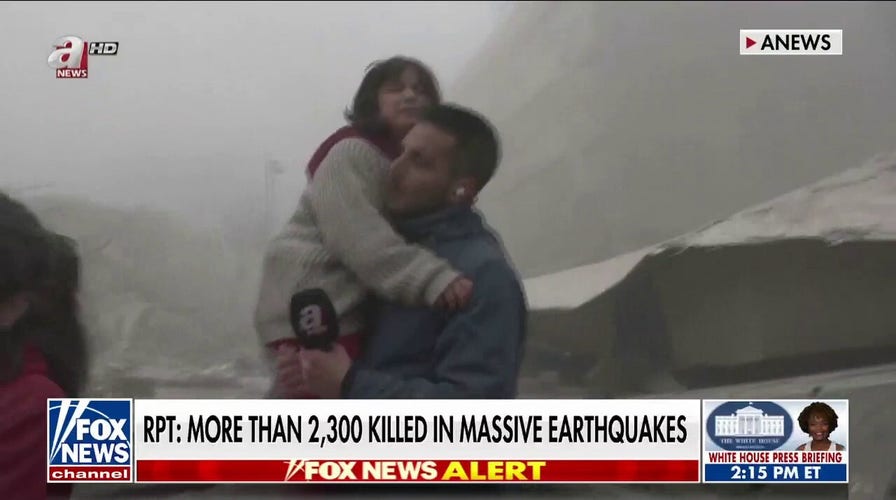 Video
Massive earthquakes kill more than 2,300 people in Turkey and Syria
7.8 and 7.5 magnitude earthquakes crushed thousands of buildings in Turkey and Syria, as U.S. offers to help with aid, reports Fox News' Alex Hogan.
The number of people confirmed dead from a 7.8 magnitude earthquake that rocked Syria and Turkey rose to more than 5,000 on Tuesday as more bodies were recovered from the rubble of destroyed buildings.
Turkey's Vice President Fuat Oktay said the total number of deaths in Turkey had risen to 3,419, with another 20,534 people injured. That brought the number of people killed to 5,102, with another 1,602 people confirmed dead on the Syrian side of the border.
Officials feared the number of dead from Monday morning's earthquake and aftershocks would continue to rise as rescuers searched the rubble for survivors.
Survivors cried out for help from under piles of debris as first responders grappled with rain and snow. The region continued to deal with seismic activity, including one jolt nearly as powerful as the initial earthquake. Rescuers pulled away slabs of concrete in search of bodies as families awaited news about their loved ones.
MORE THAN 2,300 DEAD IN TURKEY, SYRIA AFTER 7.8 MAGNITUDE EARTHQUAKE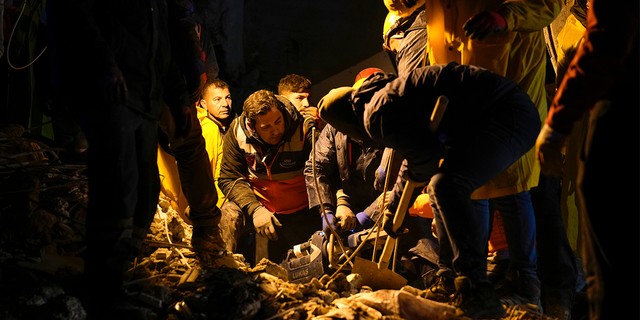 Emergency teams search in the rubble for people in a destroyed building in Adana, Turkey, Monday, Feb. 6, 2023.
Tens of thousands of people in Turkey and Syria suffered through a night in the cold after the quake left them homeless. In the Turkish city of Gaziantep, a provincial capital located about 20 miles from the epicenter, people sheltered in shopping malls, stadiums, mosques and community centers.
Turkish President Recep Tayyip Erdogan declared seven days of national mourning after the quake. President Biden called Erdogan to express condolences and offer assistance. The White House said it was sending search-and-rescue teams to help Turkey.
The quake was centered in Turkey's southeastern province of Kahramanmaras and forced residents of Damascus and Beirut into the streets. The quake was felt as far away as Cairo.
In Syria, the area is divided between government-controlled territory and the country's last opposition-held enclave amid the country's civil war. Hundreds of families in the rebel-held enclave remained trapped in the rubble, according to a statement from the opposition emergency organization called the White Helmets.
People injured from the earthquake quickly filled medical centers in the region, rescue workers said. Some facilities, including a maternity hospital, had to be emptied, according to the SAMS medical organization.
Orhan Tatar, an official with Turkey's disaster management authority, said more than 7,800 people were rescued across 10 provinces.
The U.S. Geological Survey said Monday's quake had a magnitude of 7.8, with a depth of 11 miles. Hours later, a 7.5 magnitude temblor, which was likely triggered by the first, hit more than 60 miles away.
Thousands of buildings reportedly collapsed in an area extending from Syria's cities of Aleppo and Hama to Turkey's Diyarbakir, more than 200 miles to the northeast.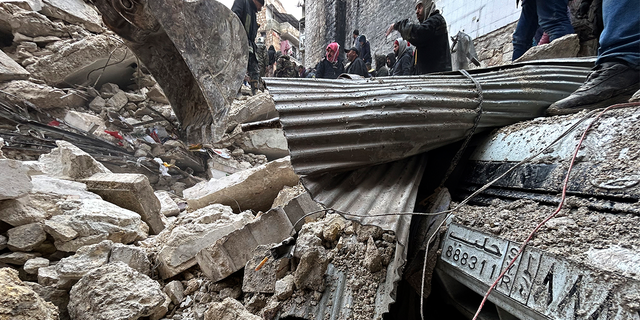 Syrian Civil Defense workers and security forces search through the wreckage of collapsed buildings, in Aleppo, Syria, Monday, Feb. 6, 2023.
More than 5,600 buildings, including hospitals, were destroyed in Turkey alone, authorities said.
Frigid temperatures could reduce the time frame rescuers have to save trapped survivors, Nottingham Trent University natural hazards expert Steven Godby said, adding that rescue area could prove even more complicated in areas beset by Syria's civil war.
Dozens of countries, the European Union and NATO offered search-and-rescue teams, medical supplies and money to support the region impacted by the quake. The vast majority of support was offered for Turkey, but Russia and even Israel offered to help the Syrian government, although it was not clear if any would go to the rebel-held area in the northwest.
The opposition's Syrian Civil Defense said the situation in the enclave was "disastrous."
U.N. spokesman Stephane Dujarric said 224 buildings in northwestern Syria were destroyed and at least 325 were damaged.
TURKEY HIT WITH 7.8 MAGNITUDE EARTHQUAKE, FELT ACROSS MIDDLE EAST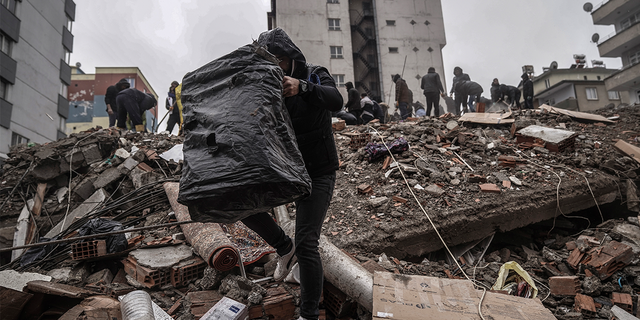 People and emergency teams search for people in the rubble in a destroyed building in Gaziantep, Turkey, Monday, Feb. 6, 2023.
CLICK TO GET THE FOX NEWS APP
In the small Syrian rebel-held town of Azmarin, located in the mountains by the Turkish border, the bodies of several dead children wrapped in blankets were taken to a hospital.
About 20 people in Adana, some of whom were in emergency rescue jackets, used power saws on top of the concrete pile of a collapsed building to open up space for any survivors to climb out or be rescued.
The Associated Press contributed to this report.