EXCLUSIVE: Sen. Markwayne Mullin, R-Okla., introduced a series of bills Tuesday that he said would boost American energy security and restrict President Biden's ability to limit production.
The legislative package, which represent Mullin's first three pieces of legislation as a senator, specifically address cross-border energy infrastructure, hydraulic fracking and fossil fuel leasing on federal lands, according to the bills' text first obtained by Fox News Digital. The Oklahoma senator said his legislation was designed to put key energy policies in the hands of Americans, not bureaucrats.
"Instead of looking to Oklahoma and looking to Texas and other energy-producing states, [President Biden's] looked to OPEC and he's looked to Venezuela and Russia to help backfill his policies because we haven't curbed our appetite for petroleum products," Mullin told Fox News Digital in an interview. "Since the Biden administration has been in, in fact, our energy consumption has increased."
"So if we're going to continue down this path — if the president is going to cower down to the Green New Deal and the [Rep. Alexandria Ocasio-Cortez's, D-N.Y.] of the country while the rest of the world suffers, then let's put it back in the hands of Congress and that's what our bills do. We either put it back in the hands of Congress or we put it back in the states where petroleum products are being found and produced."
JOE BIDEN HAS HAMPERED DOMESTIC ENERGY INDUSTRY WHILE PLEADING FOR MORE FOREIGN OIL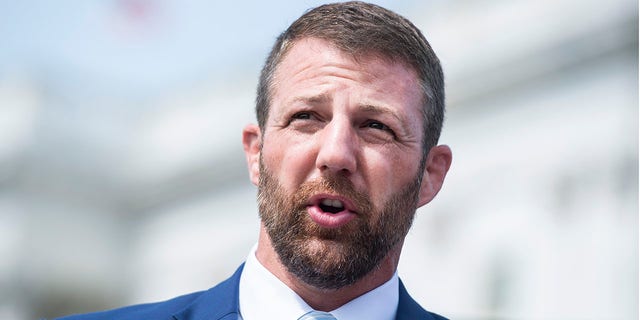 Sen. Markwayne Mullin, R-Okla., a former congressman, speaks during a news conference in 2020. 
(Tom Williams/CQ-Roll Call, Inc via Getty Images)
Mullin's first legislation — the Promoting Cross-Border Energy Infrastructure Act — would eliminate a requirement that gives the president sole permit authority over cross-border crude oil, petroleum products, natural gas and electric transmission infrastructure approvals. Instead, the Federal Energy Regulatory Commission, an independent government agency, and Department of Energy would approve cross-border permits for petroleum and transmission lines, respectively.
The Oklahoma senator noted that Biden was able to cancel the cross-border permits for the Keystone XL pipeline, a project that would've created thousands of jobs and increased crude oil imports by 830,000 barrels per day, on his first day in office.
ENERGY WORKERS HAVEN'T FORGOTTEN AND WON'T FORGIVE BIDEN FOR KILLING KEYSTONE XL JOBS: 'IT'S UN-AMERICAN'
"As we saw with the Keystone pipeline, there was literally billions of dollars in investment that was invested in that — they went through all the proper channels to get it done, they went through two presidents, but on the third president, he canceled it for no reason," Mullin said.
"If we're going to have presidents that are going to use their power for political gain, then we need to take away that authority."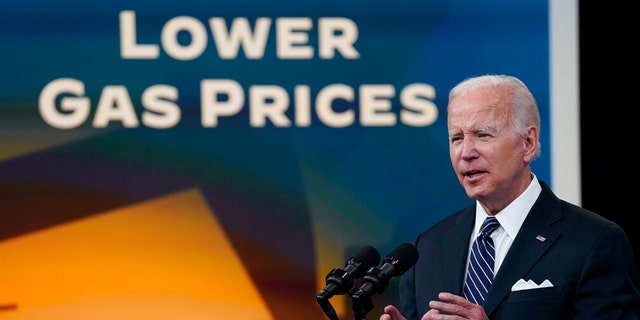 President Joe Biden speaks about gas prices on June 22.
(AP Photo/Evan Vucci)
The Fracturing Regulations are Effective in State Hands Act, Mullin's second bill introduced Tuesday, would give states the ability obtain unilateral authority to regulate fracking, a process of extracting oil and gas, on federal lands within their borders. Green groups and Democratic lawmakers have taken aim at fracking in recent years, arguing that it is harmful to the environment.
And Mullin's third bill, — the Federal Lands Freedom Act — provides an avenue for state governments to lease, permit and regulate oil and gas exploration and development on federal lands located within their borders.
CLICK HERE TO GET THE FOX NEWS APP
Republicans and energy groups have blasted the Biden administration for restricting fossil fuel production on federal lands since taking office. During its first 18 months, the Biden administration leased 71,251 acres of public land for oil and gas drilling while the Trump administration leased 478,420 acres over the course of its first 12 months.
"You can't bring down inflation if you don't bring down energy costs," Mullin told Fox News Digital. "If you don't have affordable and reliable energy, then you can't bring down the cost of goods and you can't have a strong economy. Energy is the backbone of our economy."