Most of the 2024 Republican presidential candidates said they believed former Vice President Mike Pence, their primary challenger, "did the right thing" in certifying President Biden's 2020 election win against former President Donald Trump on Jan. 6, 2021.
"Absolutely, he did the right thing," Sen. Tim Scott, R-S.C., said during the first 2024 GOP primary debate Wednesday evening hosted by Fox News in Milwaukee.
"We've answered this so many times," Florida Gov. Ron DeSantis said after skipping over the question to talk about the "weaponization" of the Department of Justice.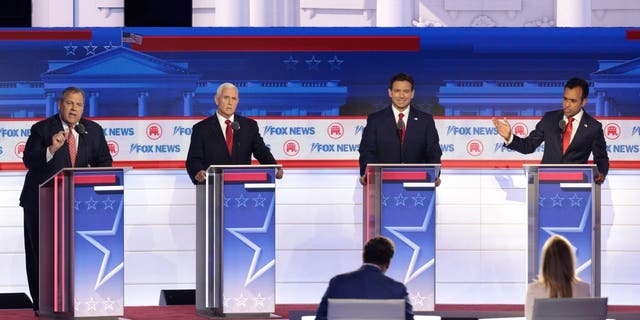 Republican presidential candidates (L-R), former New Jersey Gov. Chris Christie, former U.S. Vice President Mike Pence, Florida Gov. Ron DeSantis and Vivek Ramaswamy participate in the first debate of the GOP primary season hosted by FOX News at the Fiserv Forum on August 23, 2023 in Milwaukee, Wisconsin.  (Photo by Win McNamee/Getty Images)
ALL EYES ON THE GOP PRESIDENTIAL PRIMARY DEBATE! SIGN UP NOW TO STREAM LIVE.
Pence fired back, "I think the American people deserve to know whether everyone on this stage agrees that I kept my oath to the Constitution that day."
"I've answered this before," DeSantis responded. "Mike did his duty, I've got no beef with him, but here's the thing, is this what we're going to be focusing on, the rehashing of this? I'm telling you, the Democrats would love that."
"Mike Pence stood for the Constitution," former New Jersey Gov. Chris Christie said. "And he deserves not grudging credit, he deserves our thanks as Americans for putting his oath of office and the Constitution of the United States before personal, political and unfair pressure.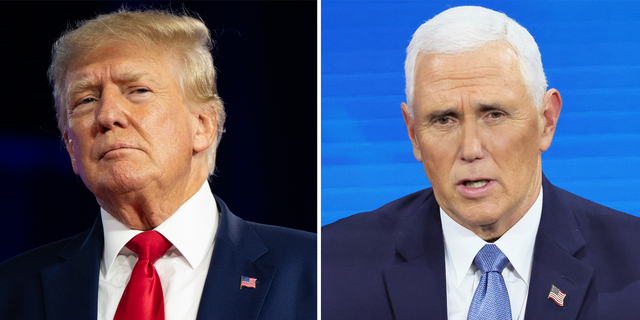 Former President Donald Trump and former Vice President Mike Pence.  (Getty Images)
"I do think that Vice President Pence did the right thing, and I do think that we need to give him credit for that," said former Ambassador and former South Carolina Gov. Nikki Haley. "But what I will also tell you is, look, I mean, when it comes to whether President Trump should serve or not, I trust the American people. Let them vote. Let them decide."
"Mike Pence did the right thing on January 6th," added North Dakota Gov. Doug Burgum.
Biotech entrepreneur Vivek Ramaswamy and former Arkansas Gov. Asa Hutchinson were not asked the question.
Ramaswamy has previously refused to answer the question, telling Politico earlier this month, "I would have never let it get to that point."
Meanwhile, Hutchinson said earlier in the debate that Trump is "morally disqualified from being president again as a result of what happened on January 6th."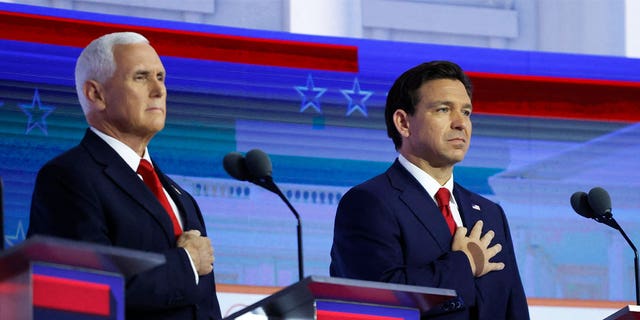 Former US Vice President Mike Pence and Florida Governor Ron DeSantis place their hands on their hearts as the US national anthem is sung during the first Republican Presidential primary debate at the Fiserv Forum in Milwaukee, Wisconsin, on August 23, 2023. (Kamil Krzaczynski)
Just eight of the nine candidates who qualified for the debate under rules by the Republican National Committee showed up to the debate Wednesday.
CLICK HERE TO GET THE FOX NEWS APP
Trump announced Sunday that he wouldn't be attending.