close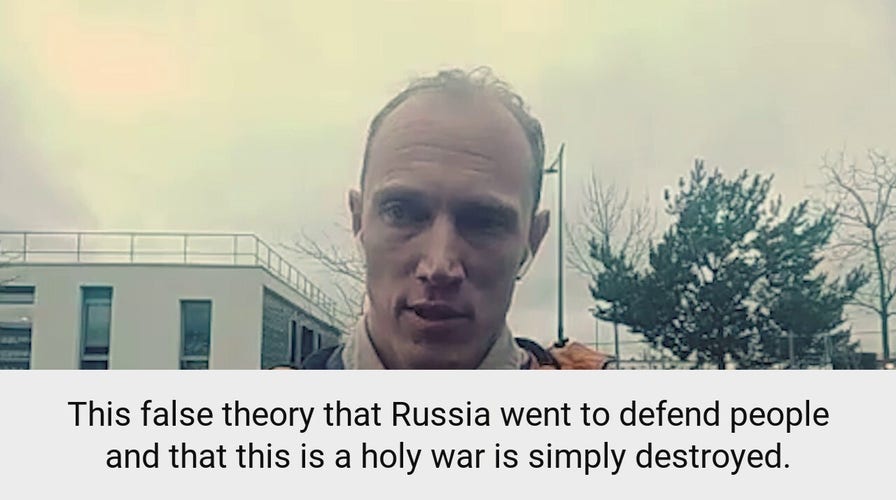 Video
Russian journalist says the Children of Moscow's elite are in Dubai and Europe, not Ukraine
Fox News correspondent Amy Kellogg interviews Sergei Ukhov of the independent media outlet Perm 36,6 on the whereabouts of all the sons and daughters of Russia's ruling elite.
As Russian President Vladimir Putin stood Tuesday before the Federal Assembly, members of which rose in unison several times to applaud their leader's full-throated support for Russia's war efforts, its patriots and its troops, I wondered where all the sons of the great and good in that room are now. Presumably not in Ukraine.
Sergei Ukhov of the independent media outlet Perm 36,6 asks his readers the same question and is trying to stir some outrage on the subject.
"This false theory that Russia went to defend people and that this is a holy war is simply destroyed by the banal fact that the children of the elite, the children of deputies, the children of officials, they are not in Ukraine or at war. They are in Dubai or Europe." That very Europe Putin says Russia's at war with. The degenerate one.
Ukhov's channel, which covers Perm, an industrial city of a million souls, recently did an exposé backed up with social media posts suggesting the pro-Putin mayor's sons have been living in or at the very least gallivanting through Europe in recent times, including apparently during the time of mobilization when some social media snapshots from Cyprus were identified.
Fox News cannot independently confirm the story, and requests for comment were not answered. But lifestyles and hypocrisy of elite families has more broadly been a theme in Russia's independent media—and not just during the war. As its ruling class continues to blast the West, families of Russia's rulers appear to turn up regularly in Europe. As the nation hunkers down in what Putin himself admits is a difficult moment, many of the elite manage to afford themselves expensive vacations in places like Dubai and the Maldives if Instagram does not lie.
CHINA SHARPLY CRITICIZES PENTAGON AFTER DEFENSE OFFICIAL VISITED TAIWAN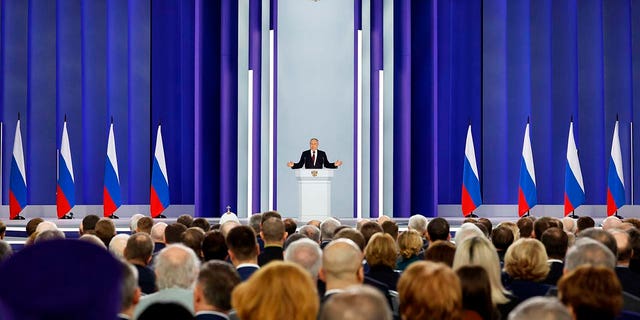 Russian President Vladimir Putin gestures as he gives his annual state of the nation address in Moscow on Tuesday, Feb. 21, 2023. (Dmitry Astakhov, Sputnik, Kremlin Pool Photo via AP)
Ukhov is also trying to expose another sore spot, a sensitive subject to help turn the tide of public opinion on this war. He and his team, most of whom have had to go into exile (Ukhov himself has made Russia's notorious "Foreign Agent" roster) are documenting Perm's war dead.
U.S. FORCES CHINA'S HAND IN REVEALING POSSIBLE LETHAL AID TO RUSSIA AMID WAR IN UKRAINE: EXPERTS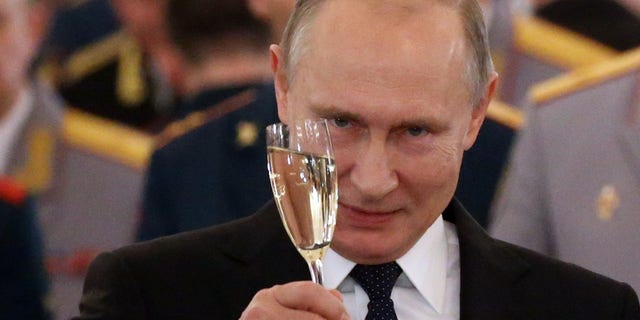 Russian President Vladimir Putin toasts during reception for military servicemen who took part in Syrian campaign, at Grand Kremlin Palace on Dec. 28, 2017 in Moscow. (Photo by Mikhail Svetlov/Getty Images)
"We're keeping a list and we're trying hard to get it right, because the information is all hidden. We are just using open sources to find out who has died. And in recent months, especially the last few months, more people died from Perm in Ukraine than did over the whole last year," Ukhov says. He also claims he can confirm 370 soldiers from the Perm region died in Ukraine. And he insists that is more than the region lost in 10 years of the Afghan war and the two Chechen wars combined. Again, this is something Fox News has not confirmed, but if true it is bound to cause outrage.
TOP REPUBLICAN SAYS 'ALL OPTIONS MUST BE ON THE TABLE' AFTER RUSSIA PULLS OUT OF NUCLEAR TREATY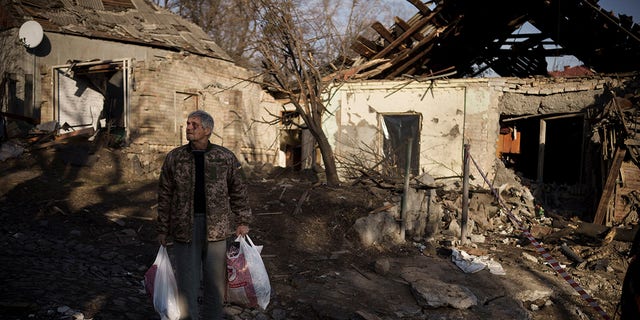 Anatolii Kaharlytskyi, 73, stands near his house, heavily damaged after a Russian attack in Kyiv, Ukraine, Monday, Jan. 2, 2023. Kaharlytskyi was injured, and his daughter-in-law Iryna died in the attack on Dec. 31, 2022. (AP Photo/Renata Brito)
Still, the sad truth according to Ukhov, who used to work with Alexei Navalny's Anti-Corruption Foundation until its offices were shuttered, is that even anger that could lead to widespread protest may not be enough to end this war.
CLICK HERE TO GET THE FOX NEWS APP
"Russia has created a system where people's protests alone will not change anything, even if large masses of people come out, because there were a lot of protests in the past in Russia. 300,000 people came out. In other words, in addition to people knowing more about this war, some external things need to happen," Ukhov explains." Therefore, it is important that other countries help defeat Putin."
Amy Kellogg currently serves as a correspondent based in Milan. She joined FOX News Channel (FNC) in 1999 as a Moscow-based correspondent. Follow her on Twitter: @amykelloggfox