close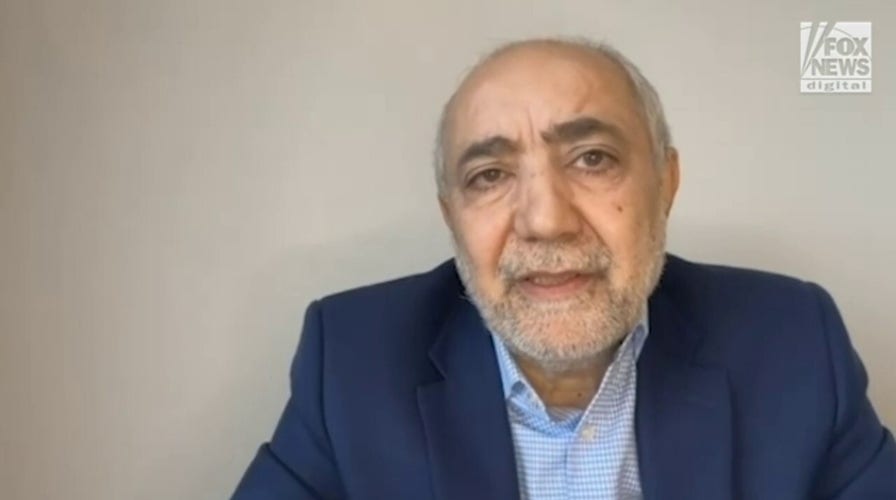 Video
Iran regime change from the inside
Fox News correspondent Amy Kellogg interviews advisor to a former Iranian prime minister who is calling for regime change.
He played his cards very carefully, cautiously and kept the faith. Mir-Hossein Mousavi, one of the founding fathers of the Islamic Republic of Iran, dutiful foot-soldier and one of its first prime ministers stayed the course. He had a near comeback in 2009. Embracing a gentle message of reform within the system, the unlikely rock star politician excited the masses.
During his run, young people turned out onto the streets in numbers – waving green flags – cheering the old time regime stalwart, supporting his message of change just short of revolution. When the presidential election was ultimately called for Mahmoud Ahmadinejad, there were large protests and cries that votes were stolen. The demonstrations were brutally put down and Mousavi, the people's new hero, was locked into his home and the regime effectively threw away the key.
And suddenly – nearly 13 years into his house arrest and effective silence – Mousavi smuggled out a message. A much different one this time. It is lengthy, granular, critical and calls for an end to the Islamic Republic regime. A regime, he says, that has relied on repressive measures, failed to uphold people's rights, created enemies around the world and all but collapsed the economy.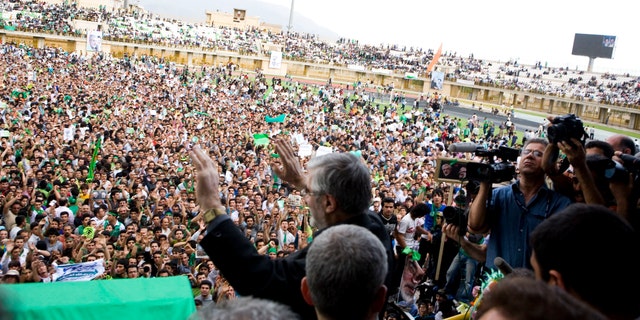 Mir Hossein Mousavi, a reformist candidate in Iran's presidential elections in 2009, waves to supporters during a campaign rally in Karaj, Iran on June 6, 2009. (Ramin Talaie/Corbis via Getty Images)
US MILITARY SHOOTS DOWN IRANIAN-MADE DRONE OVER OIL SITE IN SYRIA
"He notes the vast majority of the Iranian people and especially the Iranian intellectuals no longer want the 'Velayat e Faqih' (the system of supreme rule by an Ayatollah) or an Islamic Republic," Mousavi's chief adviser tells Fox News about this call for a whole new constitution in Iran.
"This regime can no longer respond to the demands of the Iranian people," said Ardechir AmirArjomand. "The regime does not respect anything," he says. "It is a totalitarian regime with structural corruption led by mafia clans."
Mousavi adviser AmirArjomand talks about the power of the demonstrations that followed the death of 22-year-old Mahsa Amini in police custody. He says there is no turning back because people have lost their fear. And the supreme leader, he adds, knows this. It is hardly a situation where the emperor has no clothes.
"He is aware of everything. It is not a question of knowledge. He has delusions. He does not want to accept the failure of his policy."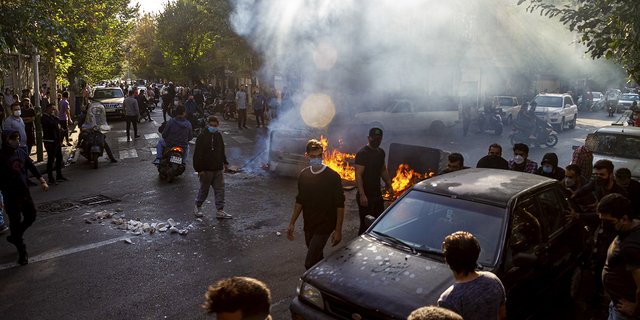 Iranians protest the death of 22-year-old Mahsa Amini after she was detained by the morality police in Tehran, Oct. 27, 2022. (AP/Middle East Images, File)
US CONDEMNS RUSSIAN USE OF IRANINA DRONES IN UKRAINE
AmirArjomand says the supreme leader, Ayatollah Ali Khamenei, will never change but he believes Mousavi still has legitimacy among some corners of the power centers from the reformist-minded to the military and Revolutionary Guard set and his words have the potential for great impact.
"He (Mousavi) has been in house arrest 12 years, deprived of contact but still he has kept his influence. It is Mousavi who could make a decisive contribution to a national consensus for the salvation of Iran."
On the topic of consensus, a cross-section of Iranian opposition figures, including the late shah of Iran's son, Reza Pahlavi, at a conference at Georgetown last week, spoke of the need for Iranians to put aside differences and work together for regime change in Iran and a democratic future. Like Mousavi, they are convinced there is no reforming this regime and that a corner has been turned since the latest round of demonstrations began last fall.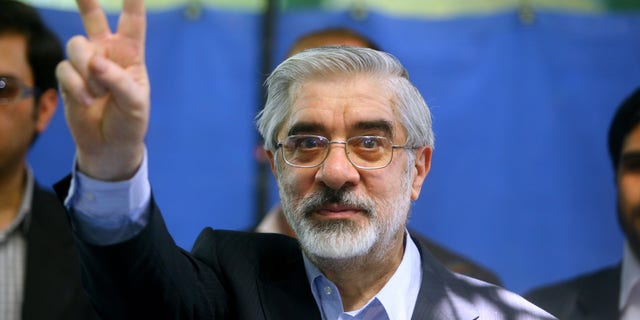 Presidential candidate Mir Hossein Mousavi flashes the V sign after casting his vote at a polling station on June 12, 2009, in Tehran, Iran. (Majid/Getty Images)
CLICK HERE TO GET THE FOX NEWS APP
For them, it is no longer "if" revolution will happen. It has. But unlike Mousavi, these are longtime opponents of the Islamic Republic government. Mousavi's appeal came up in their discussions, however, and it was not greeted with cheers. Still, one of the activists on stage acknowledged Mousavi's voice carries weight and that even if he comes from inside the repressive Tehran regime, in the spirit of "all hands on deck" and the theme of unity, his appeal should be supported.
Meanwhile, in an Iran that has been famous for keeping women down, AmirArjomand's words on their role in change are striking.
"Today, the Iranian people," he says, "the young, with the inspiration of women, they have passed a point. They no longer want this regime. They are no longer afraid, either. And what is even more important is the role of women. Mr. Mousavi mentioned this in his statement, which alludes to the slogan of this current movement, that is 'women, life, freedom.' This is the agenda for the future of Iran. And with women (on team) there is not and will not ever be a fight that cannot be won."
Amy Kellogg currently serves as a correspondent based in Milan. She joined FOX News Channel (FNC) in 1999 as a Moscow-based correspondent. Follow her on Twitter: @amykelloggfox