close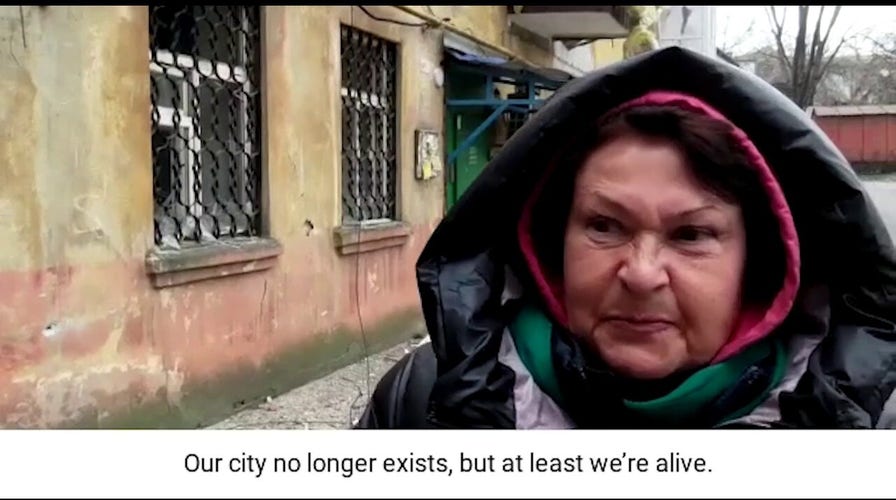 Video
A mother's desperate words
Fox News correspondent Amy Kellogg reports on the story of Lyudmila Rudenska who survived the Russian siege of Mariupol.
So much for Russian President Vladimir Putin's line that life under the administration of Kyiv had been sheer hell for the Russian speakers of Donbas.
"The city (of Mariupol) was a beautiful, flourishing, little European city that had been becoming more and more attractive by the day," says Lyudmila Rudenska in her native Russian. Recalling how Mariupol was before the war, she says, "There were lots of parks, squares, grandiose plans for a promenade. There was a new ice palace where children learned to figure skate. And a swimming pool was about to open after a renovation."
Now the seaside city is rubble, in large part. In fact, according to Rudenska the Chechen fighters who famously led the brutal charge on the city, with swagger and plenty of Tik Tok videos to prove it, admitted to her that Mariupol got it worse than Grozny, the Chechen capital, ever did. Grozny, at the end of the second Chechen war in the '90s, looked like the moon.
Sixty-six-year-old Rudenska is lucky to have made it out of Mariupol. But it was a long and uncertain journey. She was caught off guard by the suddenness and ferocity of Russia's attack on the port city. She even reported to work in the first days of the assault, at a music school in town, but ended up primarily helping people into its large basement for shelter.
RUSSIA DENIES PLANNING HYPERSONIC MISSILE TEST IN SOUTH AFRICA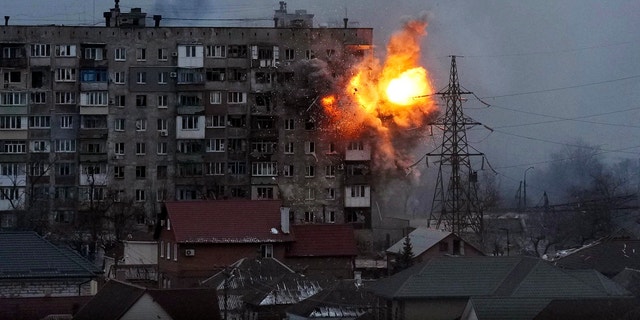 An explosion erupts from an apartment building after a Russian army tank fired on it in Mariupol, Ukraine, March 11, 2022. (AP Photo/Evgeniy Maloletka, File)
Rudenska's daughter Irina was living in Kharkiv when the war started. As she started to make her move west to safety, Irina tried to bring her mother along. But Lyudmila Rudenska said there was work to do in Mariupol and she wasn't ready to go. Soon it was too late.
"On March 1, in the course of an hour, we lost light, water, heat and gas. It was frightening not to know what was going on."
RUSSIAN UNION SUSPENDED FROM INTERNATIONAL FEDERATION OF JOURNALISTS FOR ACTIONS FOLLOWING UKRAINE INVASION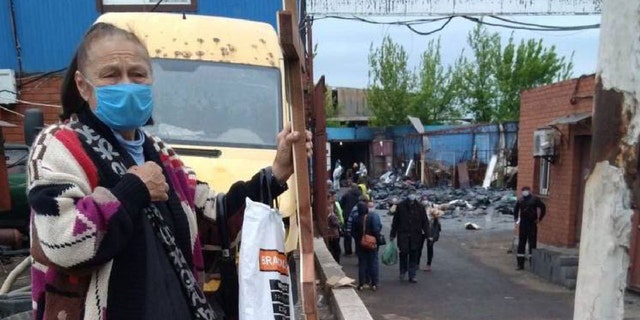 Petro Andriushchenko, mayor of Mariupol, Ukraine, said 200 bodies were found under an apartment building that was destroyed by Russian shelling. (Petro Andriushchenko/Telegram)
Soon Rudenska, who lived alone, was hiding in the basement with her neighbors. They were entirely cut off. All the municipal security forces – police, fire and ambulance – had been pushed out by the Russians, she says. So when buildings caught fire in the city they just burned. When people were injured, they were often left to die. And the worst for Lyudmila was that she had no way to contact her daughter, who had made it to the safety of Italy but was worried sick about her mother.
In a random act of kindness, a Russian journalist in Mariupol filmed a message from Lyudmila to Irina on his phone. Irina woke to find the video from an unknown number on her phone one morning.
PUTIN SAYS CHINA HAS 'AGREED' ON PRESIDENT XI JINPING VISITING MOSCOW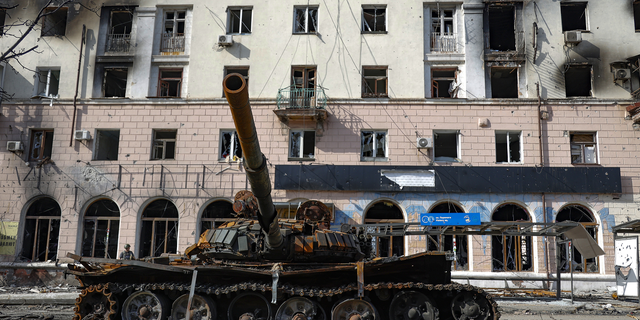 A destroyed tank and a damaged apartment building from heavy fighting in an area controlled by Russian-backed separatist forces in Mariupol, Ukraine, on April 26, 2022. (AP/Alexei Alexandrov)
"Irichka (nickname for Irina), I'm alive," a weeping Lyudmila says to camera. "Our city is gone, but I am alive." The video makes them cry now, but its existence was the most incredible boost for Irina at the time. In the days before and after that proof of life video, Irina did not know what to do with herself. Lists of who was in Mariupol basements, who had been evacuated and who had died circulated on social media. When Irina didn't find her mother's name, she didn't know if it meant bad news or good.
Lyudmila, meanwhile, had no way out of the city under siege. She and her neighbors snuck out from the basement only when they dared to line up for water at the few distribution points that existed. To gather snow to boil when it fell. Or to collect the occasional Russian rations of macaroni, that were hard to boil when water was scarce, and tinned meats that the courtyard cats wouldn't touch. Or, to bury someone.
CHINESE OFFICIAL URGES NATO TO 'GROW OUT OF' ITS 'COLD WAR MENTALITY' TOWARDS RUSSIA, CHINA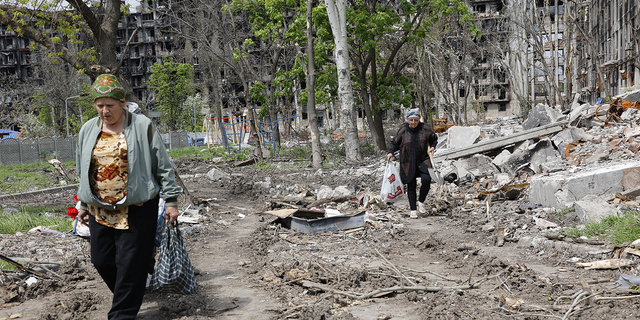 Women walk past a destroyed apartment building in Mariupol, in territory under the government of the Donetsk People's Republic, on May 2, 2022. (AP/Alexei Alexandrov)
In April, Rudenska found someone to spirit her out. In a harrowing trip across Russian occupied areas, she finally made it to western Ukraine and then to Italy to be reunited with Irina in June.
Mariupol, which held out bravely for over two months with its fighters holed up in the storied Azovstal plant, is being turned as Russian as possible as quickly as Moscow can manage. Reportedly, the Avenue of Peace, the main road that cuts through the city, has been renamed Lenin Avenue. The monument to the Holodomor, or Soviet-engineered famine that killed millions of Ukrainians, has been dismantled.
CLICK HERE TO GET THE FOX NEWS APP
About 100,000 people, about a quarter of the city's residents, somehow remain, many living in basements of bombed-out buildings in the most horrific conditions. The Russians administering Mariupol now are even giving them evacuation notices.
Lyudmila Rudenska dreams of going home. But she doesn't know when or how that will be.
Amy Kellogg currently serves as a correspondent based in Milan. She joined FOX News Channel (FNC) in 1999 as a Moscow-based correspondent. Follow her on Twitter: @amykelloggfox