Florida Republican Rep. Greg Steube announced that the Good Samaritan delivery driver who called for help after the congressman fell off a ladder will be his "official guest" for this year's State of the Union address.
Steube was hospitalized earlier this month after sustaining multiple injuries from falling more than 20 feet off a ladder while cutting a tree at his Sarasota home.
Delivery driver Darrell Woodie saw the fall and called 911, telling emergency operators Steube was "bruised up" with several injuries to his arms and back.
FLORIDA REP. STEUBE PROVIDES UPDATE ON HIS RECOVERY AFTER 25 FOOT FALL FROM LADDER AT SARASOTA HOME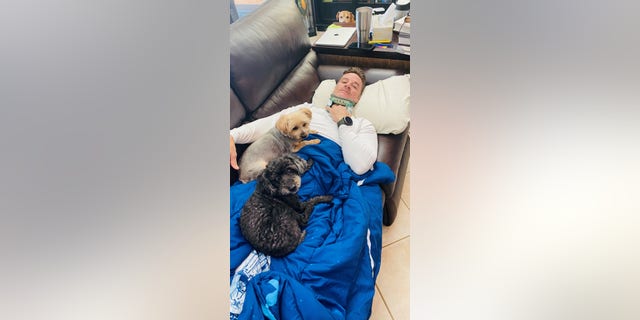 Rep. Greg Steube, R-Fla., suffered multiple injuries after falling nearly 20 feet.
(Office of Congressman Greg Steube)
Amid his recovery, the Florida congressman announced on his social media pages that, while he could not attend the State of the Union address due to his injuries, Woodie would be his "official guest" at the federal gathering.
"While I will still be in Sarasota recovering from my injuries, it is my privilege to share that Mr. Darrell Woodie will be attending next week's State of the Union as my official guest!" Steube tweeted on Monday with a picture of him and Woodie.
"Mr. Woodie called 911 after witnessing my accident and is the epitome of a Good Samaritan!" the Florida Republican added.
Last week, Steube posted an update online of his recovery, showing him lying on his couch in a neck brace and spending time with his dogs.
CLICK HERE TO GET THE FOX NEWS APP
Steube spent four days in the hospital after he was knocked from a ladder on Wednesday and fell 25 feet.
House Speaker Kevin McCarthy, R-Calif., spoke withe Steube last week, following the incident, to inform the congressman of his committee assignment, serving on the Select Subcommittee on the Weaponization of the Federal Government.
The 2023 State of the Union address is slated for next Tuesday night.
Fox News Digital's Sophia Slacik and Paul Steinhauser contributed reporting.