Rep. Mike Rogers, R-Ala., apologized to Rep. Matt Gaetz, R-Fla., on Sunday after appearing to lunge at him on the House floor during chaotic speaker votes on Friday evening.
"I regret that I briefly lost my temper on the House Floor Friday evening and appreciate Matt's kind understanding," Rogers tweeted on Sunday.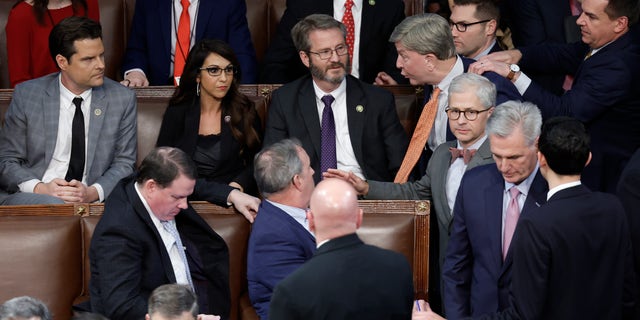 Rep. Mike Rogers (R-AL) is restrained by Rep. Richard Hudson (R-NC) after getting into an argument with Rep. Matt Gaetz (R-FL) as House Republican Leader Kevin McCarthy (R-CA) walks away, in the House Chamber during the fourth day of elections for Speaker of the House at the U.S. Capitol Building on January 06, 2023, in Washington, DC. 
(Anna Moneymaker/Getty Images)
Gaetz told Fox News Live earlier in the day that he looks forward to working with Rogers, who is set to be chairman of the House Armed Services Committee.
"Of course in a late night moment of high drama, people can have moments of frustration," Gaetz said. "He has my forgiveness and certainly is someone who has done great things for our national defense and will continue to do those great things."
The confrontation came shortly after the 14th vote for House speaker failed, with Gaetz being one of a handful of Republican lawmakers who were holding Rep. Kevin McCarthy, R-Calif., back from securing the gavel.
KEVIN MCCARTHY ELECTED HOUSE SPEAKER IN 15TH FLOOR VOTE AFTER DAYS OF HIGH DRAMA
Rogers angrily approached Gaetz shortly after McCarthy spoke to him, but was held back by Rep. Richard Hudson, R-N.C.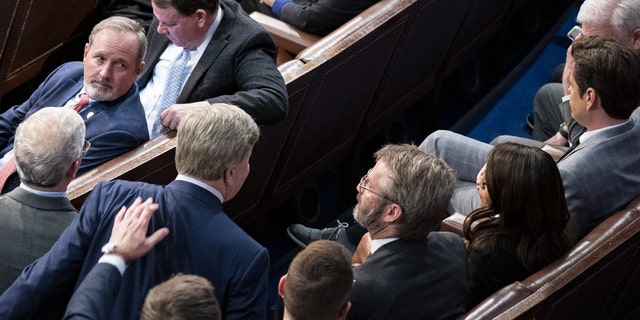 Representative Richard Hudson, a Republican from North Carolina, bottom left, pulls Representative Mike Rogers, a Republican from Alabama, left, as he approaches Representative Matt Gaetz, a Republican from Florida.
(Al Drago/Bloomberg via Getty Images)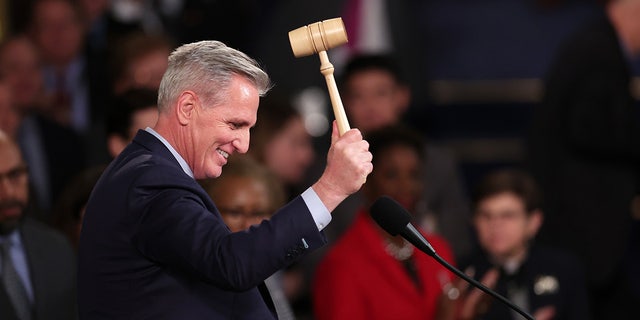 U.S. Speaker of the House Kevin McCarthy (R-CA) celebrates with the gavel after being elected in the House Chamber at the U.S. Capitol Building on January 07, 2023 in Washington, DC.
(Win McNamee/Getty Images)
CLICK HERE TO GET THE FOX NEWS APP
It's unclear what exactly was said during the exchange, but 216 Republicans voted in McCarthy's favor during the 15th and final vote, a thin majority that was enough to give McCarthy the speakership because six Republicans, including Gaetz, voted "present."
McCarthy agreed to a host of concessions to secure the votes, including allowing a single lawmaker to make a motion to elect a new speaker, giving three members of the House Freedom Caucus seats on the House Rules Committee, and not increasing the debt limit without spending cuts.