close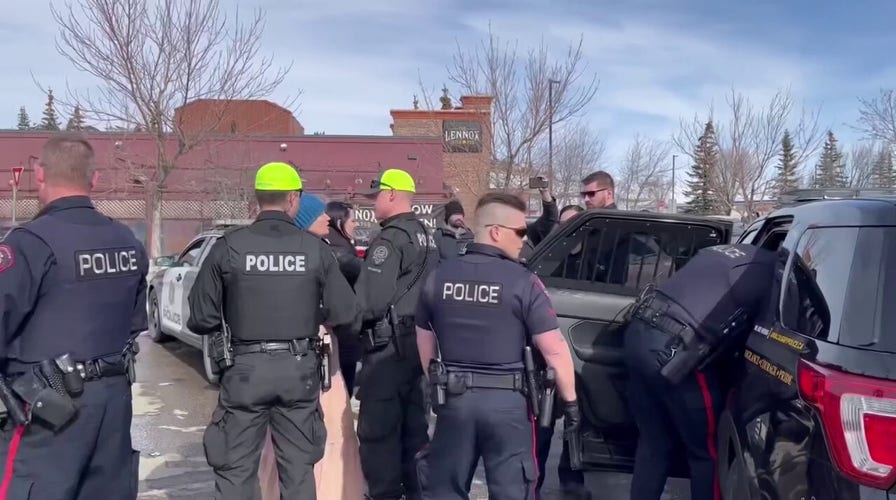 Video
Canadian pastor arrested for second time after protesting drag queen storytime for kids
Pastor Derek Reimer was arrested for the second time in recent weeks for protesting drag queen storytime for children in Calgary, Alberta.
The founder and president of a nonprofit that advocates for religious liberty in Canada blasted a proposed law in Ontario that would criminalize protests and "offensive remarks" within a football field-sized area around drag shows and other LGBTQ events.
"Liberty Coalition Canada is gravely disturbed about the rapid changes in our legal climate in Canada," Michael Thiessen, founder and president of Liberty Coalition Canada, told Fox News Digital.
Kristyn Wong-Tam, a member of the Legislative Assembly of Ontario, last week introduced the "Protecting 2SLGBTQI+ Communities Act," which would empower Ontario's attorney general to establish 100-meter "safety zones" around drag shows and other LGBTQ events. The provincial bill would make harassment, intimidation and "offensive remarks" punishable by fines up to $25,000.
Thiessen contrasted the proposed Ontario law with bills passed in U.S. states that have banned transgender procedures for minors, claiming Wong-Tam "is asking the province of Ontario to do precisely the opposite: to empower those who aim to normalize the sexualization of children and cross-dressing to appease their twisted fantasies."
ATTORNEY FOR TEEN SUSPENDED AFTER OPPOSING TRANS IDEOLOGY SAYS RELIGIOUS FREEDOM 'ESSENTIALLY DEAD' IN CANADA
Thiessen, a Canadian who now pastors a church in Kentucky, went on to say the bill "vilifies concerned citizens and purports to criminalize peaceful protesting by using dangerously vague and cynically one-sided language describing 'any homophobic, transphobic, offensive remarks, protest disturbance, and distribution of hate propaganda.'"
"Any peaceful, public disagreement or moral criticism could easily be captured by such broad, subjective, politicized categories," Thiessen said.
"In reality, this bill is not about 'protecting' anyone from 'hate,' but about silencing all opposition. Whether through a chilling effect or overzealous prosecution, the result of this bill – and we suggest the intent, as well – will be the censorship of all public criticism of things like drag queens reading to children."
Wong-Tam did not respond to Fox News Digital's request for comment.
The proposed legislation resembles the Safe and Inclusive Access Bylaw passed last month by the City Council of Calgary, Alberta. The bylaw prohibits protests within 100 meters of a recreation facility or library entrance. The city council also modified its current public behavior bylaw to include the term "intimidation," according to the CBC. Pastor Derek Reimer has been arrested three times for protesting drag queen story hour for children.
CATHOLIC HIGH SCHOOL STUDENT ARRESTED AFTER SUSPENSION FOR OPPOSING TRANSGENDER IDEOLOGY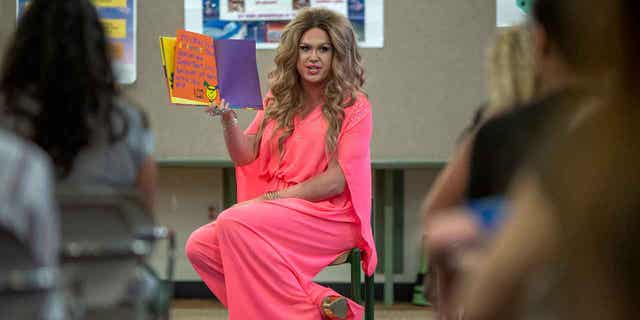 Drag Queen Story Hour is held at the West Valley Regional Branch Library on July 26, 2019, in Los Angeles. (David McNew/Getty Images)
Founded by clergy in January 2021, Liberty Coalition Canada's website said it is committed to "supporting Canadians who are facing unjust and illegal discrimination for exercising their lawful freedoms." The organization has been legally representing Josh Alexander, a 17-year-old who has been arrested multiple times after being suspended from his Catholic high school in Ontario last year for opposing transgender ideology.
"This bill is a bare-knuckle attack on those who dare stand in the way of the rapid and unchecked allowance of child grooming and sexualization."
Alexander allegedly had coffee thrown on him during a recent protest, Thiessen said, adding the bill "betrays grotesque hypocrisy, as it is most often the representation from these 'queer' groups themselves who incite true hatred through profanity, vulgarity and physical aggression."
PROPOSED LAW WOULD SET FOOTBALL FIELD-SIZED ZONE AROUND DRAG SHOWS, FINE 'OFFENSIVE' SPEECH UP TO $25,000
"This bill is a bare-knuckle attack on those who dare stand in the way of the rapid and unchecked allowance of child grooming and sexualization," Thiessen claimed. "Voters, parents and otherwise courageous citizens need to speak swiftly and clearly against this deranged parody of public law."
CLICK HERE TO GET THE FOX NEWS APP
Liberty Coalition Canada was also behind an initiative last year protesting Canada's Bill C-4, which outlawed "conversion therapy." Under the terms of the bill, therapists who provide any form of counseling to repress or reduce "non-heterosexual attraction or sexual behavior" or "non-cisgender identity" can face up to five years in prison. The protest initiative garnered support from approximately 5,000 churches throughout North America.
Jon Brown is a writer for Fox News Digital. Story tips can be sent to [email protected].