Reba McEntire is getting real about whether she'll return to her role as a single mom who works too hard.
McEntire recently revealed that she and former "Reba" co-star Melissa Peterman discussed a potential "Reba" reboot quite a bit while they were working together on their upcoming Lifetime movie "The Hammer."
"We talked about that a lot," McEntire told "E! News." "I don't think that's ever going to come to fruition, but maybe one of these days."
The show originally ran for six seasons on The CW, previously known as The WB, and followed McEntire as the main character as she navigates her new life as a single mother after her husband left her for his assistant.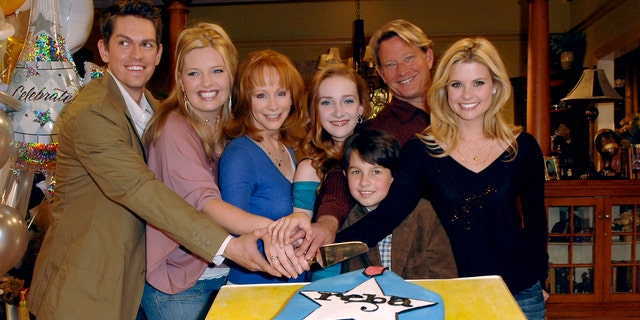 Reba McEntire starred on the hit show "Reba" for six seasons from 2001 until 2007.
(Michael Caulfield Archive/WireImage)
REBA MCENTIRE POSTPONES CONCERTS ON DOCTOR'S ORDERS, REVEALS 'DIFFERENT DECISION' TO RESCHEDULE SHOWS
The show also starred JoAnna Garcia Swisher, Scarlett Pomers, Christopher Rich and Steve Howey, many of whom have gone on to have successful careers in the industry. Howey had leading roles in movies like "Bride Wars" and "Something Borrowed" as well as the TV show "Shameless," and Garcia Swisher had a recurring role on the popular ABC show "Once Upon a Time" and starred in the Netflix series "Sweet Magnolias."
The cast has managed to keep a close relationship since the show came to an end in 2007, with McEntire and Peterman reuniting this year for the Lifetime movie. McEntire says out of everyone in the cast, Peterman is "always trying to break me, and she does it a lot."
"We love to act together, we love to hang out together," McEntire said. "We rented a house and all of us we're in the house together — my bunch and Melissa — and it was just the best. I had the most wonderful experience getting to shoot this movie."
While the Grammy Award-winning singer is unsure if a "Reba" reboot will ever make it to air, it doesn't mean McEntire will completely disappear from TV screens as she is currently starring on the ABC drama "Big Sky" alongside boyfriend Rex Linn.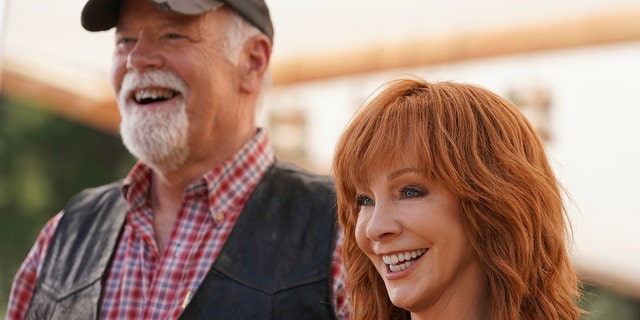 McEntire currently stars on "Big Sky" with boyfriend Rex Linn.
(Michael Moriatis/ABC via Getty Images)
The two originally met in 1991 on set of the Kenny Rogers movie "The Gambler," but they didn't start dating until they reconnected in January 2020 when McEntire was called to do a guest spot on "Young Sheldon." The COVID-19 pandemic made it hard for them to stay connected while in quarantine, however, they were able to keep the relationship alive through FaceTime.
In "Big Sky," McEntire got to embrace her darker side on the show as she plays Sunny Barnes, the matriarch of a family who recently started a glamping business. While she may look nice on the outside, the character is not afraid to get messy when necessary.
"I didn't want to come on as Reba McEntire," McEntire told Entertainment Weekly in a September interview ahead of the show's season premiere. "I wanted to play somebody else. I get to play me all the time. I wanted to be a character, and to be a dark character is even better."
CLICK HERE TO SIGN UP FOR THE ENTERTAINMENT NEWSLETTER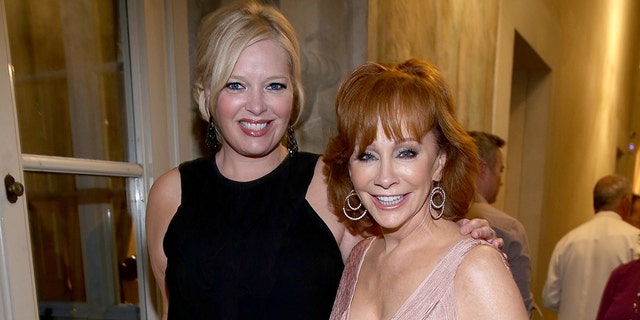 Peterman, left, and McEntire reunite in a new Lifetime movie, "The Hammer," which is set to premiere on Jan. 7.
(Jonathan Leibson/Getty Images for Celebrity Fight Night)
Aside from getting to play a darker role, McEntire says she was attracted to the script because "it's out in the country," and as "a third-generation rodeo brat" who "grew up on a working cattle ranch in southeastern Oklahoma," she felt right at home.
CLICK HERE TO GET THE FOX NEWS APP
"The Hammer" is set to premiere on Lifetime on Jan. 7.