FIRST ON FOX: Republican presidential candidate Vivek Ramaswamy frequently touts a rags-to-riches story on the campaign trail, declaring during Wednesday night's debate that his parents immigrated to the U.S. with nothing, but public records and Ramaswamy's past writings paint a more nuanced picture about his upbringing.
"I'm not a politician," Ramaswamy said during his opening remarks at the Fox News-hosted debate in Milwaukee. "I'm an entrepreneur. My parents came to this country with no money 40 years ago. I have gone on to found multibillion dollar companies."
Later in the debate, while discussing his support for school choice, Ramaswamy said he "didn't grow up in money."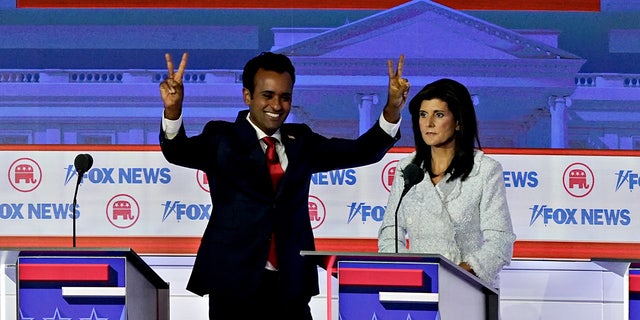 Vivek Ramaswamy, left, and Nikki Haley during the Republican primary presidential debate hosted by Fox News in Milwaukee, Wisconsin, US, on Wednesday, Aug. 23, 2023. (Al Drago/Bloomberg via Getty Images)
RAMASWAMY WAS ALREADY MILLIONAIRE WHEN HE ACCEPTED SOROS AWARD HE SAID HE NEEDED TO PAY FOR LAW SCHOOL
It's a narrative the multimillionaire millennial often uses to connect with voters on the campaign trail, while also attempting to differentiate himself from former President Donald Trump.
Before the debate Wednesday, Ramaswamy sat down with ABC News and said that unlike Trump, he "actually built the companies from scratch."
"I didn't inherit anything," he said. "I built the companies from zero to nothing. My parents came to this country with no money."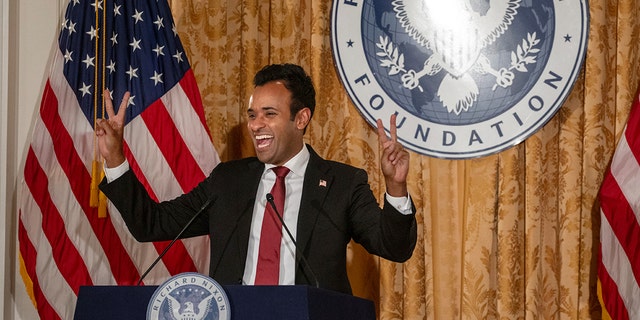 GOP presidential candidate Vivek Ramaswamy speaks at the Nixon Library on Thursday, Aug. 17, 2023, in Yorba Linda, CA. (Francine Orr / Los Angeles Times via Getty Images)
Ramaswamy, 38, was born in 1985 in Cincinnati to V. Ganapathy Ramaswamy and Geetha Ramaswamy, who were upper-caste Tamil Brahmin in India. Both parents were highly educated professionals in India before they made the decision to move to the U.S. and start a family.
Ramaswamy's father held a graduate degree in engineering from the National Institute of Technology, Calicut, when he immigrated to the U.S. in the 1970s.
In his 2022 book "Nation of Victims," Ramaswamy wrote that when he was in sixth grade, or about 11 years old, his father had been working as an engineer at General Electric for the past 20 years, or since about 1976.
Two years after their marriage, Ramaswamy's father earned his Ph.D. from the University of Cincinnati while still working at General Electric in 1985, according to details in his father's dissertation. That same year, Ramaswamy's mother immigrated to America, and Vivek was born that August, followed by his younger brother Shankar.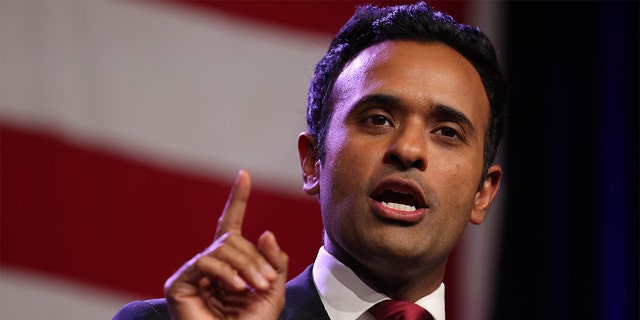 Vivek Ramaswamy, chairman and co-founder of Strive Asset Management, speaks at the Republican Party Of Iowa's annual Lincoln Dinner in Des Moines, Iowa, US, on Friday, July 28, 2023. (Rachel Mummey/Bloomberg via Getty Images)
RAMASWAMY CHANGES TUNE FROM PREVIOUS COMMENTS ON TRUMP AHEAD OF GOP DEBATE: 'NOT THE SAME DONALD TRUMP'
Ramaswamy's mother already held a medical degree in geriatric psychiatry from Mysore Medical College & Research Institute in India by the time she arrived in the U.S. in 1985. She obtained her license to practice in Oklahoma less than six months after coming to the U.S., according to state records, though it is unclear why in Oklahoma. That license expired in 2014.
Ramaswamy's mother obtained her Ohio medical license the following year, in February 1987, which is still active, according to public records, and she worked as a geriatric psychiatrist and medical director at a private practice in Cincinnati from the time her son was 4 years old until he was in college, according to her LinkedIn profile.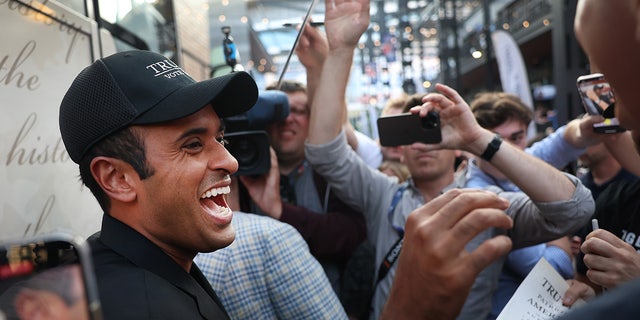 Republican presidential candidate businessman Vivek Ramaswamy greets guests following a small rally outside of the Fiserv Forum on August 22, 2023 in Milwaukee, Wisconsin. (Scott Olson/Getty Images)
In "Nation of Victims," Ramaswamy wrote that when he was in the sixth grade, he belonged to a "comfortably middle-class family with two incomes," but the threat of layoffs still loomed.
By 2000, during Ramaswamy's high school years, his father was working as a patent attorney at General Electric.
Ramaswamy attended an elite private high school in Cincinnati where tuition today costs over $16,000 per year.
His parents also apparently established a stock portfolio for him that was bringing in hundreds of dollars in dividends before he graduated high school and thousands by the time he attended Harvard, according to his 2002-2004 tax returns, which he released in June.
Ramaswamy's campaign did not respond to Fox News Digital's request for comment.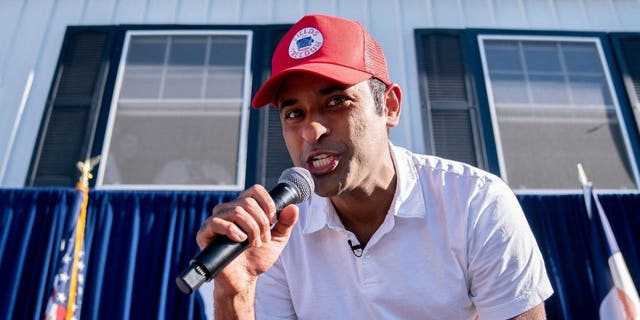 US entrepreneur and 2024 Presidential hopeful Vivek Ramaswamy raps after doing a Fair Side Chat with Governor Kim Reynolds, at the Iowa State Fair in Des Moines, Iowa, on August 12, 2023. (Photo by STEFANI REYNOLDS/AFP via Getty Images)
Questions about Ramaswamy's past have been ramping up in recent months after he quickly rose in the polls to third place behind front-runner Donald Trump and Florida Gov. Ron DeSantis.
Fox News Digital reported earlier this week that Ramaswamy had already become a millionaire by the time he accepted a Soros-family scholarship he previously said he needed in order to pay for law school.
Ramaswamy defended himself last month for accepting a $90,000 award from the Paul & Daisy Soros Fellowship for New Americans, which was founded by Daisy and Paul Soros, the late older brother of liberal billionaire financier George Soros.
Ramaswamy said that after graduating from Harvard, he "didn't have the money" to afford Yale Law School.
"There was a separate scholarship that I won at the age of 24-25, when I was going to law school in my mid-20s, in my early 20s, when I didn't have the money and it was a merit scholarship that hundreds of kids win, that was partially funded, not by George Soros, but by Paul Soros a relative, his brother," Ramaswamy said.
"And to be perfectly honest with you, I would have had to be a fool to turn down that scholarship at the age of 24," he added.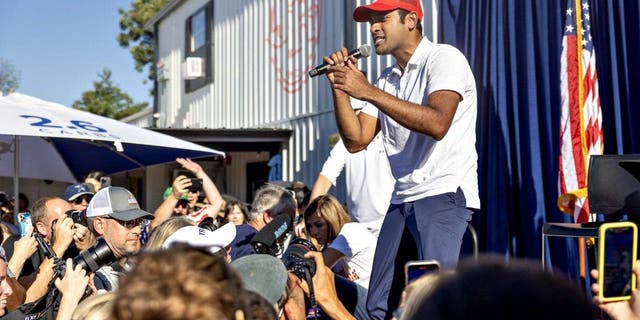 Vivek Ramaswamy, chairman and co-founder of Strive Asset Management and 2024 Republican presidential candidate, raps to Eminem during a Fair-Side Chat with Iowa Governor Kim Reynolds at the Iowa State Fair in Des Moines, Iowa, US, on Saturday, Aug. 12, 2023. (Photographer: Rachel Mummey/Bloomberg via Getty Images)
When Ramaswamy accepted the award in 2011, he was a first-year law student at Yale and had been working for several years as an investment analyst at the hedge fund QVT Financial.
In 2011, the same year he accepted the award, Ramaswamy reported $2,252,209 in total income, according to his tax returns. He reported a total of $1,173,690 in income in the three years prior.
RAMASWAMY CHANGES TUNE FROM PREVIOUS COMMENTS ON TRUMP AHEAD OF GOP DEBATE: 'NOT THE SAME DONALD TRUMP'
"Vivek won a generic scholarship that hundreds of students win to attend graduate school," his campaign's spokesperson, Tricia McLaughlin, told Fox News Digital on Monday. "It was funded by a relative of George Soros who is long dead."
"Vivek would have been a fool to turn down that scholarship – Anyone who would have shouldn't get anywhere near the White House doing trade deals," she continued. "In fact, there's only one candidate that will be on stage Wednesday night whom George Soros has said he wants to win this primary – and it's not Vivek."
CLICK HERE TO GET THE FOX NEWS APP