Republican presidential candidate and political newcomer Vivek Ramaswamy, seemingly following Democratic 2024 contender Robert F. Kennedy, Jr.'s viral pushup trend, shared his own workout video dubbed part of his "debate prep" before taking on fellow GOP White House hopefuls during the first primary debate in Milwaukee Wednesday.
"More debate prep this morning, with my favorite sparring partner," Ramaswamy wrote on X, formerly Twitter, on Tuesday, sharing a video of him and his wife Apoorva Ramaswamy doing burpees in a garage gym with the song "Bring Em Out," from artist T.I.'s 2004 album "Urban Legend," sounding off.
A shirtless Ramaswamy, a tech entrepreneur and the youngest presidential candidate at age 38, was seen in another video shared to his X account Monday audibly volleying tennis balls on the court. "Three hours of solid debate prep this morning," he wrote, sharing an American flag.
WATCH THE GOP CANDIDATES GO HEAD-TO-HEAD AT THE FIRST REPUBLICAN PRESIDENTIAL PRIMARY DEBATE. SIGN UP NOW TO STREAM LIVE!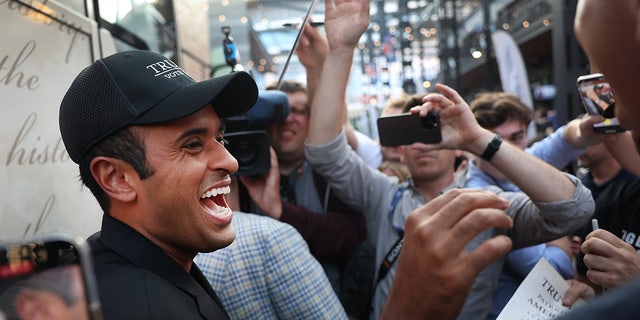 GOP presidential candidate Vivek Ramaswamy greets guests following a small rally on Aug. 22, 2023, in Milwaukee, Wisconsin. Ramaswamy and seven other Republican presidential hopefuls will participate in the first debate Wednesday.  (Scott Olson/Getty Images)
The videos, respectively viewed millions of times, seem to follow the growing trend set by Democratic presidential candidate Kennedy, as well as billionaire tech rivals Elon Musk and Mark Zuckerberg, publicly boasting about their physical fitness and strength in training footage shared online.
In June, 69-year-old RFK Jr. shared a video on X of himself – also shirtless – banging out nearly 10 pushups.
"Getting in shape for my debates with President Biden!" he captioned the video, which garnered 17.5 million views as of Wednesday.
Fitness influencers and conservative activists championed Kennedy for his physical abilities – and muscular, tan physique – after another video of his bench-pressing skills went viral.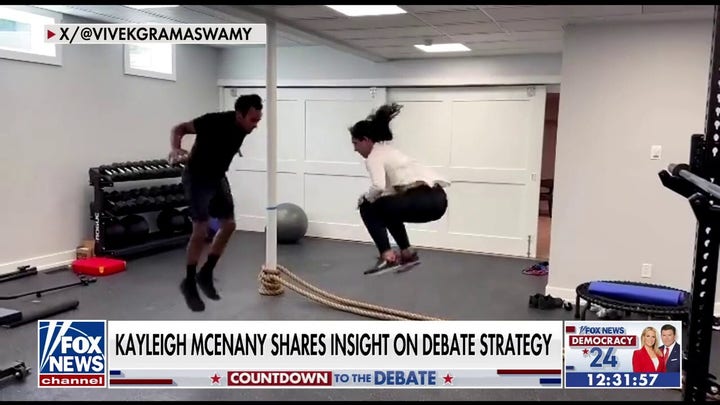 Video
Some praised the videos as an inspiration for men especially, while others juxtaposed the display against 80-year-old Biden's repeated gaffes and public falls and stumbles.
VIVEK RAMASWAMY CLARIFIES REMARKS AFTER HE IS ACCUSED OF FLOATING 9/11 CONSPIRACY
Ramaswamy, who says that the United States is at a "1776" moment on the cusp of a hopefully new, positive "revolution," is to stand center stage along with Florida Gov. Ron DeSantis during the first GOP primary debate to be hosted by Fox News in Wisconsin at 9 p.m. ET.
Standing alongside them will be former Vice President Mike Pence and former ambassador and former South Carolina Gov. Nikki Haley.
Former New Jersey Gov. Chris Christie and Sen. Tim Scott of South Carolina will stand in the number five and six positions, while former Arkansas Gov. Asa Hutchinson and North Dakota Gov. Doug Burgum will stand on the wings of the debate stage.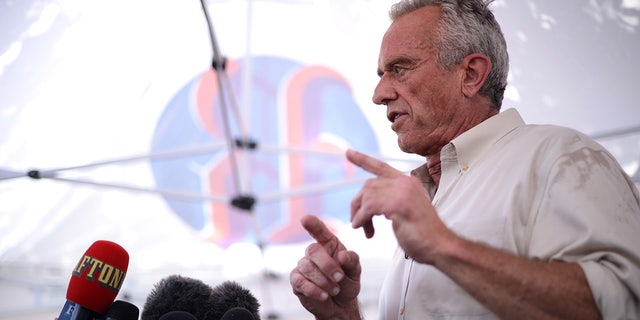 Democratic presidential candidate Robert F. Kennedy, Jr. during the Iowa State Fair on Aug. 12, 2023, in Des Moines. (Alex Wong/Getty Images)
CLICK HERE TO GET THE FOX NEWS APP
Former President Donald Trump, the current front-runner for the 2024 GOP nomination, has said he is opting out of the debate. In a TRUTH Social post early Wednesday, Trump said he would "proudly" surrender Thursday on his fourth indictment out of Fulton County, Georgia, related to alleged 2020 election interference.