close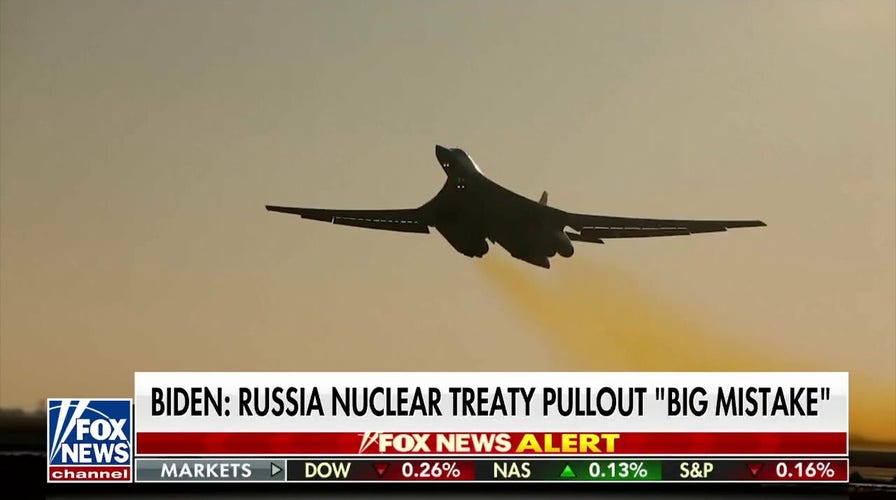 Video
US tensions with Russia, China grow as Putin suspends last nuclear arms treaty
Fox News chief national security correspondent Jennifer Griffin reports on how the Pentagon is responding to Russia and China appearing to strengthen ties on "Your World."
Russian President Vladimir Putin said Wednesday that he will strengthen Russia's nuclear forces, announcing that his military is prepared to deploy a new intercontinental ballistic missile system with hypersonic missiles and new nuclear submarines.
As the Russian invasion of Ukraine approaches its one-year anniversary, Putin has declared that Russia will pull back from the New START treaty negotiated with the United States, signaling his intention to ramp up the country's nuclear armaments. In a speech commemorating Defender of the Fatherland Day, a Russian holiday that honors the country's armed forces, Putin said Russia will continue to "focus on strengthening the nuclear triad."
He said the new RS-28 Sarmat liquid-fueled missile, also called "Satan 2," is ready for combat deployment after a years-long delay. The "nuclear triad" refers to missiles based on land, sea and in the air.
"This year, the first Sarmat missile system launchers with the new heavy missile will be put on combat duty," Putin announced. "We will continue full production of the Kinzhal air-launched hypersonic systems and begin mass deployment of Tsirkon sea-launched hypersonic missiles."
RUSSIA SUSPENDS PARTICIPATION IN NEW START NUCLEAR TREATY WITH US, PUTIN SAYS
Russian President Vladimir Putin speaks during a concert in Luzhniki Stadium on Feb. 22, 2023, in Moscow. (Contributor / Getty Images)
On Tuesday, Putin announced that Russia would suspend its participation in the New START treaty, which caps the number of nuclear armaments each country can possess at 1,550 warheads deployed on delivery systems like intercontinental ballistic missiles, submarine-launched ballistic missile or heavy bombers.
He also threatened to resume testing nuclear weapons if Western nations do not cease their aid to Ukraine, which is suffering under a brutal Russian invasion. Putin has characterized the conflict as an attempt by Russia to defend itself from encroaching Western powers and asserted that neo-Nazi forces have "taken root in Ukraine."
PUTIN ISSUES NUCLEAR WARNING TO US, THREATENS TO RESUME WEAPONS TESTS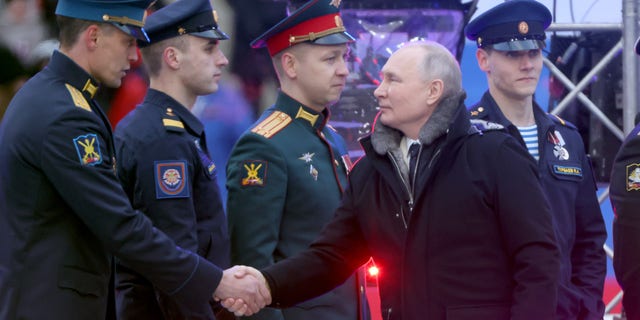 Russian President Vladimir Putin greets members of the military during a concert in Luzhniki Stadium on Feb. 22, 2023, in Moscow. (Contributor / Getty Images)
Russia's Sarmat missile is 35 meters long (nearly 115 feet), has a range of 18,000 km (about 11,000 miles) and is able to carry at least 10 multiple independently targetable reentry vehicles — each with a nuclear warhead — that can be aimed at different targets, Reuters reported.
Putin also noted the completion of a new nuclear-powered submarine called "Emperor Alexander III," which is now operational in the Russian navy.
"With the Borei-A nuclear-powered submarine Emperor Alexander III becoming operational in the navy, the share of modern weapons and equipment in the naval strategic nuclear forces will reach 100 percent," Putin said. "In the coming years, three more cruisers from this project will be delivered to the navy."
BIDEN ANNOUNCES MILLIONS MORE TAXPAYER DOLLARS TO ASSIST UKRAINE DURING SURPRISE TRIP TO KYIV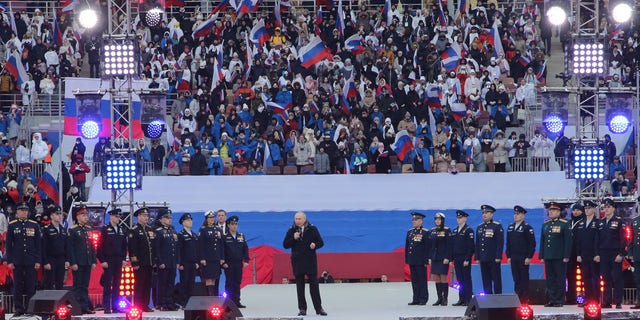 Thousands of people gather at a Moscow stadium for a pro-Putin rally marking Defender of the Fatherland Day as well as the first anniversary of Russia's military invasion of Ukraine. (Contributor / Getty Images)
Launched in late December, the Emperor Alexander III is the seventh Borei-A class submarine, which can carry 16 Bulava submarine-launched ballistic missiles.
Putin also reaffirmed Russia's commitment to developing "modern and efficient" conventional forces, relying on combat experience to "pursue balanced and high-quality development of all components of the armed forces" and "improve the system for training units."
CLICK HERE TO GET THE FOX NEWS APP
"We will continue to supply advanced equipment to our troops, including new strike systems, reconnaissance and communications equipment, drones and artillery systems," Putin said. "Our industry is quickly increasing the production of the entire range of conventional weapons and preparing for mass production of advanced models of equipment for the army and navy as well as the aerospace forces."
Chris Pandolfo is a writer for Fox News Digital. Send tips to [email protected] and follow him on Twitter @ChrisCPandolfo.