close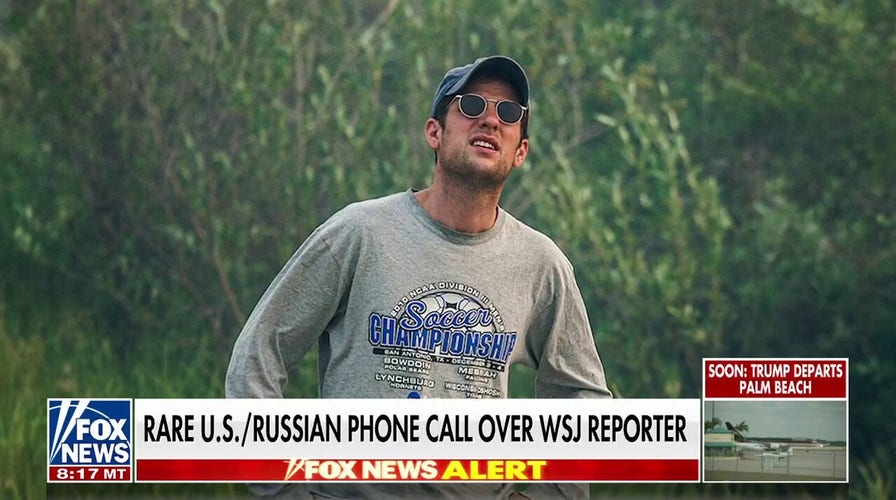 Video
US holds rare call with Russia on WSJ reporter's arrest
Fox News senior foreign affairs correspondent Greg Palkot provides details on Evan Gershkovich's arrest in Russia and the growing pressure for his release.
Russian President Vladimir Putin listed the U.S. as the Kremlin's chief threat in Moscow's latest foreign policy doctrine, which is aimed at curbing U.S. "dominance" in the world.
The more than 11,000-word document approved by Putin on Friday describes Washington as "main inspirer, organizer and executor of the aggressive anti-Russian policy of the collective West."
The doctrine, dubbed the Concept of the Foreign Policy of the Russian Federation, also accused the U.S. of being not only "the source of major risks to the security of the Russian Federation," but also to "international peace, a balanced, equitable and progressive development of humanity."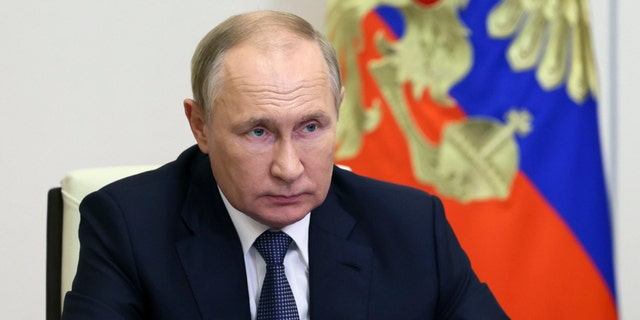 The arrest of a Wall Street Journal reporter by Vladimir Putin's regime has caused international outrage. (Gavriil Grigorov, Sputnik, Kremlin Pool Photo via AP)
WALL STREET JOURNAL EDITOR-IN-CHIEF CONDEMNS REPORTER'S ARREST IN RUSSIA: 'TOTAL OUTRAGE'
Following its invasion of Ukraine and the near complete deterioration of relations with the U.S. and its Western allies, Moscow increasingly has turned to nations known to be top adversaries of Washington's like China, Iran and North Korea.
The document accused the U.S. and its allies of using the war in Ukraine as "pretext" to take "anti-Russia" action and "unleash a new type of hybrid war" against Moscow.
Moscow, which has refused to withdraw from Ukraine despite overwhelming international calls to do so, claimed it was still open to having a "strategic partnership" with Washington and called on it to "abandon its policy of power-domination and revise its anti-Russian course."
Russia singled out China and India as chief partners it intends to work with more fully moving and said it would work with its partner nations to counter the West's "policy of confrontation and hegemonic ambitions."
Russian President Vladimir Putin and Chinese President Xi Jinping toast during their dinner in Moscow on March 21. (Pavel Byrkin/Sputnik/Kremlin Pool Photo/AP)
RUSSIA TAKES OVER PRESIDENCY OF UN SECURITY COUNCIL; 'BAD OPTICS' FOR WEST, PROPAGANDA WIN FOR PUTIN: EXPERTS
"The Russian Federation intends to make it a priority to… eliminate the vestiges of domination by the U.S. and other unfriendly states in global affairs, create conditions to enable any state to renounce neo-colonial or hegemonic ambitions," the document said.
The document, essentially a diplomatic handbook on countering the U.S. in the global sphere, said Russia would focus on expanding its ties with nations across East Asia, Latin America, Africa and the Middle East.
Experts have been warning against Russian attempts to expand its influence across the globe, similar to China's moves to do so through its Belt and Road Initiative, particularly as the Biden administration looks to repair and shore up U.S. ties in areas like Africa and the Middle East.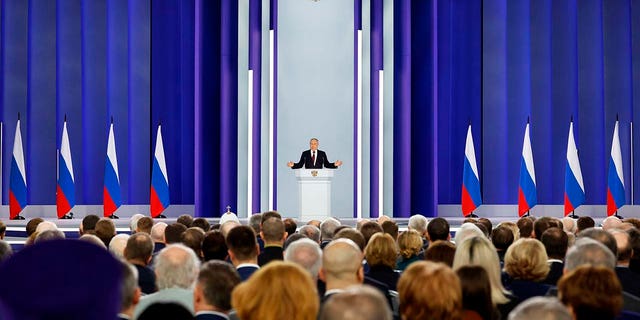 Russian President Vladimir Putin gestures as he gives his annual state of the nation address in Moscow on Feb. 21, 2023. (Dmitry Astakhov, Sputnik, Kremlin Pool Photo via AP)
CLICK HERE TO GET THE FOX NEWS APP
Russia, which assumed the presidency of the U.N. Security Council Saturday for the month of April, accused the West of using international systems like the U.N. to deploy "illegal instruments" like sanctions in an attempt to suppress changing world powers.
"Humanity is currently going through revolutionary changes," the document said. "The changes which are now taking place and which are generally favorable are nonetheless not welcomed by a number of states being used to the logic of global dominance and neocolonialism. These countries refuse to recognize the realities of a multipolar world."
Caitlin McFall is a Reporter at Fox News Digital covering Politics, U.S. and World news.