close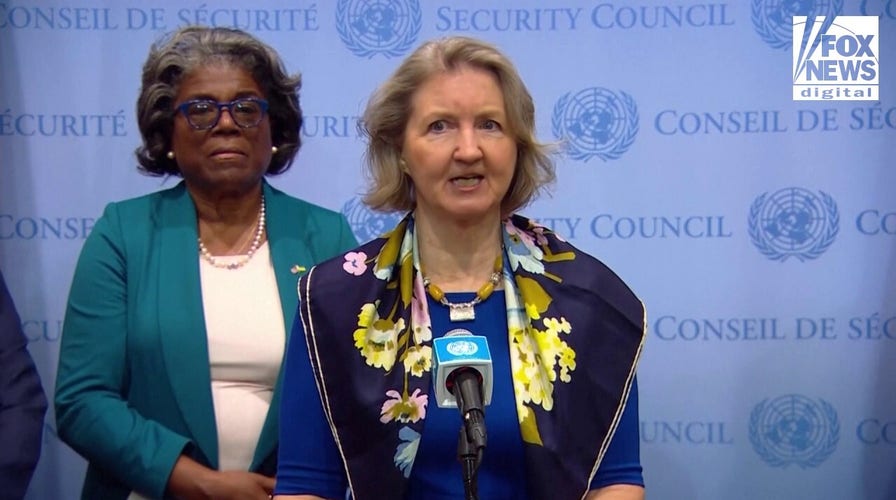 Video
Putin's top official slammed at UN
Fox News' Eric Shawn reports from the United Nations as Sergey Lavrov chaired a Security Council meeting. Before the meeting the sister of imprisoned American Paul Whelan demanded her brother's immediate release from a Russian jail.
Russian President Vladimir Putin could be arrested if he attends an economic summit being hosted in South Africa in the coming months, according to a report.
The BRICS economic bloc, led by Russia and China, is hosting its August 2023 economic summit in South Africa — which is a member of the International Criminal Court.
In speaking with South Africa's Sunday Times, a senior government official said the country doesn't have a choice but to arrest Putin if he chooses to attend the BRICS summit in person.
"There is no option not to arrest Putin — if he comes here, we have to arrest him," a senior government official said. "The only option we have is for him to connect via Teams or Zoom from Moscow."
INTERNATIONAL CRIMINAL COURT ISSUES PUTIN ARREST WARRANT OVER CHILD DEPORTATIONS FROM UKRAINE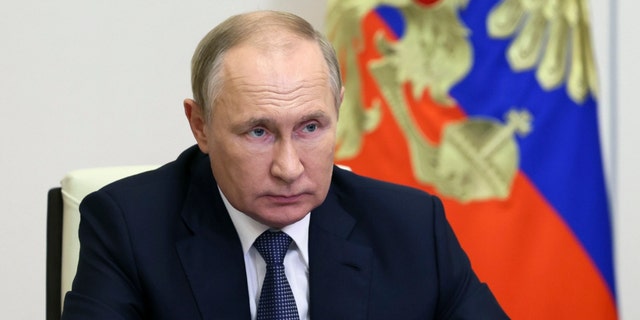 The arrest of a Wall Street Journal reporter by Vladimir Putin's regime has caused international outrage. (Gavriil Grigorov/Sputnik/Kremlin Pool via AP, File)
The ICC issued a warrant for Putin's arrest in March, stating that there's reason to believe that he "bears responsibility for the war crime of unlawful deportation of population and that of unlawful transfer of population from occupied areas of Ukraine to the Russian Federation, in prejudice of Ukrainian children."
Kremlin Spokesperson Dmitry Peskov said in late April that Russia will participate in the BRICS summit, but didn't add any details, according to the Moscow Times.
"Of course, we will take part in the summit to be held in South Africa. Of course, this will be preceded by our bilateral contacts with the South Africans, we will clarify their position," Peskov said.
NEW WORLD DISORDER: CHINA, RUSSIA BLOC SHORES UP INFLUENCE AS COUNTRIES EAGER TO JOIN, INCLUDING US ALLIES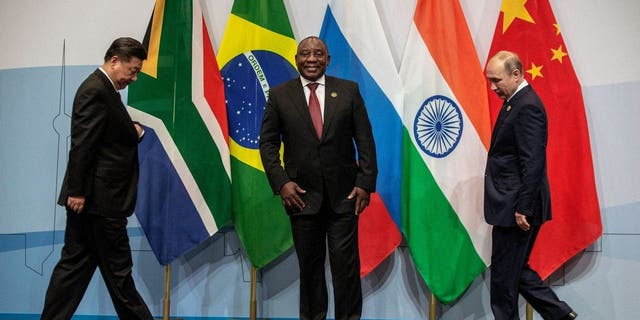 Chinese President Xi Jinping, left, South African President Cyril Ramaphosa, and Russian President Vladimir Putin, arrive to pose for a group picture during the 10th BRICS Summit, July 26, 2018, at the Sandton Convention Centre in Johannesburg, South Africa.  (Gianluigi Guercia/Pool/AFP via Getty Images, File)
South African President Cyril Ramaphosa said on April 25 that the African National Congress decided to withdraw the country from the ICC, which his office later walked back, according to the AFP.
"The presidency wishes to clarify that South Africa remains a signatory (to the ICC)," Ramaphosa's office said later on April 25, according to the report.
CLICK HERE TO GET THE FOX NEWS APP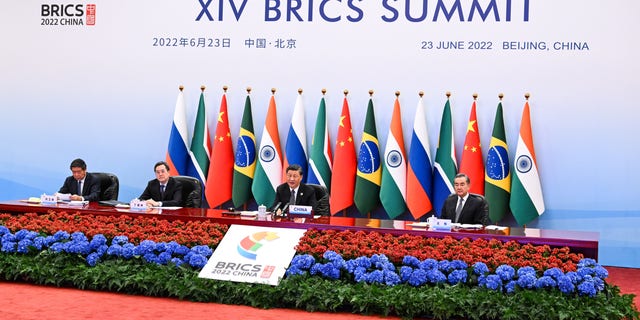 Chinese President Xi Jinping, center, hosts the 14th BRICS Summit via video link in Beijing, China, June 23, 2022.  (Rao Aimin/Xinhua via Getty Images, File)
The office added that the "clarification follows an error in a comment made during a media briefing held by the governing African National Congress."
According to South Africa's Sunday Times, the country's foreign ministry obtained private legal advice which stated that if Putin wasn't arrested while he's in South Africa, it would be a breach of the country's own laws.
Fox News' Timothy Nerozzi contributed to this report.
Adam Sabes is a writer for Fox News Digital. Story tips can be sent to [email protected] and on Twitter @asabes10.