close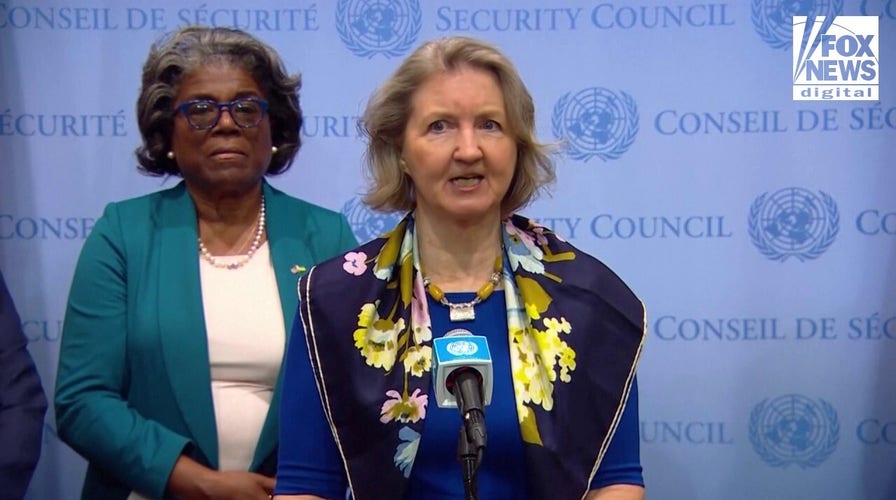 Video
Putin's top official slammed at UN
Fox News' Eric Shawn reports from the United Nations as Sergey Lavrov chaired a Security Council meeting. Before the meeting the sister of imprisoned American Paul Whelan demanded her brother's immediate release from a Russian jail.
Jailed Vladimir Putin critic and Russian opposition leader Alexei Navalny revealed Wednesday that prosecutors have launched an "absurd" new case against him that could keep him behind bars for an additional 30 years.
The fresh extremism charges against Navalny relate to the activities of his anti-corruption foundation and statements by his top associates, with ally Leonid Volkov telling the Associated Press that the accusations retroactively criminalize all the activities of the foundation since its creation in 2011.
Supporters of Navalny published a statement on Twitter quoting him as saying he has also been accused of carrying out "terrorist attacks" while in jail and is going to face a separate military trial over those allegations.
"They made absurd charges that threaten me with 30 years in prison," the statement read. "Investigator Vidyukov said yesterday that a terrorist case was singled out separately from this case that I, while in prison, commit terrorist attacks. And in this case I will be judged separately by a military court."
UNITED NATIONS CONDEMNS 'SUMMARY EXECUTION OF PRISONERS OF WAR' BY BOTH RUSSIA, UKRAINE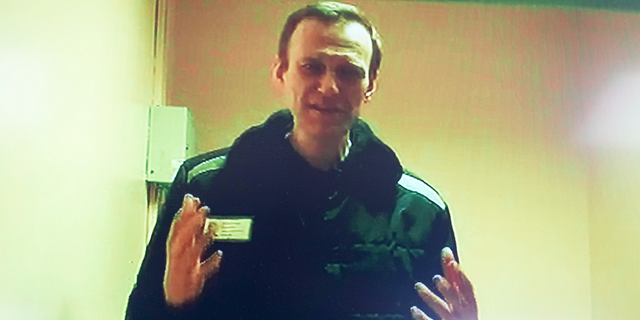 Russian opposition leader Alexei Navalny is seen on a TV screen as he appears by video link in a Moscow courtroom on Wednesday, April 26. (AP/Alexander Zemlianichenko)
Navalny is currently being held at the IK-6 penal colony on Melekhovo, east of Moscow, on fraud and contempt of court charges he argues are politically motivated.
On Wednesday, he appeared by video link at Moscow's Basmanny District Court to discuss the extremism allegations, according to the AP.
However, the judge closed the session minutes after it opened, ruling that it should be held behind closed doors because the case involved sensitive information. It was not clear when the trial might start.
"It's an attempt to unlawfully restrict my ability to study the materials of the case and prevent anyone from knowing about it," Navalny reportedly said inside the courtroom before public access to the hearing ended.
SUPPORTERS OF NAVALNY PLACE REPLICA CELL OUTSIDE RUSSIAN EMBASSY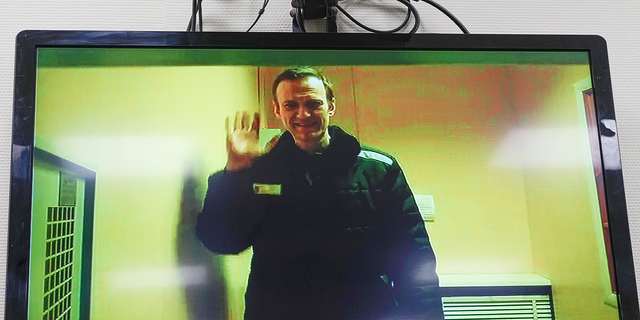 Alexei Navalny has called the new extremism charges filed against him "absurd." (AP/Alexander Zemlianichenko)
The court ruled Wednesday to give Navalny 10 days to study the extremism case after he asked for more time to examine the almost 200 pages of case materials, The Moscow Times reports.
The Russian state-run TASS News Agency reported Wednesday that an investigator at the court said the "case investigation with regard to Navalny involves extremist circles."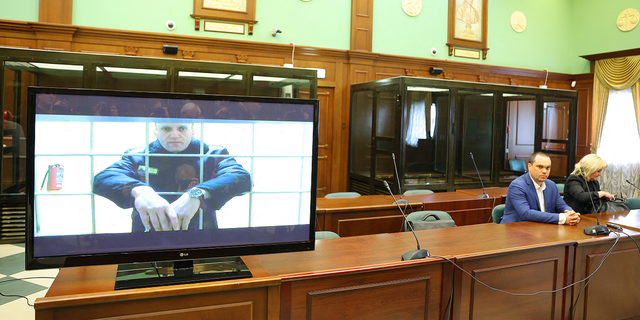 Alexei Navalny used a court appearance in late May 2022 to criticize Russian President Vladimir Putin over his invasion of Ukraine. (REUTERS/Evgenia Novozhenina)
"Eleven people are on an international warning list in connection with this," he told TASS.
In 2021, Navalny was jailed after he returned to Russia following an incident where he was poisoned. At the time, Navalny received medical treatment in Germany. He blamed the attack, which involved a Soviet-era nerve agent, on Russian President Putin.
Fox News's Lawrence Richard and the Associated Press contributed to this report.
Greg Norman is a reporter at Fox News Digital.