close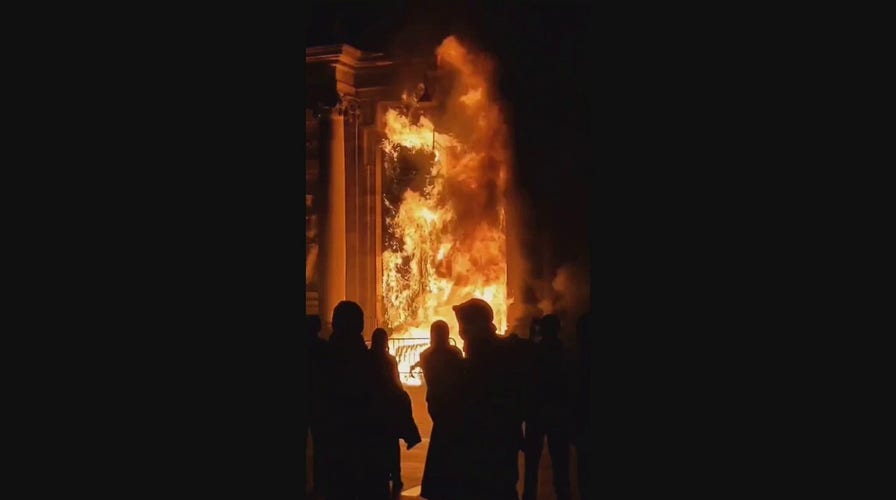 Video
Bordeaux City Hall set on fire as France protests Macron's pension reform
Protesters on Thursday set the front door of Bordeaux City Hall on fire in Western France. (Credit: @Bookee0 via Storyful)
Protests in France escalated over the weekend with officers firing more than 4,000 nonlethal dispersion grenades at people who were voicing their concerns over French President Emmanuel Macron's pension reforms.
More than a million people have taken to the streets in recent weeks after Macron said he would increase the retirement age from 62 to 64.
In western France, police and environmental activists clashed over the weekend, resulting in hundreds of arrests and dozens of injuries.
Former President François Hollande, Macron's predecessor said, "Anger and resentment are at a level that I have rarely seen."
FRANCE'S EMMANUEL MACRON EXCORIATED AFTER REMOVING LUXURY WATCH DURING TV INTERVIEW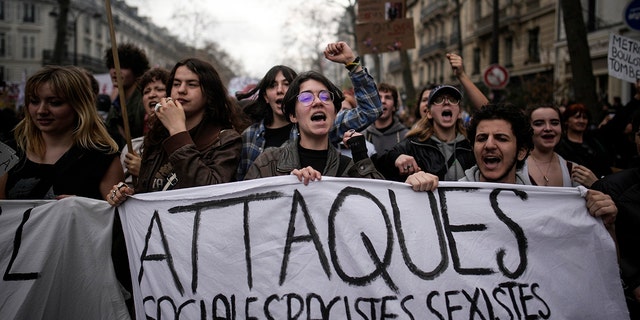 Protesters march during a rally in Paris, on March 23, 2023. (AP Photo/Christophe Ena,)
The protests have been reinvigorated after they successfully derailed a planned state visit by King Charles III.
The visit was scheduled for Sunday but was called off as over 450 protesters were arrested in Paris and other cities on Thursday and while around 300 demonstrations across the country totaled more than a million people.
Additional strikes and demonstrations are planned for Tuesday, but Macron said the royal visit would have likely become a target for hundreds of thousands of protesters.
He called off what would have been King Charles III's first international trip to avoid a potentially "detestable situation."
MACRON UNDER FIRE AS FRENCH PROTESTS TURN VIOLENT OVER RETIREMENT AGE
Encouraged by that victory, the protest movement is continuing to pick up new recruits, including teenagers who will not experience the proposed pension reform for several decades.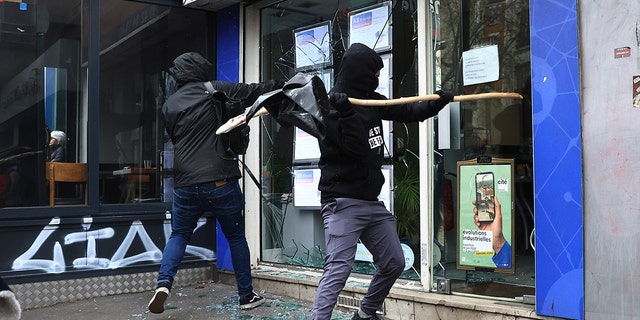 Protesters smash a shop window during a demonstration against the government's plan to raise the retirement age to 64, in Paris March 15, 2023. (AP Photo/Aurelien Morissard)
Their involvement is particularly worrisome for Macron as it suggests that protests are evolving and broadening from those concerned with retirement impacts to a more generalized frustration with the president and his governance.
The violence is also growing.
Police utilized dispersion tactics on hundreds of protesters, who threw down rocks, powerful fireworks and gasoline bombs back at police lines.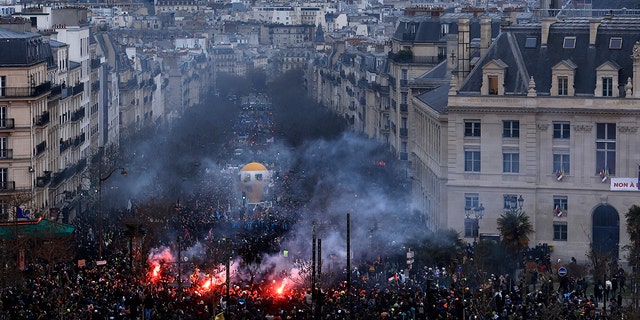 Protesters march, with the Pantheon monument in background, during a demonstration in Paris, on March 7, 2023. (AP Photo/Aurelien Morissard)
Freshly spray-painted slogans in Paris streets have compared ongoing demonstrations to the 1789 French Revolution, with subsequent comparisons between Macron and King Louis XVI, who was ultimately condemned to death by revolutionaries. He died via guillotine in 1793.
While no protesters are calling for that same fate, the regular strikes and demonstrations have threatened to make Macron's second and final term as president more difficult than his first.
MACRON WANTS PENSION PLAN TO BE IMPLEMENTED BY THE END OF THE YEAR
Macron's critics are not just furious with the proposed retirement age changes, but also with the way Macron imposed it.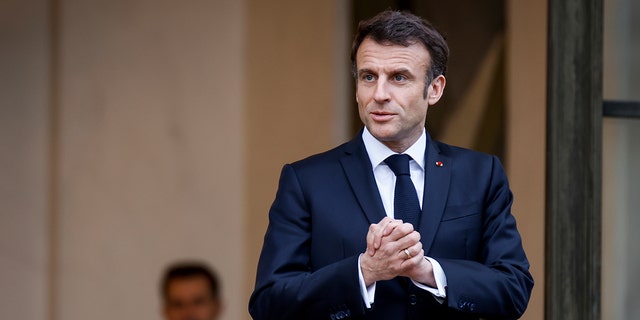 French President Emmanuel Macron talks to the media as he awaits Costa Rican President Rodrigo Chaves Robles for a meeting at the Elysee Palace in Paris, on March 24, 2023. (AP Photo/Thomas Padilla)
He decided not to let legislators vote on his retirement reform because he was not sure of winning a majority for it. Instead, he ordered Prime Minister Elisabeth Borne to use a special constitutional power to ram the bill through parliament
CLICK HERE TO GET THE FOX NEWS APP
It was the 11th time Macron had to resort to Article 49.3 of the French Constitution in just 10 months, as he lost his parliamentary majority last June.
The Associated Press contributed to this report.