A group of pro-choice protesters gathered outside the home of Supreme Court Justice Brett Kavanaugh on the 50th anniversary of Roe v. Wade, the landmark abortion case.
The protesters converged on the sidewalk outside Kavanaugh's Chevy Chase, Maryland, home. The march appeared to be organized by the far-left group known as Our Rights DC.
The group tweeted a poster inviting members to participate in the march within the neighborhoods of Justice Kavanaugh and Chief Justice John Roberts.
The tweet then encouraged members to attend a fundraiser concert for the DC Abortion Fund.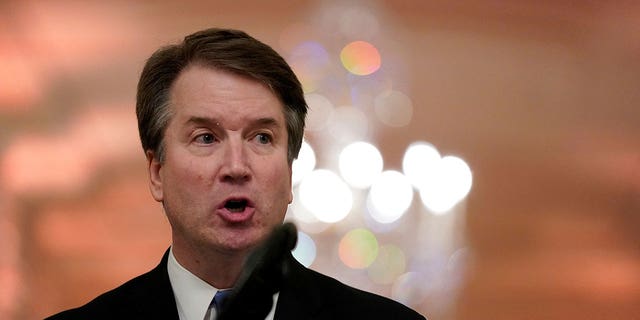 Supreme Court Justice Brett Kavanaugh speaks at an event. Protesters gathered outside the justice's home on Sunday, January 22, 2023, on the 50th anniversary of the landmark Supreme Court decision Roe v. Wade.
(Reuters)
LIBERAL 'SECRET' KAVANAUGH DOCUMENTARY AT SUNDANCE AIMS TO REOPEN SEXUAL ASSAULT ALLEGATIONS
Video taken outside Kavanaugh's home by The Daily Signal reporter Mary Margaret Olohan shows protesters carrying signs reading "our rights are not up for debate," "abortion saves lives" and "abortion is healthcare."
The group chanted as they marched in the rain, saying things like "cut his time short, a rapist should not rule the court," and "no privacy for us, no peace for you."
Several members of law enforcement could be seen standing nearby on Kavanaugh's property.
ABORTION IS 'GRUESOME SIGN' OF WHAT SOCIETY HAS FORGOTTEN, SAYS CATHOLIC ARCHBISHOP
Kavanaugh's home has been the target of multiple protests in the past, which were sparked after a draft Supreme Court opinion was leaked indicating Roe v. Wade would be overturned.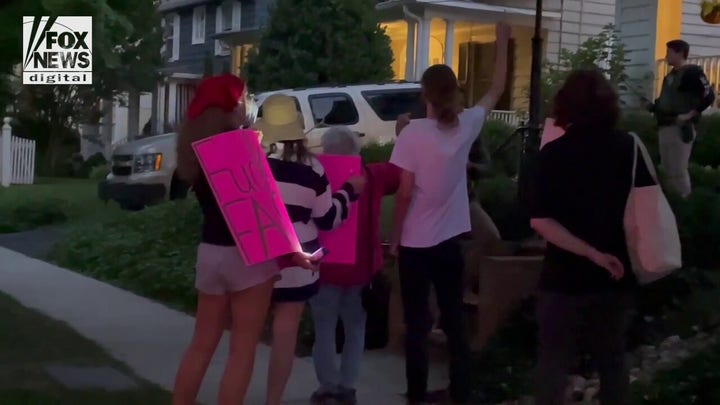 Video
The unrest even led to an assassination attempt against Kavanaugh. Nicholas John Roske, 26, allegedly traveled from California to Maryland and showed up in Kavanaugh's neighborhood in the early morning hours of June 8.
He was armed with a knife, pistol, ammunition, zip ties, pepper spray, duct tape and other items. He allegedly told police he was intending to use the items to kill the Supreme Court justice.
ARMED SUSPECT ARRESTED NEAR JUSTICE KAVANAUGH HOME, CHARGED WITH ATTEMPTED MURDER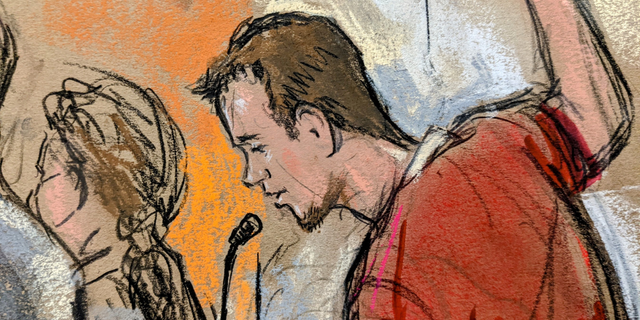 Nicholas John Roske, 26, pleaded not guilty to one count of attempting to assassinate a justice of the U.S. Supreme Court.
(William J. Hennessy, Jr.)
Roske told police he was upset over the leaked draft opinion on Roe v. Wade and also allegedly said that he believed the justice would loosen gun laws following the mass shooting at an elementary school in Uvalde, Texas.
Roske was stopped by U.S. Marshals after he called 911 and admitted he was planning to kill Kavanaugh.
911 TAPES FROM KAVANAUGH ATTEMPTED MURDER ARREST SHOW SUSPECT GIVING UP: 'I NEED PSYCHIATRIC HELP'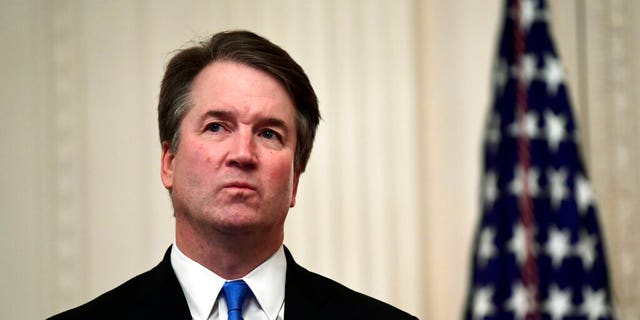 In 2022, a man was arrested near Justice Kavanaugh's home in Maryland for allegedly threatening violence towards the justice.
(AP Photo/Susan Walsh, File)
Roske pleaded not guilty to a federal charge of attempted murder. A federal magistrate judge scheduled a jury trial to start on August 23.
CLICK HERE TO GET THE FOX NEWS APP
The Supreme Court did overturn Roe v. Wade on June 24. The decision effectively ended recognition of a constitutional right to abortion and gave states the power to allow, limit or ban the practice altogether.
Fox News' Ronn Blitzer, Bradford Betz, Kelly Laco and Jake Gibson contributed to this report.