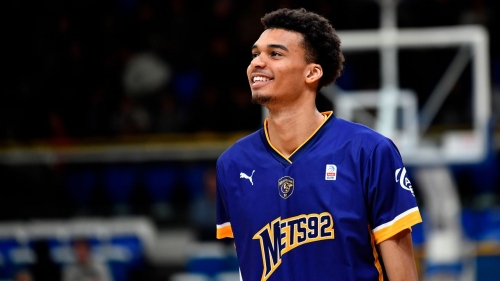 Victor Wembanyama smiles during warmups before match between Metropolitans 92 and Strasbourg on April 8.
Aurelien Meunier/Getty Images

CNN
—
The projected No. 1 overall pick in this year's NBA draft, Victor Wembanyama, officially announced on Friday he will enter the process.
Wembanyama, the 19-year-old Frenchman, told ESPN that he has submitted his papers to the league to formally enter consideration to reach the NBA.
"I hope it's big news," he told ESPN. "Declaring for the draft … it's something crazy I'm not realizing yet.
"I realized pretty young I wanted to play in the NBA but it becomes a reality more every day. I'm so lucky to have this dream within the reach of my hand."
The excitement around Wembanyama's arrival to the NBA has been likened to LeBron James' in 2003.
Such is the potential he is seen to have, teams have traded away productive players and talent in an effort to increase their chances of acquiring his services.
The Detroit Pistons, Houston Rockets and San Antonio Spurs all have a 14% chance of claiming the No. 1 overall pick in the NBA Draft lottery on May 16.
Whichever team wins the lottery to get the first pick will likely select Wembanyama such is his rare combination of size, skill and athleticism.
But despite the likelihood of arriving to a team lacking in top-level talent, Wembanyama says he'll be happy wherever he lands.
"I am not worried; there is no bad organization. I never tell myself I don't like to go there," he told ESPN. "Every organization is so careful about their players that there's no wrong destination."
Although he is just 19 years old, Wembanyama has been a dominant force with his team in France this season, Metropolitans 92.
He leads the league in both scoring and rebounds, averaging 21.5 points and 9.9 rebounds a game.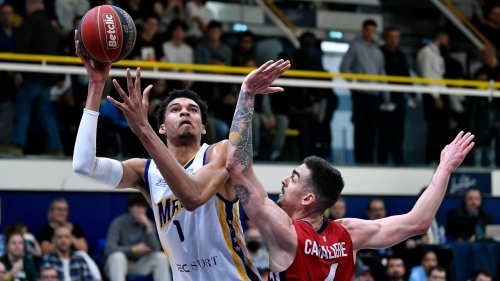 Wembanyama takes a shot during a match between Metropolitans 92 and Strasbourg on April 8.
Aurelien Meunier/Getty Images
Wembanyama is listed as being 7 foot 3 inches on the French league website but has become known for the skills with the ball he has which separate him from other big-man prospects.
His dribbling and shooting abilities with his large wingspan have made him an offensive and defensive talent.
The NBA Draft takes place on June 22.