Prince Harry's paranoia about the British press existed long before Meghan Markle came into the picture.
Valentine Low, a correspondent for the U.K. Times, claimed that the Duke of Sussex, 38, had an "obsession with the media" that prompted him to carry out "loyalty tests" on his palace aides, leaving them "exhausted."
"If he had a beef with the media, he'd want them to pursue it," Low claimed to Fox News Digital. "They would often say, 'Harry, don't pick this fight. This fight's not worth having. You don't have to pursue every slight that's been done towards you.' And if you didn't pursue it with the kind of energy that he sought, he could question your loyalty. He wondered if you'd become one of them, one of the others from the other royal households who protected the institution … and not the individual."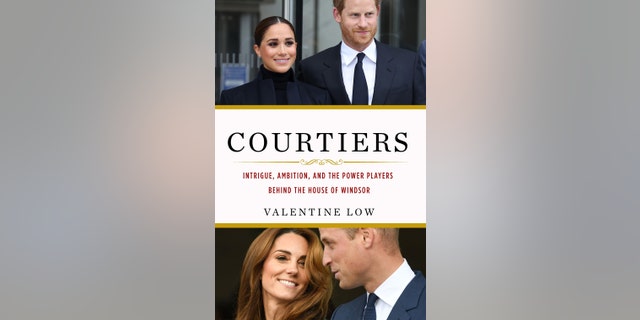 Royal correspondent Valentine Low has written a book titled "Courtiers: Intrigue, Ambition, and the Power Players Behind the House of Windsor."
(St. Martin's Press)
Low has written a book that was published on Jan. 24 titled "Courtiers: Intrigue, Ambition, and the Power Players Behind the House of Windsor." In it, Low explores how trusted advisers to the British royal family played a crucial role in the monarchy's survival over the years. It features interviews with insiders who shared their experiences working behind palace doors. While it gives insight into several royals, it is the book's chapters on the Sussexes that have garnered the most headlines.
MEGHAN MARKLE AND PRINCE HARRY ACTED LIKE 'A COUPLE OF TEENAGERS,' PALACE SOURCES ALLEGE IN EXPLOSIVE NEW BOOK
Reps for the Duke and Duchess of Sussex did not immediately respond to Fox News Digital's request for comment regarding Low's book. A spokesperson for Buckingham Palace previously told Fox News Digital they generally do not comment "on such books."
One source alleged to Low that Harry's "permanent sense of frustration" took a toll on those who worked for the royal family.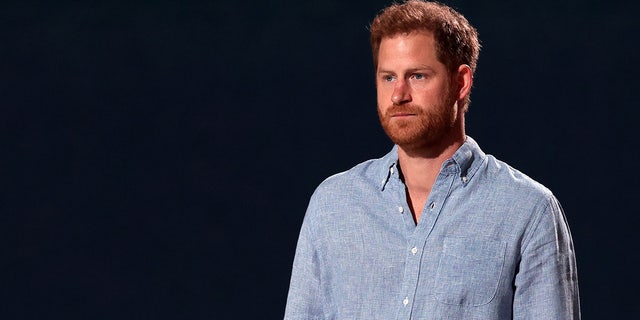 Valentine Low alleged that Prince Harry was paranoid about the British press long before he started dating Meghan Markle.
(Kevin Winter / Getty Images for Global Citizen VAX LIVE / File)
"He would use this phrase the whole time, 'the palace syndrome,' when you won't fight the battles he wants, because you have been institutionalized," a source alleged in the book. "Giving in to the media was a key symptom of whether you had developed it. The team fighting all these battles: it was a constant test of loyalty. 'Are you going to protect me? Or have you just become one of them, who won't fight for me?' It was exhausting."
According to Low, Harry's biggest gripe was with the Royal Rota, the system that gave royal correspondents access to palace events. Harry "saw it as a cartel," which gave the same tabloids "that ran inaccurate stories about him" unnecessary entry.
CLICK HERE TO SIGN UP FOR THE ENTERTAINMENT NEWSLETTER
"His argument was: why should he cooperate with those papers that made his life such a misery and had such poor professional standards, while other, more respectable outlets – those who did not have full-time royal correspondents, did not get a look-in?" Low wrote. "It was a topic that continued to obsess him for years until he and Meghan stepped down as working members of the royal family and stopped cooperating with the rota."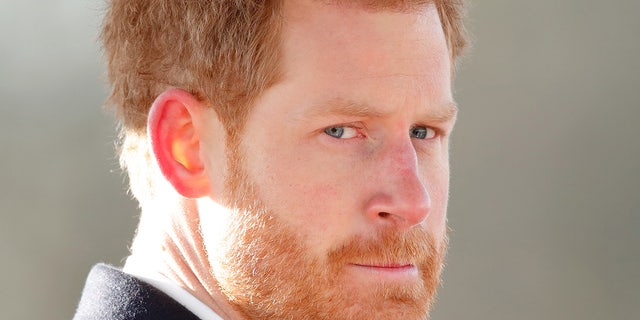 Valentine Low alleged in his book that Prince Harry carried out "loyalty tests" that left palace staff feeling "exhausted."
(Max Mumby / Indigo / Getty Images / File)
"The media would argue that it was a system that worked perfectly well, giving all media equal access to the royal family without discrimination, while also allowing the palace to control the number of media outlets who attended events," Low wrote. "As for the palace, they simply felt it was a fight that wasn't worth having."
One source argued that Harry's "enemies" were not just the press. It was clear that he also had "mistrust" toward the courtiers at Buckingham Palace, which intensified when he began dating the "Suits" star. Another insider alleged that there was one reason Harry was determined to rein in the press during the whirlwind romance.
"[Meghan] was saying, 'If you don't put out a statement confirming I'm your girlfriend, I'm going to break up with you,'" a source alleged.
KING CHARLES III CORONATION DETAILS REVEALED; NO INSIGHT INTO PRINCE HARRY AND MEGHAN MARKLE'S ATTENDANCE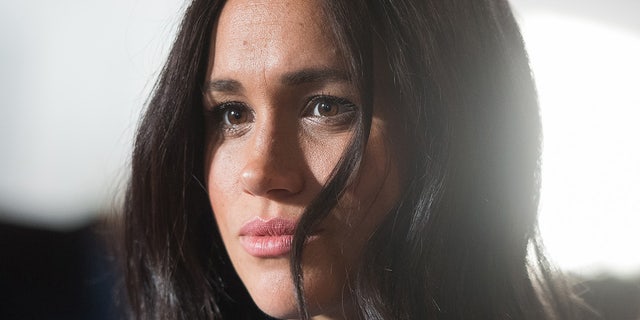 Valentine Low claimed that Prince Harry's "mistrust" toward the media and his palace aides intensified when he began dating Meghan Markle, an American actress.
(Getty Images / File)
"He was freaking out, saying, 'She's going to dump me,'" another alleged in the book.
Low claimed that not only did Markle want "public validation" that the relationship was serious, but she was "also convinced that the palace was unwilling to protect her from media intrusion." She allegedly told Harry's staff, "I know how the palace works, I know how this is going to play out. You don't care about the girlfriend."
"A lot of people always describe [the couple's] difficulties as being rooted in the racism of the British press," Low explained to Fox News Digital. "And I think that's misleading. I think there were a small number of articles in the beginning, which were pretty unforgivable. But it was a small number. And it quieted down after Harry issued a statement."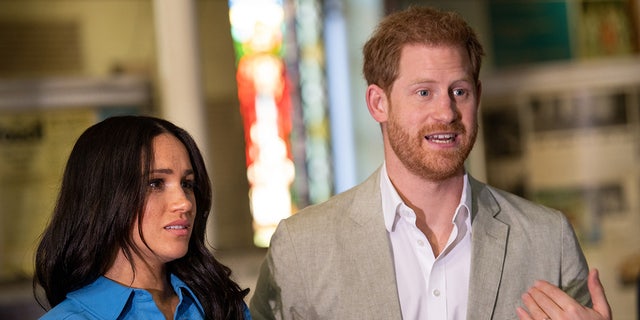 Meghan Markle, who starred in the legal drama "Suits," became the Duchess of Sussex when she married Prince Harry in 2018. The couple made their royal exit in 2020.
(Pool / Samir Hussein / WireImage / File)
"I just don't think Meghan's difficulties with the royal family were really about race," Low claimed. "I think… Harry hated the media and just reacted badly to anything negative. He saw negativity when there was no negativity. … That just always makes life very difficult."
MEGHAN MARKLE, PRINCE HARRY REACT TO JEREMY CLARKSON'S PUBLIC APOLOGY FOR SCATHING ARTICLE 'SHARED IN HATE'
Markle, a former American actress, married the British prince in 2018. And while she was described as "a breath of fresh air" by the press, it was clear that the Duchess of Sussex was struggling with royal life.
In 2019, ITV's Tom Bradby was traveling with the couple and their son, Archie, during their 10-day royal tour of Africa. In the documentary "Harry & Meghan: An African Journey," the new mom admitted she was struggling behind the scenes.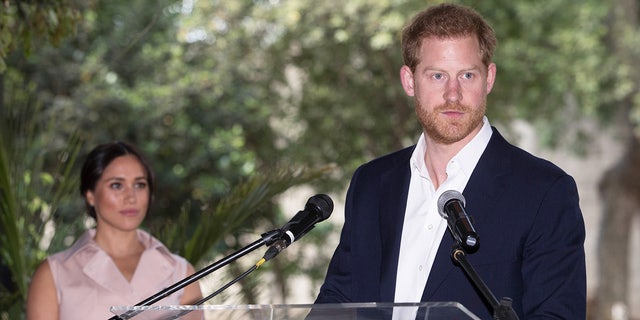 The Duke and Duchess of Sussex toured South Africa in 2019. It was clear then that they were struggling, said Valentine Low.
(Pool / Samir Hussein / WireImage / File)
Low called the admission "heart-[rending]."
"It was plain to everyone who saw it that Harry and Meghan were both in quite a bad place," he said. "Meghan had been suffering and Harry was clearly not all right."
PRINCE HARRY SAYS 400 PAGES CUT FROM BOOK 'SPARE' BECAUSE WILLIAM, CHARLES WOULD NEVER FORGIVE HIM
Low claimed that Harry's brother, Prince William, promptly called him following the airing of the documentary.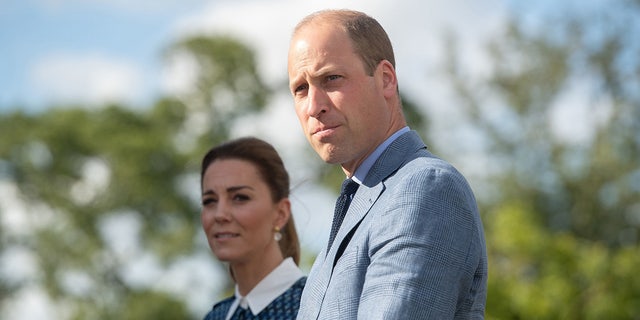 Valentine Low alleged that Prince William attempted to reach out to his brother, Prince Harry, following the Duke and Duchess of Sussex's tour of Africa.
(Joe Giddens / WPA Pool / Getty Images / File)
"William got in contact with him and said, 'Listen, can I come see you? Let's talk face to face,'" Low claimed. "Harry initially said yes. And then he sort of stopped for a moment and said, 'Well, hang on a minute. Who are you going to have to tell?' William said, 'Well, I'm going to have to tell my private secretary because I'm going to have to change my diary if I drive over to come see you.' And Harry said, 'Well, in that case, don't come.' He really thought [William's staff] will only leak it. … He was so mistrustful of the staff… and also paranoid about the media, that he wouldn't let his own brother come and see him, talk to him about the terrible mental state he was in. It just breaks your heart."
In early 2020, the couple announced they were quitting royal duties and moving to North America, citing what they said were the unbearable intrusions and racist attitudes of the British media. Since then, the couple has made efforts to take back the narrative of their story.
Following their exit, the couple sat down with Oprah Winfrey for an interview that was viewed by 50 million people globally. The Duke and Duchess of Sussex spoke out again in a six-part Netflix documentary released in December. Then in the New Year, Harry's memoir "Spare" was published on Jan. 10.
MEGHAN MARKLE, KATE MIDDLETON'S ROYAL TAILOR SPEAKS OUT ON FALLOUT AMID PRINCE HARRY'S 'SPARE' RELEASE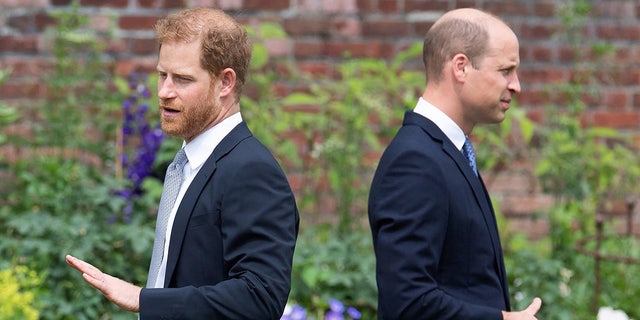 In his memoir, Prince Harry, left, alleged that Prince William, right, called Meghan Markle "difficult" and "rude."
(Dominic Lipinski / Pool / AFP via Getty Images / File)
Harry's story is dominated by his rivalry with William, 40, who is heir to the throne, as well as the 1997 death of their mother, Princess Diana. Harry, who was 12 at the time, has never forgiven the media for Diana's death in a car crash while being pursued by photographers. The 36-year-old's passing haunts the book, which Harry dedicates to his wife, their two children "and, of course, my mother."
Harry, 38, claimed that during an argument in 2019, William called Markle "difficult" and "rude," then grabbed him by the collar and knocked him down. Harry suffered cuts and bruises from landing on a dog bowl. According to Harry, their father, King Charles III, implored the brothers to make up, saying after the funeral of Prince Philip in 2021, "Please, boys. Don't make my final years a misery."
Harry has long complained of "leaks" and "plants" of stories to the media by members of the royal household. He detailed those claims in his memoir. Buckingham Palace officials have declined to comment on any of the allegations made in Harry's book. A spokesperson for the king did not immediately respond to Fox News Digital's request for comment. A spokesperson for Kensington Palace, which represents the Prince and Princess of Wales, told Fox News Digital it doesn't have a comment. Allies of the royal family have pushed back on Harry's claims, largely anonymously.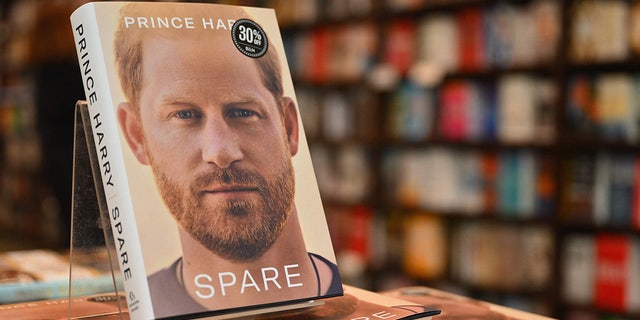 Following the publication of "Spare," royal insiders hit back at Prince Harry's scorching revelations.
(Angela Weiss / AFP via Getty Images / File)
Low said that William in particular endured the worst criticism from Harry in his book.
PRINCE HARRY SLAMS BRITISH PRESS, 'SALACIOUS HEADLINES' ON 'THE LATE SHOW,' CLAIMS HIS WORDS HAVE BEEN SPUN
"I think that relationship is severely damaged," said Low. "But in terms of long-term damage to the monarchy, I'm not so sure. A lot of this is family fights, and it will blow over in the end. If you think about the state of the monarchy in the 1990s when you had 'annus horribilis'… That was a terrible time. The reputation of the monarchy took quite a hit over that. But they recovered. They had this strategy where they tried to see what lessons they could learn. And they also carried on doing the work. It paid off. So, I don't see this having huge, long-term damage to the royal family."
The Duke and Duchess of Sussex live in the wealthy coastal city of Montecito, California, with their two children.
The Associated Press contributed to this report.