close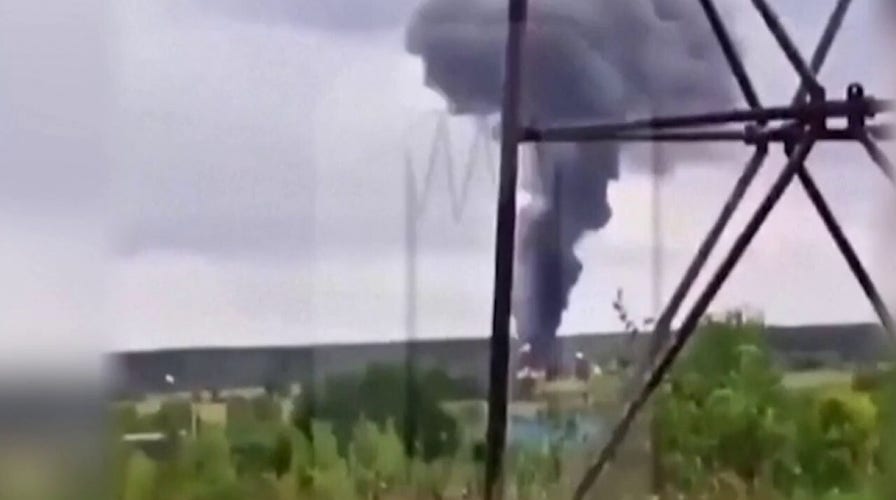 Video
U.S. officials do not believe Prigozhin's plane was taken down by surface-to-air missile
Fox News chief national security correspondent Jennifer Griffin has the latest after Wagner mercenary leader Yevgeny Prigozhin's plane crashed inside Russia, on 'Special Report.'
The plane crash that presumably killed Russian mercenary leader Yevgeny Prigozhin also took out two other senior leaders of his privately contracted Wagner military company, a flight manifest shows, adding to the controversy of the crash.
The passenger manifest revealed that Prigozhin's second-in-command and Wagner's logistics chief were among those onboard when the plane exploded in midair and was sent crashing into the ground near the village of Kuzhenkino, Tver region.
It is unknown what caused the plane to crash, although experts speculate that Russian President Vladimir Putin ordered the assassination.
It is also unclear why several high-ranking members of Wagner, who are normally careful about their security, were on the same flight.
PENTAGON SAYS WAGNER CHIEF YEVGENY PRIGOZHIN LIKELY KILLED IN PLANE CRASH, NO EVIDENCE OF MISSILE ATTACK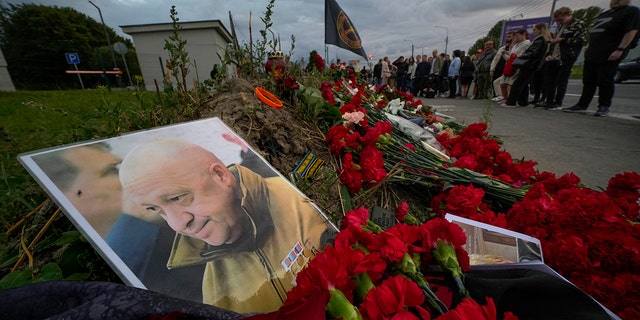 A portrait of the owner of private military company Wagner Group Yevgeny Prigozhin lays at an informal memorial next to the former 'PMC Wagner Centre' in St. Petersburg, Russia, Thursday, August 24, 2023. Russia's civil aviation agency says mercenary leader Yevgeny Prigozhin was aboard a plane that crashed north of Moscow.  (AP Photo/Dmitri Lovetsky)
Russian authorities reported that the founder of the Wagner military company and his lieutenants were dead after their plane crashed Wednesday.
The plane was traveling from Moscow to St. Petersburg, according to Russia's civil aviation authority. The purpose of their joint trip is also unknown.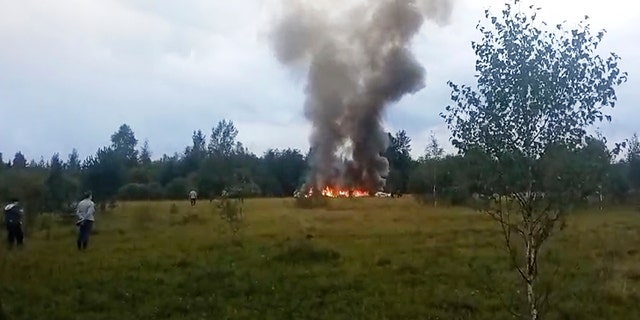 In this image taken from video, smoke and flames rise from a crashed private jet near the village of Kuzhenkino, Tver region, Russia, Wednesday, August 23, 2023. Russian mercenary leader Yevgeny V. Prigozhin, the founder of the Wagner Group, reportedly died when a private jet he was said to be on crashed on August 23, 2023, killing all 10 people on board.  (AP Photo)
Rescuers said they found 10 bodies, and Russian media reported, via anonymous sources within Wagner, that Prigozhin was among the dead.
There has been no independent verification that Prigozhin died in the crash, but Putin appeared to confirm his death when he expressed condolences during a meeting Thursday with Denis Pushilin, the Russian-installed leader of Ukraine's partially occupied Donetsk region.
WHO IS YEVGENY PRIGOZHIN?
Putin said the passengers had "made a significant contribution" to the fighting in Ukraine.
"We remember this, we know, and we will not forget," he said.
Russian President Vladimir Putin meets with acting head of the Donetsk People's Republic (DPR) Denis Pushilin at the Kremlin in Moscow, Russia, Thursday, August 24, 2023.  (Mikhail Klimentyev, Sputnik, Kremlin Pool Photo via AP)
The Russian president also described Prigozhin as "a man of difficult fate" who "made serious mistakes in life, and he achieved the results he needed — both for himself and, when I asked him about it, for the common cause, as in these last months. He was a talented man, a talented businessman."
A preliminary U.S. intelligence assessment concluded that an intentional explosion caused the crash.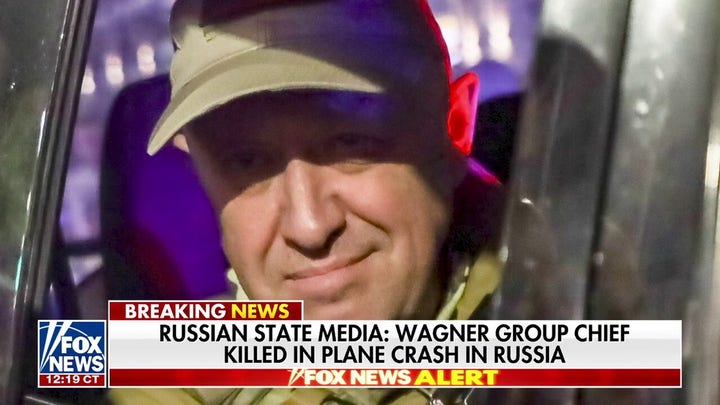 Video
Two officials, who spoke on the condition of anonymity because they were not authorized to comment, told the Associated Press the initial assessment determined that Prigozhin was "very likely" targeted and that the explosion falls in line with Putin's "long history of trying to silence his critics."
WAGNER TROOPS MOURN PRIGOZHIN FOLLOWING PLANE CRASH
They did not offer any details about what caused the explosion, which is widely believed to be in retaliation for a Prigozhin-led mutiny that posed the biggest challenge to the Russian leader's 23-year rule.
In June, Prigozhin organized a brief revolt when he led his mercenaries through the southern Russian city of Rostov-on-Don and captured the military headquarters there without firing a shot. They then drove to within about 200 kilometers (125 miles) of Moscow and downed several military aircraft, killing more than a dozen Russian pilots.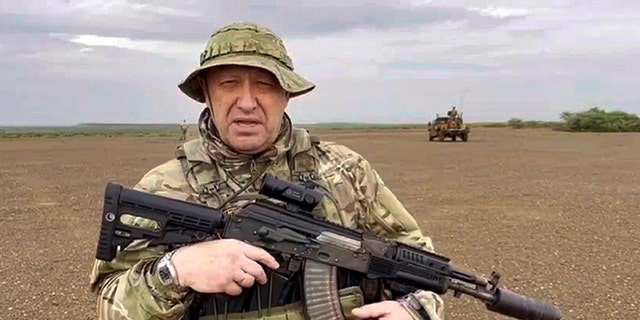 Yevgeny Prigozhin, the owner of the Wagner Group military company, mounted an armed rebellion that was the most severe and shocking challenge to Russian President Vladimir Putin's rule.  (Razgruzka_Vagnera telegram channel via AP)
Putin denounced the rebellion as "treason" and a "stab in the back." He vowed to punish its perpetrators but ultimately made a deal that saw an end to the mutiny in exchange for an amnesty for Prigozhin and his mercenaries.
President Biden, speaking to reporters Wednesday, also said he believed Putin was behind the crash but did not provide supporting evidence.
"I don't know for a fact what happened, but I'm not surprised," Biden said. "There's not much that happens in Russia that Putin's not behind."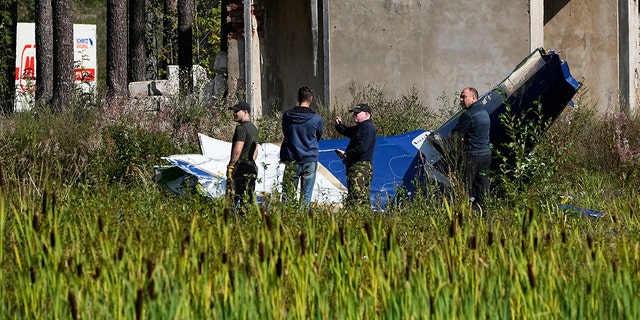 Russian servicemen inspect a part of a crashed private jet near the village of Kuzhenkino, Tver region, Russia, Thursday, August 24, 2023.  (AP Photo/Alexander Zemlianichenko)
Abbas Gallyamov, a former speechwriter for Putin turned political consultant, said by carrying out the mutiny and remaining free, Prigozhin "shoved Putin's face into the dirt front of the whole world."
CLICK HERE TO GET THE FOX NEWS APP
Failing to punish Prigozhin would have offered an "open invitation for all potential rebels and troublemakers," so Putin had to act, Gallyamov said.
Russian authorities have said the cause of the crash remains under investigation.
Fox News' Louis Casiano and The Associated Press contributed to this report.