close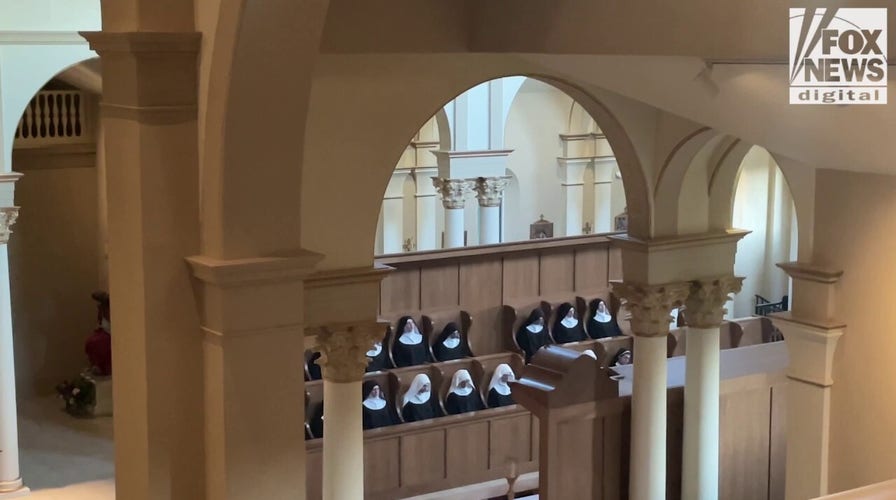 Video
Modern day miracle? Catholic pilgrims flock to see 'incorrupt' Missouri nun
An abbey in rural Gower, Missouri, has become a pilgrimage site due to the body of Sister Wilhelmina Lancaster
Pope Francis is recovering well after undergoing abdominal surgery earlier this week, according to Vatican officials.
The pontiff recently underwent a laparotomy and received abdominal wall plastic surgery — to the surprise and concern of Catholics around the world.
"The medical team reports that the clinical picture is progressively improving, and the post-operative course is regular," Director of the Vatican Press Office Matteo Bruni told the media on Friday.
Francis, 86, underwent a three-hour operation at Rome's Gemelli hospital on Wednesday, June 7, to repair a hernia, which doctors said was successful enough that he should have no limitations on his travels and other activities after he recovers.
POPE'S ABDOMINAL SURGERY 'WENT WELL,' RECOVERING IN HOSPITAL, VATICAN SAYS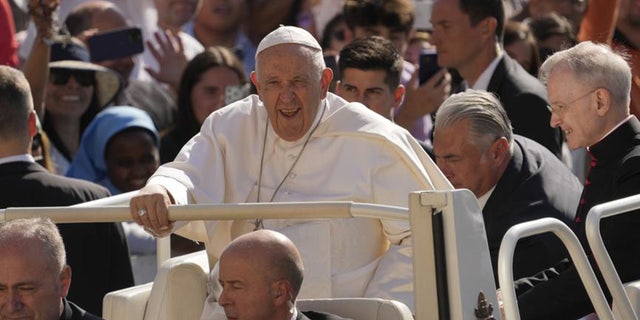 Pope Francis arrives for his weekly general audience in St. Peter's Square at The Vatican, Wednesday, June 7, 2023. The pontiff was admitted to Rome's Gemelli hospital later the same day. (AP Photo/Andrew Medichini)
POPE FRANCIS UNDERGOING ABDOMINAL SURGERY IN ROME TO DEAL WITH INTESTINAL ISSUE
"After breakfast, His Holiness began to move about, spending most of the morning in an armchair," Bruni said Friday. "This allowed him to read the newspapers and start work again."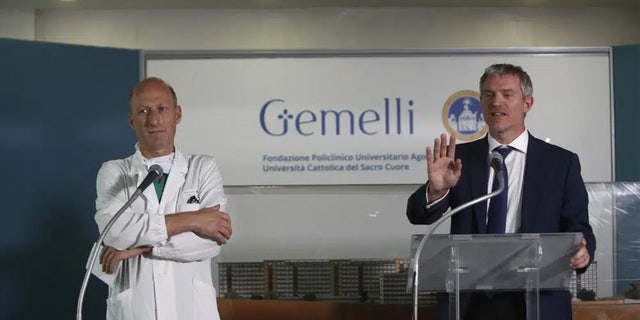 Surgeon Sergio Alfieri, left, speaks to reporters about Pope Francis' health conditions after operating on him at Rome's Agostino Gemelli University Polyclinic, Wednesday, June 7, 2023. (AP Photo/Riccardo De Luca)
Dr. Sergio Alfieri, director of abdominal and endocrine sciences at Gemelli hospital, said in a press conference that the Pope woke up in good spirits and was even joking.
"When will we do the third one?" Alfieri said, quoting the Pope.
RUSSIA ACKNOWLEDGES VATICAN PEACE MISSION AS HOLY SEE TRIES TO 'HELP EASE THE TENSIONS'
During the operation, doctors removed adhesions, or internal scarring, on the intestine that had caused a partial blockage.
Alfieri revealed that in addition to the 2021 colon surgery, Francis had undergone previous abdominal surgeries at some time before 2013 in Argentina, which had also caused scarring.
Director of the Holy See Press Office Matteo Bruni speaks to the media on June 7, 2023, at the Gemelli hospital in Rome. Pope Francis underwent an operation for an abdominal hernia on June 7 at a Rome hospital, which was completed 'without complications', the Vatican said. The Pope is 'doing well' and 'joking' after surgery, Director of the department of Abdominal and Endocrine Metabolic Medical and Surgical Sciences at the Gemelli hospital, professor Sergio Alfieri said.  (TIZIANA FABI/AFP via Getty Images)
Alfieri cautioned that while strong, the pope is elderly and recently had bronchitis, so "we will take all necessary precautions" regarding the timing of the hospital stay.
CLICK HERE TO GET THE FOX NEWS APP
The Vatican said that all of the pope's private and general audiences had been canceled until June 18 as a precautionary measure.
Fox News Digital's Sarah Rumpf-Whitten contributed to this report.
Timothy Nerozzi is a writer for Fox News Digital. You can follow him on Twitter @timothynerozzi and can email him at [email protected]