close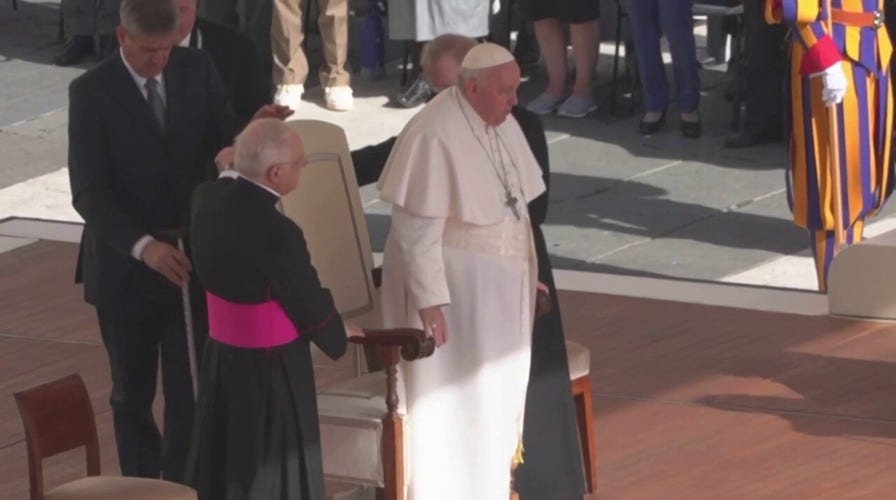 Video
Pope Francis greets Russian Orthodox leader amid secret Vatican 'mission' to end war in Ukraine
Pope Francis met with an envoy of the Russian Orthodox Church Wednesday in Vatican City. (Associated Press)
Pope Francis emphasized the need for courage and resilience in the face of a secularized, increasingly pessimistic world during his vespers address for World Youth Day.
Pope Francis spoke at Jerónimos Monastery in Portugal on Wednesday, where he reflected on the biblical story of Saints Peter and Andrew — fishermen who were called to ministry by Jesus after finishing a day without catching fish.
"There are moments in our ecclesial journey when we can feel a similar weariness — when we seem to be holding on to empty nets," the pontiff said. "This is not uncommon in countries of ancient Christian traditions buffeted by social and cultural changes and increasingly marked by secularism, indifference to God, and growing detachment from the practice of the faith."
In the midst of these cultural upheavals, the pontiff said that the church must not shut itself off to those outside, saying, "The good, the sinners — everyone should be able to enter into God's church."
MIKE PENCE COURTS CATHOLIC VOTERS IN CAMPAIGN SPEECH AT NAPA INSTITUTE; FOUNDER SAYS HE HAS 'GREAT RESPECT'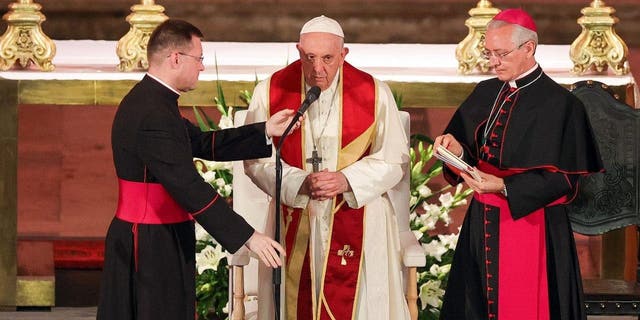 Pope Francis conducts vespers with bishops, priests, deacons, consecrated men and women, seminarians, and pastoral workers at Mosteiro dos Jeronimos on Aug. 2, 2023, in Lisbon, Portugal.  (Manuel De Almeida – Pool/Getty Images)
"In the church, we help each other, we support one another, and we feel ourselves called to spread a climate of constructive fraternity beyond our walls. For this matter, St. Peter tells us that we are living stories being built in a spiritual house," Pope Francis said.
Acknowledging the role institutional abuse has played in discouraging the faithful, the pope also stated that despair and anger must be brought towards God in hopes of spiritual renewal.
BISHOP BARRON SAYS CATHOLIC SYNOD WILL DEBATE STRATEGIES, NOT DOCTRINAL CHANGES: 'TAKE THE POPE AT HIS WORD'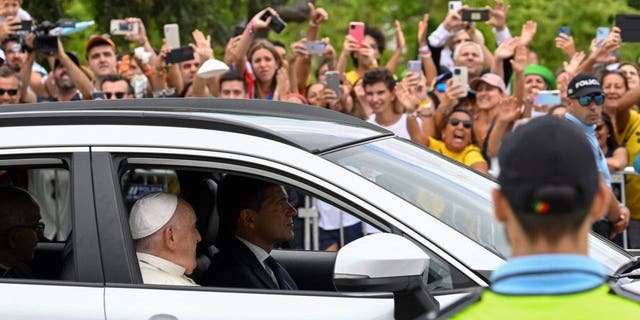 Pilgrims cheer while Pope Francis (Jorge Bergoglio) leaves Centro Cultural Belem where he was greeted by members of the government, diplomatic corps and special guests after his courtesy visit with Portuguese President Marcelo Rebelo de Sousa during the State Visit to Portugal of His Holiness Pope Francis on Aug. 2, 2023, in Lisbon, Portugal.  (Horacio Villalobos Corbis/Getty Images)
"It is often accentuated by disappointment and anger with which some of the people view the Church at times — due to our poor witness and the scandals that have marred the faith and have called us to a humble purification starting with the anguished cry of the victims who must always be accepted and listened to," Pope Francis told the audience.
He continued, "Whenever we feel discouraged, we can feel tempted to leave the boat and entangled in the nets of resignation and pessimism. Indeed, we need to bring those struggles and tears to the Lord."
Turning to the theme of the annual celebration, Pope Francis emphasized the importance of "casting your net deep" across cultures and nations regardless of differences.
The 37th annual World Youth Day is a Catholic festival being celebrated from Aug. 1 to Aug. 6 in Lisbon, Portugal.
POPE RETURNS TO VATICAN AFTER HOSPITAL STAY FOR ABDOMINAL SURGERY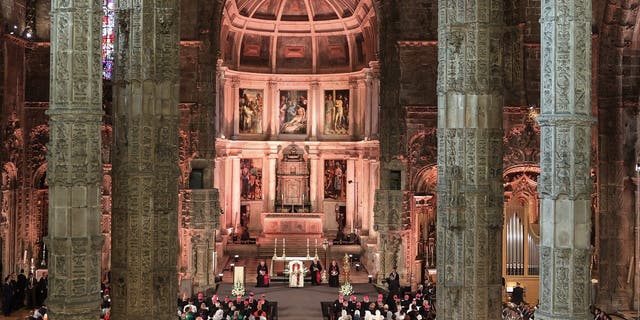 Pope Francis on a vespers with Bishops, Priests, Deacons, Consecrated Men and Women, Seminarians, and Pastoral Workers at Mosteiro dos Jeronimos on Aug. 2, 2023, in Lisbon, Portugal.  (Manuel De Almeida – Pool/Getty Images)
The annual celebration was instituted by Pope St. John Paul II in 1985 to bring together young people of various cultures and backgrounds to recognize the international nature of the Catholic Church and worldwide communion of believers.
The pope's journey to Portugal has been marked with both concerned reflections on trends in the Western world and messages of encouragement to move forward despite overwhelming despair.
"Where are you sailing, Europe and the West, with the discarding of the elderly, walls of barbed wire, massive numbers of deaths at sea and empty cradles?" Pope Francis asked in a speech before Portuguese civil authorities in Lisbon.
US, GERMAN CARDINALS DEMAND TRIAL, REMOVAL FROM OFFICE FOR GERMAN BISHOPS APPROVING GAY MARRIAGE BLESSINGS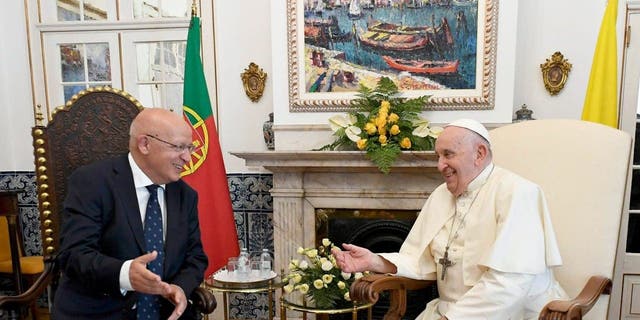 Pope Francis meets with Portugal's President of the Assembly of the Republic Augusto Santos Silva at Apostolic Nunciature on August 02, 2023 in Lisbon, Portugal. (Vatican Media via Vatican Pool/Getty Images)
He drew particular attention to the rising issue of state-sanctioned euthanasia, asking, "Where are you sailing if, before life's ills, you offer hasty but mistaken remedies like easy access to death — a convenient answer that seems 'sweet' but is in fact more bitter than the waters of the sea?"
This was the pope's first apostolic journey since a spat of medical issues — most recently a surgery in June that left him incapacitated for several days.
CLICK HERE TO GET THE FOX NEWS APP
"I ask you please not to forget to pray for me," he told the crowd at the end of his vespers address.
Timothy Nerozzi is a writer for Fox News Digital. You can follow him on Twitter @timothynerozzi and can email him at [email protected]