close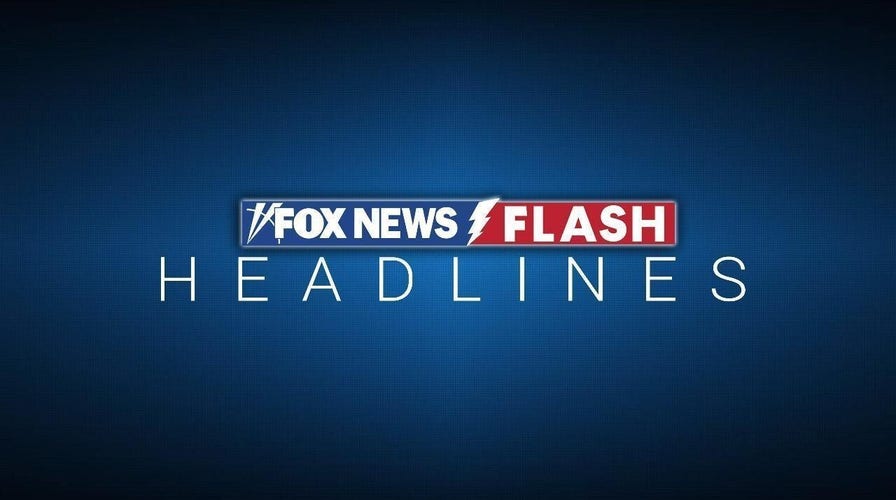 Video
Fox News Flash top headlines for May 9
Fox News Flash top headlines are here. Check out what's clicking on Foxnews.com.
The number of politically motivated crimes reported in Germany rose by 7% last year, the country's top security official said Tuesday.
Overall, Germany registered 58,961 politically motivated crimes last year, most of which were for offenses such as damage to property, insults or incitement to hatred, holding illegal gatherings or displaying Nazi symbols. However, 4,043 were classed as violent crimes — an increase of 4%, the minister said.
There was a significant rise in crimes that could not be assigned to the traditional motivations of right-wing or left-wing ideology, Interior Minister Nancy Faeser said.
A significant proportion of these "diffuse" offenses — which rose by 13% to 24,080 cases — were in connection with coronavirus restrictions or protests related to the war in Ukraine, the energy crisis and the rising cost of living, Faeser told reporters in Berlin.
The minister stressed that the biggest threat to German society is still far-right extremism, of which 23,493 cases were recorded. She said that 41% of all victims of politically motivated violent crimes were injured by far-right extremists.
HEAVY RAIN IN SOUTHWEST GERMANY FLOODS BASEMENTS, FORCES TRAIN ROUTES TO TEMPORARILY CLOSE
Holger Muench, the president of the Federal Criminal Police Office, said that even among the "diffuse" crimes, around two-thirds of the perpetrators were more likely to reject the country's authorities and express far-right ideology when questioned.
The number of hate crimes rose by 10% to 11,520 cases — with three out of four hate crimes motivated by far-right ideology.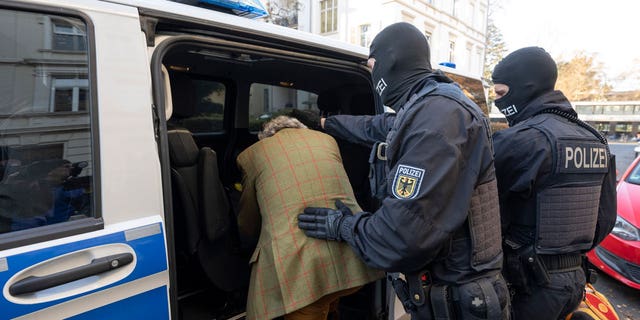 Masked police officers lead an arrested suspect, left, to a police vehicle during a raid against so-called 'Reich citizens' in Frankfurt, Germany, on Dec. 7, 2022. (Boris Roessler/dpa via AP, File)
Crimes against refugees rose by 9% overall, but violent crimes against refugees were up by 22%.
Crimes committed by the so-called Reichsbuerger, or Reich Citizens, movement also increased sharply by 39.7% to 1,865 cases, among them a coup attempt that was foiled by the authorities in December. The movement rejects the postwar partition of Germany and the democratic states that followed, arguing that the prewar Reich still exists.
The overall number of antisemitic crimes went down by 12.75%, the minister said.
CLICK HERE TO GET THE FOX NEWS APP
An association of counseling centers for victims of right-wing, racist and antisemitic violence, the VBRG, told reporters at a separate press conference Tuesday that the rise of racist attacks in Germany has created an atmosphere of fear among members of minority groups such as immigrants, refugees, Jews and the LGBTQI community.
As an example they pointed to an incident that took place on the weekend in the east German state of Brandenburg which is bordering the German capital, where a group of high school students from Berlin — many of them with immigrant roots — were attacked by local youths. The Berlin high school students, who were staying at a youth camp in Heidesee in the Dahme-Spreewald county, felt so threatened that they had to leave the camp overnight with police protection.
Faeser, the German interior minister, condemned the incident as "horrible."
"It is especially painful that those who were attacked were the ones who had to leave," Faeser said.
Robert Kusche from the VBRG said the real numbers of attacks in Germany are likely much higher as many crimes don't even get registered because victims don't come forward to report attacks.