close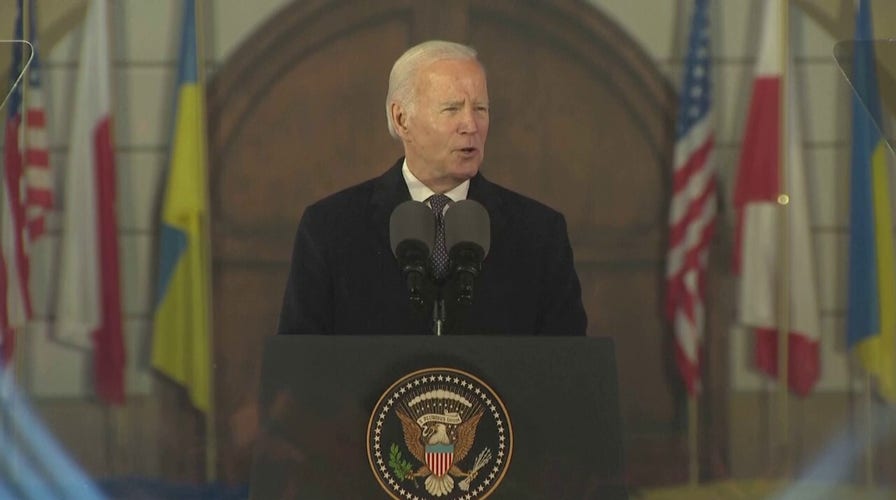 Video
Biden in Poland says US support for Ukraine will 'never waver'
President Biden delivered a speech Tuesday in Warsaw, Poland, where he called on Russian President Vladimir Putin to end the war in Ukraine, and said Russia has committed crimes against humanity.
Polish President Andrzej Duda is expected to approve a controversial bill that his ruling Law and Justice party says will root out Russian influence, but which critics maintain will be used to attack opponents of the ruling party.
Parliament on Friday approved the law, which was proposed by the conservative Law and Justice party, as the country heads towards a parliamentary election in the autumn. The law would establish a state commission for investigating Russian influence in Poland and on national security with the powers of prosecutor and judge. It will present a report on its findings by Sept. 17 and could impose punishments, including 10-year bans on officials from positions that have control over spending public funds.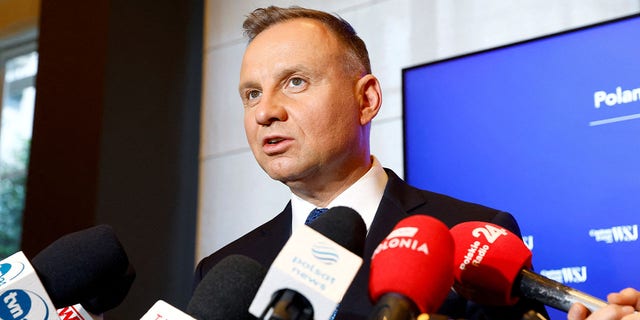 FILE:  Poland's President Andrzej Duda speaks during the press conference, as part of his two day visit to Britain, in London, Britain, May 24, 2023 (REUTERS/Peter Cziborra)
The bill has been met with fierce criticism as it is generally seen as targeting former prime minister Donald Tusk, leader of the main opposition, Civic Coalition, at a time when campaigning is underway for the election. Experts say it violates the Polish Constitution and the opposition has called on Duda to reject it.
Addressing these concerns, Duda has insisted the bill doesn't give the commission the power to eliminate anyone from public or political life. He also said he would send the bill to the Constitutional Tribunal to review the bill for conformity with the supreme law.
Tusk, who is to lead a pro-democracy march in Warsaw on Sunday, tweeted at Duda, saying: "Mr. President, let me invite you for public consultation on June 4. It will be easy to hear and see us from the windows of your palace."
TURKEY'S ERDOGAN DECLARES VICTORY IN PRESIDENTIAL ELECTION AFTER CONTENTIOUS ELECTION CAMPAIGN
The pro-democracy march comes on the anniversary of the partly free parliamentary election in 1989 that led to the ouster of communism.
Warsaw Mayor Rafal Trzaskowski, a member of Tusk's Civic Coalition, tweeted that "they (the ruling party) want to probe alleged 'Russian influences' based on a kind of 'law' that Moscow would not be ashamed of. And the president signs it."
The bill will take effect within a week of its publication.
FILE: Poland's opposition leader and former prime minister, Donald Tusk, watches lawmakers vote to approve a contentious draft law in parliament in Warsaw, Poland, on Friday, May 26, 2023. (AP Photo/Czarek Sokolowski)
Law and Justice accuses Tusk of having been too friendly toward Russia as prime minister between 2007 and 2014 and making gas deals favorable to Russia before he went to Brussels to be the president of the European Council between 2014 and 2019.
Party leader Jaroslaw Kaczynski and Tusk are longtime political rivals.
Critics say the investigative commission, with powers to ban people from public positions and to reverse administrative and business decisions, would violate citizens' right to face an independent court and is a clear example of how Law and Justice has been using legislation to its own ends ever since coming to power in 2015.
CLICK HERE TO GET THE FOX NEWS APP
They view the bill, which critics have dubbed "Lex Tusk," as an attempt to create a powerful and unconstitutional tool that would help Law and Justice continue to wield power even if it loses control of the parliament in the election.
The Associated Press contributed to this report.
Bradford Betz is a Fox News Digital breaking reporter covering crime, political issues, and much more.