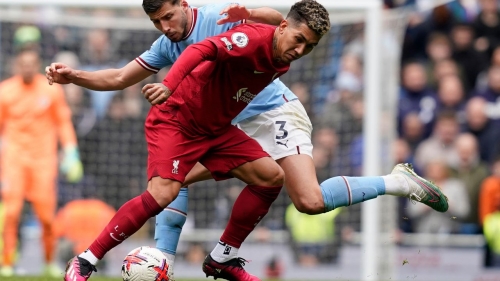 Liverpool's Roberto Firmino is challenged by City's Ruben Dias on Saturday.
Andrew Yates/Cal Sport Media/AP

CNN
—
Greater Manchester Police (GMP) is investigating reports that Liverpool's team bus was damaged after the club's English Premier League match against Manchester City, the police force said in a statement.
The incident is reported to have taken place close to the Etihad Stadium, where the match was held, on Saturday afternoon, GMP said.
"There were no reports of any injuries and the Liverpool Club coaches were able to continue with their journey. An investigation has now been launched by Greater Manchester Police to identify and locate the offenders," read the statement sent to CNN.
Manchester City, who won the tie 4-1 to keep alive its hopes of winning a third successive league title, described the incident as "totally unacceptable" and said it would "fully support" the investigation.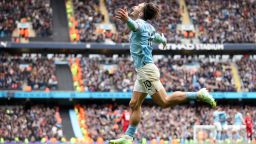 Jack Grealish of Manchester City celebrates after scoring the team's fourth goal during the Premier League match between Manchester City and Liverpool FC at Etihad Stadium on April 01, 2023 in Manchester, England.
Manchester City FC/Getty Images
Manchester City thrashes Liverpool to keep in touch with Arsenal at top of English Premier League
"We understand an object was thrown towards the coach in a residential area," the statement said.
"Incidents of this kind are totally unacceptable, and we strongly condemn the actions of the individual(s) responsible."
Manchester City also addressed the chanting aimed at Liverpool fans during the game. Some British media outlets reported that the chanting made reference to the 1989 Hillsborough stadium disaster which caused 97 Liverpool fans to lose their lives.
"We regret any offence these chants may have caused and will continue to work with supporter groups and officials from both clubs to eradicate hateful chanting from this fixture," City said.
Liverpool has not responded to CNN's request for comment.
In a statement to CNN, the Premier League said: "The Premier League condemns the chanting heard during today's match between Manchester City and Liverpool. The League is treating the issue of tragedy chanting as a priority and as a matter of urgency."
The rivalry between the two English teams has increased in recent seasons as both have vied for the league title. Last season, City finished one point ahead of Liverpool in the title race.
In 2018, UEFA, European soccer's governing body, fined Liverpool after fans threw objects at City's team bus ahead of a Champions League quarterfinal at Anfield.
Last October, City manager Pep Guardiola said coins were thrown towards him during a league game between the two teams, and after the same match Liverpool condemned the "vile chants relating to football stadium tragedies" heard in the away end of the stadium, adding that offensive graffiti was also found in the away section.
Fans singing songs about stadium disasters or fatal accidents, which has been described as 'tragedy chanting,' has been put in the spotlight in England this season.
Ahead of Manchester United's league match against Liverpool last month, the respective managers of both clubs called for an end to such chanting in a joint statement.
The Football Association, English football's governing body, said it strongly condemned such chants.
In a statement to CNN, a FA spokesperson said: "We are very concerned about the rise of abhorrent chants in stadiums that are related to the Hillsborough disaster and other football related tragedies.
"These chants are highly offensive and are deeply upsetting for the families, friends and communities who have been impacted by these devastating events, and we strongly condemn this behaviour.
"We support clubs and fans who try to stamp out this behaviour from our game. We also support the excellent work of the survivor groups who engage with stakeholders across football to help educate people about the damaging and lasting effects that these terrible chants can have."