close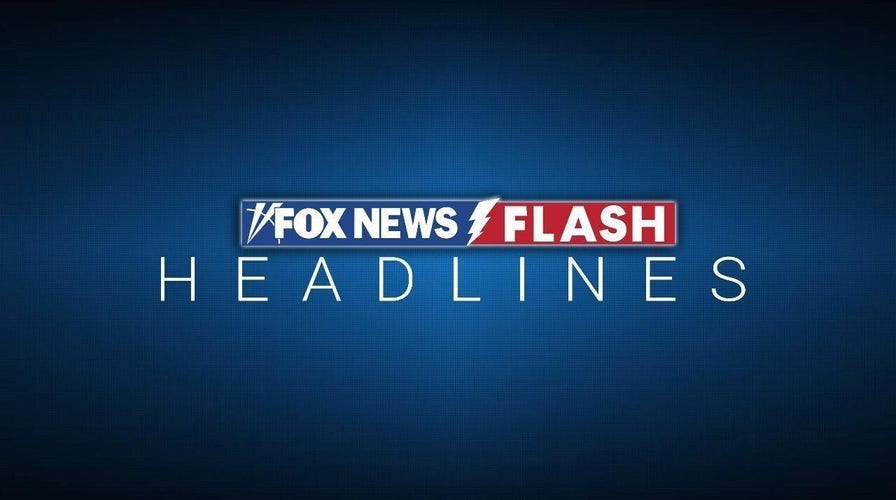 Video
Fox News Flash top headlines for March 29
Fox News Flash top headlines are here. Check out what's clicking on Foxnews.com.
Poland's agriculture minister promised financial support from the government and the European Union and easier rules for constructing grain storage as he met Wednesday with farmers angered by falling grain prices.
Farmers in Poland blame the drop in prices on the market glut from the inflow of huge amounts of Ukrainian produce that was supposed to go to Africa and the Middle East. Bulgarian farmers also staged a border protest Wednesday over the issue.
Poland and other countries in the region have offered to help transit Ukraine grain to third country markets after Russia blocked traditional routes when it invaded Ukraine 13 months ago. The European Union, which borders Ukraine, has waived customs duties and import quotas to facilitate the transport — also through Romania and Bulgaria — to markets that had counted on the deliveries.
PUTIN AGREES TO CONTINUE ALLOWING UKRAINIAN GRAIN EXPORTS, THREATENS RETALIATION FOR NONCOMPLIANCE
But farmers in transit countries say the promised out-channels are not working as planned. As a result, they argue, the grain stays, flooding their own markets and bringing prices down — to their great loss — while fertilizer and energy costs are sky-rocketing.
After a round of talks with farmer organizations, Poland's Agriculture Minister Henryk Kowalczyk said they agreed on more than 1.2 billion zlotys ($277 million) of compensation to farmers and traders who suffered financial losses and also subsidies for companies transporting the grain to ports, to be shipped out of Poland.
The ministry also agreed to waive permission requirements for building small size grain storage facilities, in order to broaden the base. But the farmers are expecting more talks and more support.
In Bulgaria, hundreds of farmers on Wednesday began a three-day blockade of main checkpoints on the border with Romania to protest tariff-free imports of Ukrainian grain. They say some 40% of their crop from last year remains unsold amid huge supply, and there is no storage room just a few months ahead of the coming harvest.
They displayed banners reading: "Stop the genocide of agriculture" and "We want to be competitive farmers."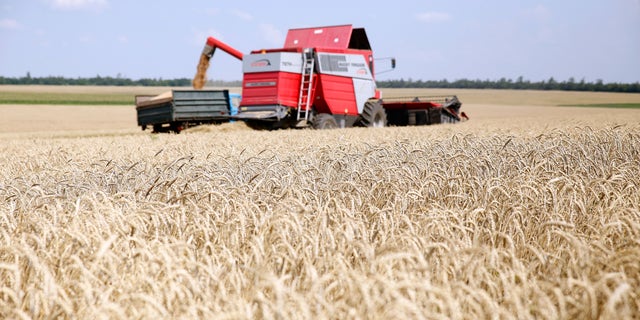 A combine harvester drives across a wheat field during a harvest for the ZAT Nibulon agricultural company in Nikolaev, Ukraine, on Monday, July 8, 2013. A deluge of Ukrainian grain exports has saturated the global market, leading to unrest among European farmers and promises of economic relief from nearby Poland. (Vincent Mundy/Bloomberg via Getty Images)
Last week, Brussels offered a total of 56.3 million euros ($61 million) in compensation to affected farmers, of which Bulgaria would receive 16.7 million and Poland almost 30 million euros — amounts that protesters and some governments say are insufficient.
Daniela Dimitrova, regional leader of Bulgaria's grain producers' union, said Ukrainian imports make Bulgarian farmers noncompetitive.
"We stand in solidarity with Europe and its support for Ukraine, but the European Commission should look at each individual member state and make farmers competitive," she said.
In Poland, amid early campaigning ahead of fall parliamentary elections, some farmer leaders like Michal Kolodziejczak, head of the AGROUnia group, are calling for Kowalczyk to resign. AGROUnia has been staging protests, including spilling grain at Kowalczyk's ministry door.
Kolodziejczak said Wednesday at least 8 billion zlotys ($1.8 billion) is needed to compensate the farmers and improve infrastructure leading to transit ports, while Ukrainian grain should be directly sent to its places of destination and EU customs fees reapplied.
RUSSIA SUSPENDS UN GRAIN EXPORT AGREEMENT PARTICIPATION AFTER DRONE STRIKES ON BLACK SEA FLEET
Prime Minister Mateusz Morawiecki said grain from Ukraine was "destabilizing our market" and steps should be taken to urgently export it while reducing imports from Ukraine. He said the European Commission, the EU's executive arm, had regulations at its disposal to take the situation under control, as it was having negative effects also on other countries in the region.
"We do not agree for this grain to come to Poland's and Romania's markets in huge amounts and destabilize our markets," Morawiecki told a news conference, while stressing that "transit is most welcome."
At the start of the talks with farmers and grain exporters, Kowalczyk, the agriculture minister, blamed falling grain prices on a world-wide trend. He said that while more compensation funds could be expected from Brussels the main goal was to increase grain export and free space in silos ahead of this summer's Polish harvest. He admitted that the original plan to transit grain through Poland did not go exactly as expected.
CLICK HERE TO GET THE FOX NEWS APP
"We should remember that we need to be helping Ukraine, everyone agrees with that, because Ukraine is fighting for our freedom," Kowalczyk said, adding that the war generates "all kinds of effects."