A piece of the SS Savannah was likely found on a New York shoreline following Tropical Storm Ian last fall.
After becoming the first vessel to cross the Atlantic Ocean partly under steam power, the ship ran aground and broke apart more than 200 years ago.
The 13-foot, square piece of wreckage was located off Fire Island in October.
It is now in the custody of the Fire Island Lighthouse Preservation Society, which is working with the National Park Service to identify it and put it on public display.
LONG-LOST IRONTON SHIP IS FOUND IN LAKE HURON AFTER ELUDING HUNTERS FOR MORE THAN A CENTURY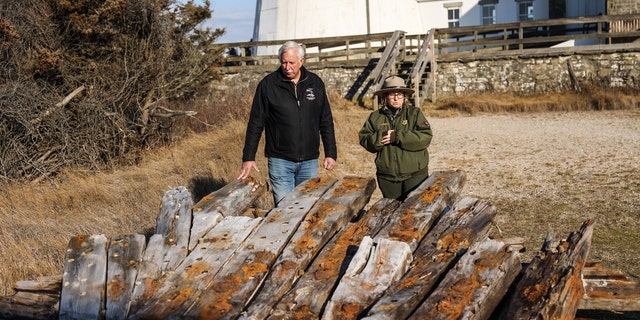 Tony Femminella, executive director of the Fire Island Lighthouse Preservation Society, and Betsy DeMaria, museum technician with Fire Island National Seashore, stand next to a section of the hull of a ship believed to be the SS Savannah which wrecked in 1821 off Fire Island on Jan. 27, 2023. The section now rests alongside the Fire Island lighthouse.  (Steve Pfost/Newsday RM via Getty Images)
Park service officials reportedly said that while it may be difficult to identify the wreckage with full certainty, the Savannah is a top contender among the area's known shipwrecks.
"It was pretty thrilling to find it," said Betsy DeMaria, a museum technician at the park service's Fire Island National Seashore, told The Associated Press. "We definitely are going to have some subject matter experts take a look at it and help us get a better view of what we have here."
A full moon rises on the night of April 26, 2021, above the Great South Bay and the Fire Island Lighthouse. This full moon is a supermoon.  (David Trotman-Wilkins/Newsday RM via Getty Images)
A 3,500-YEAR-OLD BEAR PRESERVED IN SIBERIAN PERMAFROST IS DISSECTED BY RESEARCHERS
Officials also said that the evidence includes the 1-to-1.3-inch wooden pegs in the planks that were consistent with a 100-foot vessel and that the wreckage's iron spikes suggest the vessel was build around 1820.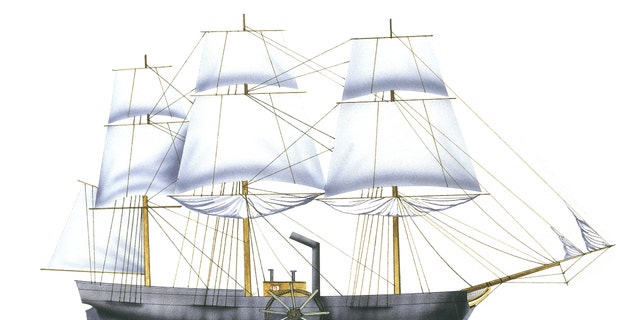 An illustration of the steamship SS Savannah (1818). (De Agostini via Getty Images/De Agostini via Getty Images)
CLICK HERE TO GET THE FOX NEWS APP
The SS Savannah was built in 1818 and was 98 feet long. It was transporting cargo between Savannah and New York when it ran aground and later broke apart.
The Associated Press contributed to this report.