EXCLUSIVE: Transportation Secretary Pete Buttigieg traveled to Europe on a military aircraft to attend the Fifth Invictus Games with his husband Chasten Buttigieg last spring, according to an internal calendar reviewed by Fox News Digital.
On April 15, Buttigieg traveled from Joint Base Andrews to Rotterdam, Netherlands, via "MilAir Flight" before returning two days later on military aircraft, the calendar obtained by Americans for Public Trust (APT) and shared with Fox News Digital showed. According to photos from the event and media reports, the transportation secretary traveled to the Netherlands with his husband.
President Biden announced that Buttigieg would lead a presidential delegation, which included lawmakers and fellow administration officials, to the Invictus Games days prior to the event in April. The event was founded by Prince Harry in 2014 as a multi-sport competition for wounded, injured or sick soldiers and military veterans. Buttigieg joined the U.S. Navy Reserve in 2009 and was deployed to Afghanistan in 2014.
"It's standard practice for military aircraft to be provided for White House organized Cabinet-level presidential delegations," a spokesperson for the White House National Security Council told Fox News Digital in a statement.
BUTTIGIEG BATTERED BY CRISES IN FIRST TWO YEARS AS TRANSPORTATION SECRETARY: 'PRIME EXAMPLE OF FAILING UP'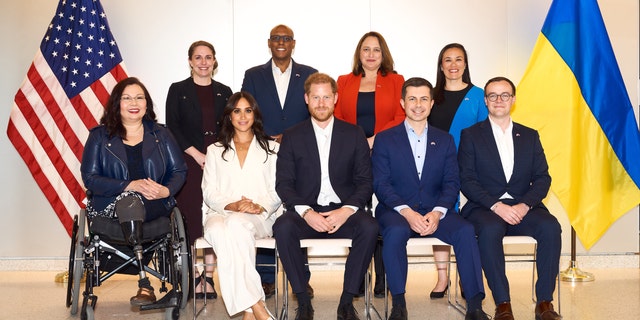 Secretary of Transportation Pete Buttigieg and husband Chasten Buttigieg attend a welcome event with Prince Harry, Meghan Markle and other U.S. officials at the U.S. Embassy ahead of the Invictus Games on April 15 in The Hague, Netherlands. 
(Handout/Chris Allerton/Invictus Games Foundation via Getty Images)
Previous administrations also sent presidential delegations to the Invictus Games in 2014, 2016, 2017 and 2018.
In a separate statement, a Department of Transportation spokesperson reiterated the importance of the Invictus Games, but didn't answer questions about the cost to taxpayers and whether Buttigieg plans on reimbursing the government for costs associated with his husband's travel.
"The Secretary was proud to be asked to be part of the Presidential Delegation that the State Department organized for the Invictus Games — an international event supporting wounded, injured and sick servicemen and women, both serving and veterans," the spokesperson told Fox News Digital. "The delegation met with the U.S. team of wounded veterans and active service members as part of the visit."
But in 2017, former President Donald Trump accepted the resignation of then-Health and Human Services (HHS) Secretary Tom Price after it was reported the Cabinet official had cost taxpayers more than $1 million using government-funded private jets and military aircraft. Following reports that Price's wife had accompanied him on military aircraft during overseas trips, the former HHS secretary reimbursed the government for her travel costs.
It remains unclear whether Buttigieg has reimbursed the government for his husband's travel costs.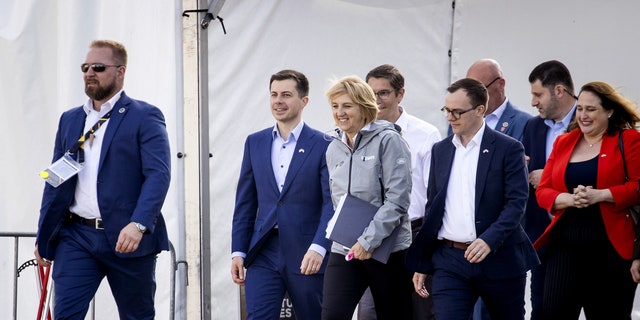 The Buttigiegs are pictured on the Yellow Carpet before the start of the Invictus Games on April 16 in the Netherlands.
(Sem Van Der Wal/ANP via Getty Images)
Overall, Price's international flights on military aircraft alone cost more than $500,000, Politico reported in 2017. Kathleen Sebelius, a former Cabinet official who served during the Obama administration, told Politico she never flew on a military plane for an international trip.
In the aftermath of the 2017 report about Price's travels, the White House said at the time that "use of military aircraft for Cabinet and other essential travelers is sometimes an appropriate and necessary use of resources," echoing the statement from the National Security Council shared Wednesday with Fox News Digital.
PETE BUTTIGIEG OFTEN FLIES ON TAXPAYER-FUNDED PRIVATE JETS, FLIGHT DATA SHOW
"Secretary Buttigieg's travel woes keep piling up with this newest revelation that he and his husband took a private jet for a European trip," APT executive director Caitlin Sutherland told Fox News Digital. "Taxpayers, who just had their holiday plans completely upended because of Buttigieg's travel mismanagement, should be furious."
"Buttigieg manages to avoid all the problems he has created by flying private military jets around the world for non-military purposes, while everyday Americans bear the brunt of his detachment from their travel realities," she continued.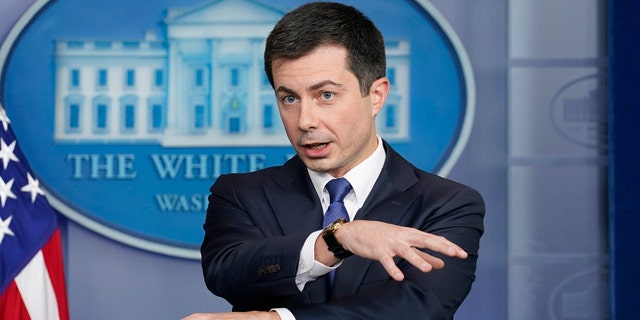 Buttigieg was criticized last month after a Fox News Digital report showed he has taken at least 18 flights with government private jets during his tenure leading the Department of Transportation.
(AP Photo/Susan Walsh)
Fox News Digital reported in December that Buttigieg has used government private jets on at least 18 occasions since taking office. Buttigieg, who has argued for aggressive climate change policies and carbon emission reductions, was blasted following the report for hypocrisy. Private jet travel is by far the most carbon-intensive mode of transportation.
Price and Buttigieg's predecessor, Elaine Chao, who served throughout the Trump administration, were sharply criticized for similar uses of the jets managed by the Federal Aviation Administration (FAA). The FAA has previously charged federal agencies about $5,000 per hour to use its fleet, according to reports.
CLICK HERE TO GET THE FOX NEWS APP
In response to the report last month, Sen. Marco Rubio, R-Fla., wrote a letter to Department of Transportation Inspector General Eric Soskin, urging an investigation into the matter.
"I have long worked to ensure effective controls regarding leadership and staff travel and reducing the risk of fraud, waste, and abuse," Rubio wrote on Dec. 16. "Therefore, I ask that you conduct a review to determine whether Secretary Buttigieg's travels were in compliance with all applicable regulations, policies, and procedures."
Meanwhile, during Buttigieg's tenure, the Transportation Department has dealt with multiple crises related to widespread commercial airline delays and cancelations. Southwest, one of the largest airlines in the nation, canceled about 15,000 flights in late December amid the peak holiday travel season.