The Pentagon is removing most of the troops who were deployed to the southern border ahead of a feared post-Title 42 surge after their 90-day mission ended, although 400 will remain in place until the end of the month.
A defense official confirmed to Fox News Digital that 1,100 active-duty troops that were deployed have already begun to return to their home bases. The 90-day deployment window will end on Aug. 8. The development was first reported by the Associated Press.
The official said that Defense Secretary Lloyd Austin authorized up to 400 active-duty troops to remain at the border until Aug 31.
The troops were deployed after a request from the Department of Homeland Security in May for support ahead of the end of the Title 42 public health order, which allowed for the rapid expulsion of migrants at the southern border due to the COVID-19 pandemic.
MIGRANT NUMBERS CROSSING DARIEN GAP SET NEW RECORD, DESPITE US EFFORTS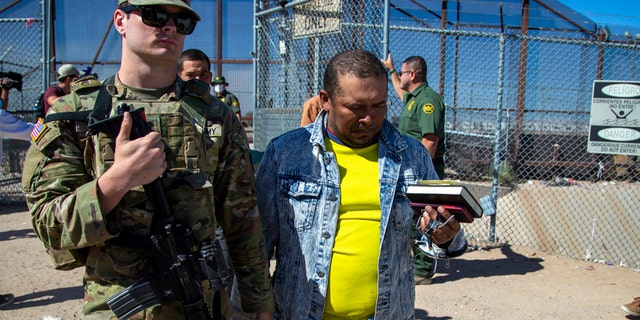 Migrants are escorted by a U.S. Army soldier after entering into El Paso, Texas from Ciudad Juarez, Mexico to be processed by immigration authorities, May 10, 2023.  ((AP Photo/Andres Leighton, File))
It was feared that the ending of the order would be accompanied by a massive surge in migrants, and the Biden administration took a number of steps — including expanding legal pathways to migration and implementing an asylum rule to bar asylum to some illegal immigrants — to prevent that surge.
While migrant numbers hit record highs in the days leading up to the order's expiration, with 10,000 a day at one point, numbers overall went down after the order ended. While still remaining relatively high, with over 200,000 in May and 144,000 in June, the administration has said the decrease shows its plan has been working.
REJECTION OF BIDEN ASYLUM RULE AFTER COURT CHALLENGE RAISES FEARS OF FRESH BORDER SURGE
"Our approach to managing the borders securely and humanely even within our fundamentally broken immigration system is working," DHS Secretary Alejandro Mayorkas said last week at a House Judiciary Committee hearing.
However, there are signs that that decrease in numbers may soon reverse. The administration was dealt a blow to its post-Title 42 strategy when the asylum rule was blocked by a federal judge last week in response to a lawsuit from left-wing groups.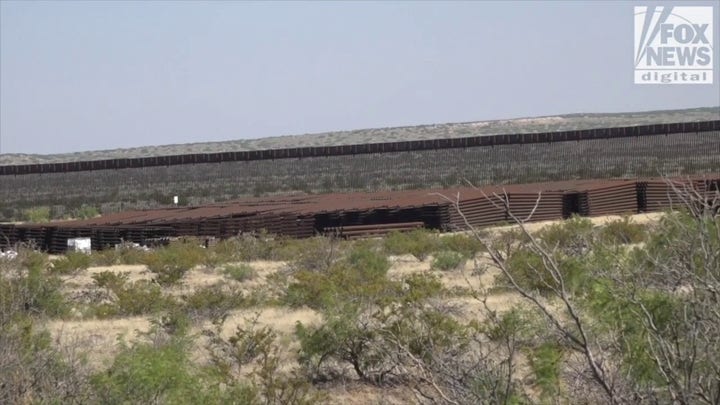 Video
DHS said in its filing to the court that, if the rule is shot down, it "anticipates a return to elevated encounter levels that would place significant strain on DHS components, border communities, and interior cities."
In a separate filing it warned of 100,000 migrants waiting in northern Mexico who appeared to be "waiting to see whether the strengthened consequences associated with the rule's implementation are real." The administration is currently appealing the ruling, and the order will remain in effect for the time being.
CLICK TO GET THE FOX NEWS APP
This week, the Washington Post reported that initial border numbers saw a 30% increase in July. Meanwhile, officials in Panama announced that there have been nearly 250,000 people cross so far this year through the Darien Gap – a key crossing point for migrants attempting to reach the United States.