DES MOINES, Iowa – Former Vice President Mike Pence thinks former President Donald Trump — his former running mate and current rival for the 2024 GOP presidential nomination — Is "missing out" by skipping a sit-down interview with popular Iowa Gov. Kim Reynolds at the Iowa State Fair.
Pence, along with nearly all the other contenders in the large field of GOP White House hopefuls, are joining the conservative two-term governor for her "fair side chats" at the Iowa fairgrounds in the state that holds the first contest in the GOP presidential nominating calendar.
The only two contenders who are not taking part are former New Jersey Gov. Chris Christie, who is concentrating most of his firepower in New Hampshire — the state that holds the first primary and votes second in the Republican schedule — and Trump.
Pence, taking questions from reporters on Friday at the fairgrounds after joining Reynolds for her chat, was asked by Fox News about Trump's decision not to join Reynolds.
WHAT PENCE SAID IN HIS FOX NEWS INTERVIEW AT THE IOWA STATE FAIR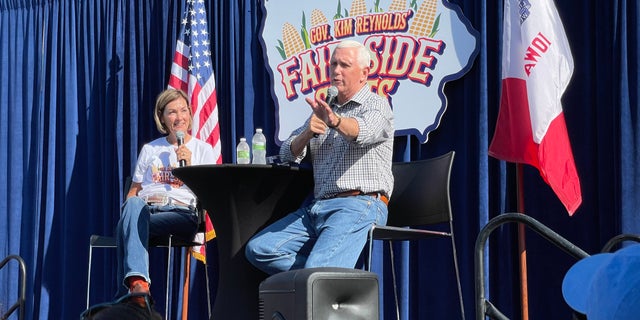 Former Vice President Mike Pence, a 2024 Republican White House candidate, is interviewed by Iowa Gov. Kim Reynolds at the Iowa State Fair in Des Moines on Friday.  (Fox News – Paul Steinhauser)
"I'm incredibly proud of Gov. Kim Reynolds," Pence said as he praised the governor. "The way she has balanced budgets, cut taxes, expanded educational choices, stood for the right to life, has really been an inspiration to people all across this state and all across the nation. I welcome the opportunity to sit down with her to answer her questions at that gathering here at the Iowa State Fair, and frankly I think anybody who skips that is missing out."
Pence emphasized that "the people of Iowa have an historic tradition of knowing how to ask real questions and to come to understand our candidates and make that decision in ways that have shaped our nation in so many decades past."
THESE GOP PRESIDENTIAL CANDIDATES HAVE QUALIFIED TO MAKE THE DEBATE STAGE AT THE FOX NEWS SHOWDOWN
Taking aim at Trump without mentioning the former president — who has said he may skip the upcoming Fox News-hosted first GOP presidential nomination debate on Aug. 23 — Pence argued: "I think anybody that skips it — with Gov. Kim Reynolds — is missing an opportunity just as much they are if they skip a debate."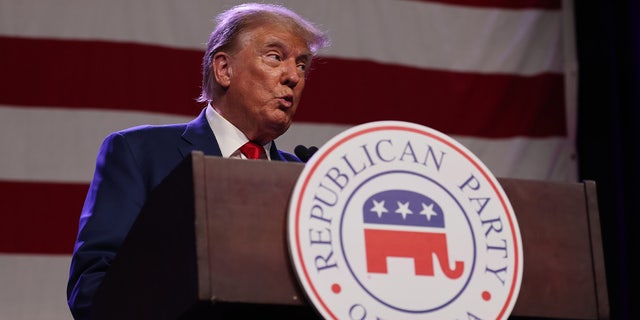 Former President Donald Trump speaks at the Republican Party of Iowa's annual Lincoln Dinner in Des Moines, Iowa, on July 28, 2023. (Rachel Mummey/Bloomberg via Getty Image)
Trump earlier this summer criticized Reynolds for staying neutral in the race for the GOP presidential nomination race.
"I opened up the Governor position for Kim Reynolds, & when she fell behind, I ENDORSED her, did big Rallies, & she won. Now, she wants to remain 'NEUTRAL.' I don't invite her to events! DeSanctus down 45 points!" the former president wrote in a social media post.
In 2017, Trump nominated longtime Republican Iowa Gov. Terry Branstad as U.S. ambassador to China. Reynolds — who was lieutenant governor at the time — succeeded Branstad as governor. Trump endorsed Reynolds ahead of her narrow election in 2018 to a full term in office. Reynolds was easily re-elected by 19 points last year.
WHO'S STILL FIGHTING TO QUALIFY FOR THE FIRST GOP PRESIDENTIAL DEBATE
Reynolds' pledge to stay neutral in the presidential nomination race is in line with previous Iowa governors. Iowa's all-Republican congressional delegation is also staying neutral as the large field of 2024 presidential contenders descends on their state.
The governor joined Trump in March in Davenport, as the former president made his first stop in Iowa as a 2024 candidate. But Reynolds did not join Trump when he returned to the state in early June and again last month.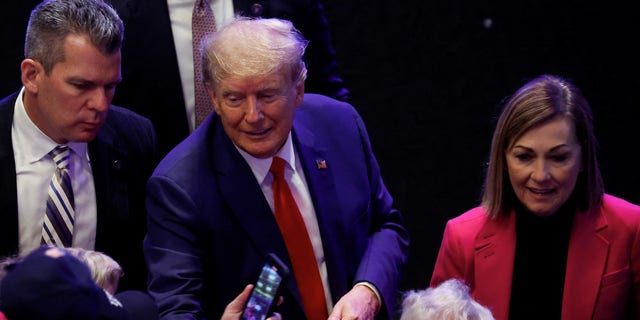 Former President Donald Trump greets supporters accompanied by Iowa Gov. Kim Reynolds during a campaign rally in Davenport, Iowa, on March 13, 2023. (REUTERS/Jonathan Ernst)
Trump will be at the state fair on Saturday, the same day the Reynolds holds chats with three of Trump's rivals — Florida Gov. Ron DeSantis, former ambassador and former South Carolina Gov. Nikki Haley, and entrepreneur and culture wars crusader Vivek Ramaswamy.
The Trump campaign put out a statement last month, when Reynolds announced her fair lineup, saying that the former president "looks forward to interacting with tens of thousands of Iowans at the fair in an open and unfiltered setting."
And Trump, calling into an Iowa talk radio program on Friday, complimented Reynolds and her family.
Trump took plenty of incoming fire for his criticism earlier this summer of Reynolds, and a Republican state senator who had endorsed the former president switched his support to DeSantis due to the incident. This week, the pro-DeSantis super PAC Never Back Down spotlighted Trump's jabs at Reynolds in a new ad running in Iowa.
CLICK HERE TO GET THE FOX NEWS APP
"Why pick a fight with the most popular Republican in Iowa?" David Kochel, a longtime Republican consultant and veteran of numerous GOP presidential campaigns in Iowa and nationally, said to Fox News.
"It doesn't help him, because Gov. Reynolds is very well respected and well-loved by Republicans in Iowa," Kochel said. "I don't understand what he gets out of it except to vent his spleen."