Former Vice President Mike Pence signaled Friday he will go on attack on abortion at the upcoming Republican presidential primary debate.
On a campaign visit to the Iowa State Fair, Pence told reporters he expects to call out former President Donald Trump and Florida Gov. Ron DeSantis for not supporting national abortion restrictions when the candidates meet on the debate stage in Milwaukee, Wisconsin, later this month. Pence has said he would sign a federal 15-week abortion ban into law if elected president.
"My former running mate, the governor of Florida and others are suggesting that the Supreme Court returned the question of abortion to the states," Pence said, referencing the 2022 Supreme Court decision that overturned Roe v. Wade and ended federal protections for the procedure.
PENCE SAYS TRUMP IS 'MISSING AN OPPORTUNITY' WITH HIS DECISION ABOUT THE IOWA STATE FAIR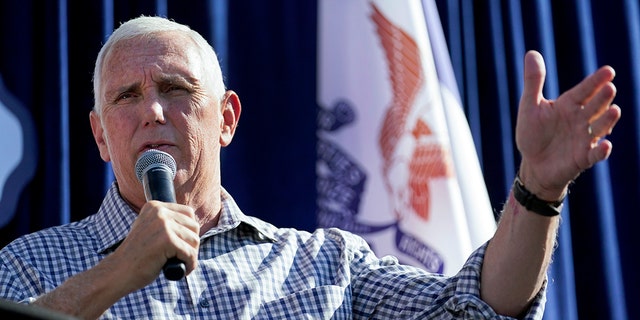 Republican presidential candidate former Vice President Mike Pence speaks during a Fair-Side Chat with Iowa Gov. Kim Reynolds at the Iowa State Fair, Friday, Aug. 11, 2023, in Des Moines, Iowa.  (AP Photo/Jeff Roberson)
"I truly do believe it's vitally important that we seize the opportunity at the national level to advance protections for the right to life, and I'll do so as president," he added. "This is a really big issue. It will be on the stage in Milwaukee."
Fox News will host the debate on Aug. 23 in Milwaukee, Wisconsin. The debate starts at 9 p.m. ET.
MIKE PENCE PUSHES FOR NATIONAL 15-WEEK ABORTION BAN ONE YEAR AFTER FALL OF ROE V. WADE
Pence knocked both Florida Gov. Ron DeSantis (left) and former President Donald Trump (right) for saying abortion should be a state issue.  (Getty Images)
Pence has called himself unapologetically pro-life and proposed a "minimum standard" of a 15-week national abortion ban if elected president. "That would align American law with most of the countries in Europe that literally ban abortion after 12 to 15 weeks," Pence said in June. "Our laws at the national level today are more aligned with North Korea, China and Iran than with other Western countries in Europe." Sen. Tim Scott, R-S.C., has also endorsed a 15-week ban.
Trump's position that the legality of abortion should be determined by states, not the federal government, was sharply rebuked by top abortion opponents, including the Susan B. Anthony Pro-Life America group. Trump's three Supreme Court nominees voted with the majority last year to overturn the 49-year-old decision that recognized a federal abortion right.
PENCE 'CAN'T RELATE' TO BIDEN OVER HUNTER'S SPECIAL COUNSEL APPOINTMENT: 'MY SON … WAS DEFENDING THIS COUNTRY'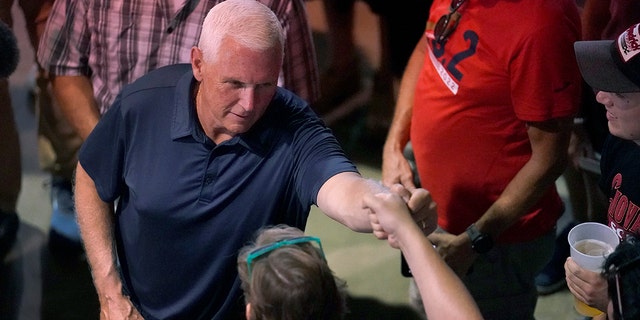 Republican presidential candidate former Vice President Mike Pence shakes voters hands at the Iowa State Fair. (AP Photo/Jeff Roberson)
As governor, DeSantis has signed legislation this year banning abortion in Florida at six weeks, but has not pressed for a national ban. That has also drawn criticism from the groups that rebuked Trump.
So far, five candidates seeking the 2024 GOP presidential nomination have qualified for the debate under the Republican National Committee's criteria. Those candidates are North Dakota Gov. Doug Burgum, DeSantis, former U.N. ambassador Nikki Haley, businessman Vivek Ramaswamy and South Carolina Sen. Tim Scott.
WHO'S STILL FIGHTING TO QUALIFY FOR THE FIRST GOP PRESIDENTIAL DEBATE
Former New Jersey Gov. Chris Christie and Trump have each met the RNC's polling and fundraising criteria but have not signed a loyalty pledge promising to support the eventual nominee.
Trump has not committed to attending the debate.
The Associated Press contributed to this report.