close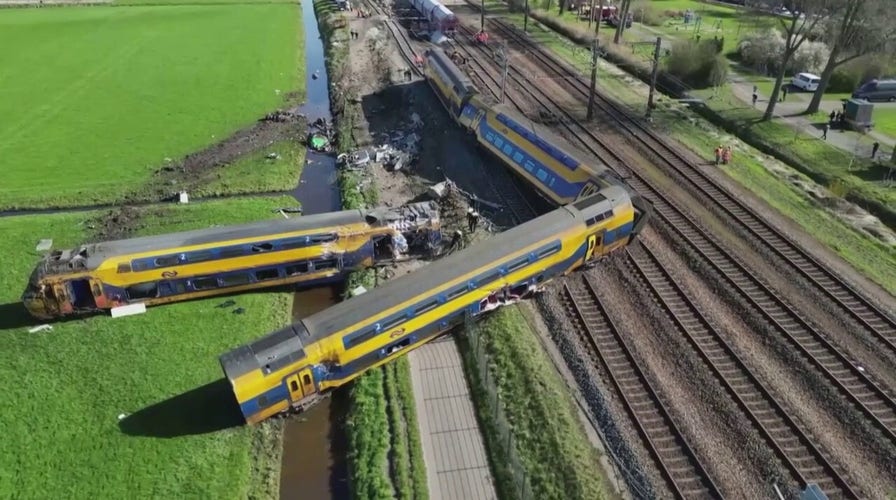 Video
Passenger train in Netherlands derails, leaving 1 dead
One person was killed and dozens were injured Tuesday when a passenger train derailed after striking a construction crane. (Reuters)
A construction worker died and more than a dozen people have been injured Tuesday after a passenger train derailed when it slammed into a crane in the Netherlands, officials say.
The overnight train traveling from Leiden to The Hague reportedly was carrying about 50 people when it came off the tracks around 3:25 a.m.
"We have no idea how the crane got on the track which was still open for traffic," John Voppen, the CEO of ProRail – a Dutch government organization responsible for overseeing railway infrastructure – told reporters.
"The crane was part of maintenance work on two tracks which were closed for traffic, while two other of the total of four tracks remained open for train traffic," he added, according to Reuters.
TRAIN DERAILS 25 CARS IN MONTANA, SPILLING UNCONFIRMED CONTENTS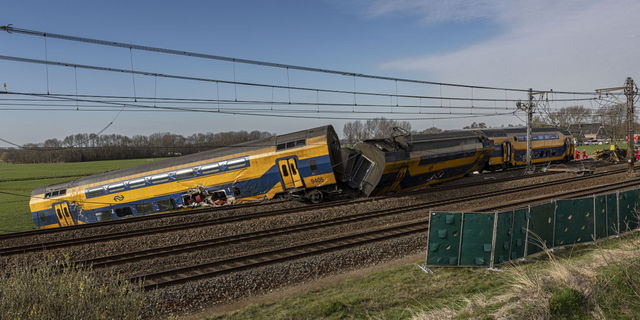 At least 19 people have been hospitalized following the crash on a railway between Leiden and The Hague, officials said. (Michel Porro/Getty Images)
"I have been working in the rail industry for years, and I don't understand how this could have happened," Voppen also said. "We are going to launch a full inquiry."
Dutch construction group BAM said one of its workers died in the collision, while the driver of the passenger train was hospitalized with bone fractures, Reuters reported.
The Associated Press said around 30 passengers were injured in the accident, 19 of which have been hospitalized.
Images taken at the scene showed one of the derailed train cars in a field alongside the tracks.
"A terrible train accident near Voorschoten, where unfortunately one person died and many people were injured," Dutch Prime Minister Mark Rutte wrote on Twitter. "My thoughts are with the relatives and with all the victims. I wish them all the best."
BNSF TRAIN CARRYING ETHANOL IN MINNESOTA DERAILS AND CATCHES FIRE, FORCING EVACUATIONS IN SMALL TOWN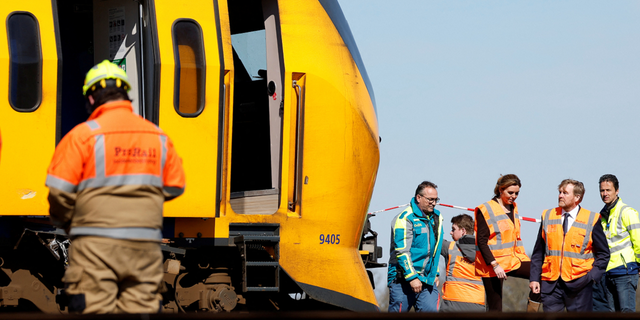 King Willem-Alexander of the Netherlands, bottom right, is seen inspecting the crash site. (Reuters/Piroschka Van De Wouw)
Dutch King Willem-Alexander later was photographed touring the wreckage.
Train service is now expected to be suspended along the busy route for days, according to Reuters.
The incident happened about a month after a fiery train crash in Greece left 57 people dead.
In that transportation disaster, a passenger train struck a freight train at high speed in Tempe.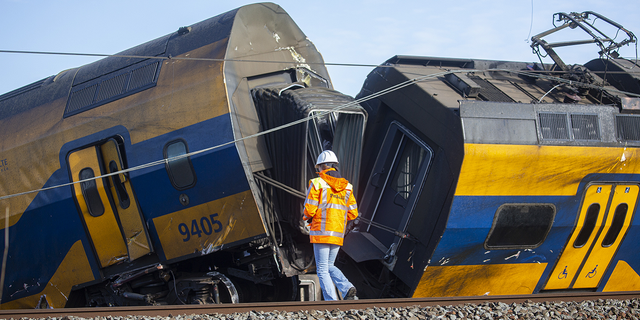 A Dutch railway official inspects the crash scene after a train crashed into a construction crane on April 4, 2023 in Voorschoten, Netherlands. (Michel Porro/Getty Images)
CLICK HERE TO GET THE FOX NEWS APP
"It was a tragedy that should never have happened. It is inconceivable to think that in Greece in 2023 there could be two trains on the same track, traveling in opposite directions, and that no one realized it," Prime Minister Kyriakos Mitsotakis was quoted by the AP as saying in the aftermath.
"I believe people, while feeling anger and rage, understand that this accident resulted from the sum of mistakes made over many decades. We now have an obligation now to deal with them drastically … We feel a heavy responsibility," he reportedly added.
Greg Norman is a reporter at Fox News Digital.